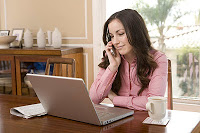 Finding a legitimate work from home job is no easy task especially for people who have no knowledge about jobs online. In order to avoid envelope stuffing scams, and schemes that require an upfront fee, please check out the provided list of valuable work at home resources . These work at home sites will help job seekers distinguish the difference between legitimate online jobs and phony gigs.
Here's top 10 lists of the Finest Work at Home Resources.
1 – Ripoffreport.com

Read about work at home scams and sites that should be avoided at all costs. Before you invest any money on "Envelope Stuffing" and "Data Entry" scams, check out this site's info to prevent dishonest schemes.
Access work at home articles, available job listings, info about starting a business online, and more with the free work from home site.
The work at home site shares reviews, tips, and job leads to help others find the perfect home based job. This site also features a free automated job matching service which will help job seekers find a telecommute job based on their experience and skills.
This work from home resource allows job seekers to read information about legitimate employers online. Job seekers can also find current job listings on this site's job board.
5 – Workathomemomrevolution.com

This work from home blog shares the latest online job leads for free. This site will help job seekers find info about telecommute companies that are currently hiring.
6 – Glassdoor.com

Glass Door is not a work from home site but it's a great resource that allows job seekers to read honest reviews/complaints about companies all over the world. This would be a great place to research telecommute companies that you're unsure about.
7 – Paylinkpal.com

Free work at home directory which provides legitimate information about online employers. This site makes it possible for people to research legit work from home companies without the hassle of coming across scam sites.
8 – Wahcheck.com

Free membership based site which provides job seekers with up to date work from home employment opportunities. Access information through this exclusive work from home site and also receive an email when a telecommute company is hiring.
Find information about online jobs, home based businesses, and work at home tips through this site's resourceful articles and work at home directory.
10 – Ehustleonline.com

Free work at home resource chalked with information about legitimate online jobs and home based business ideas. This site also features a free directory which helps others find work at home with benefits.
About

E-hustle Online (Work from your Home)

Free resources to help individuals work from their home. This site will allow others to find legitimate work at home jobs with benefits. No fees or registration required.