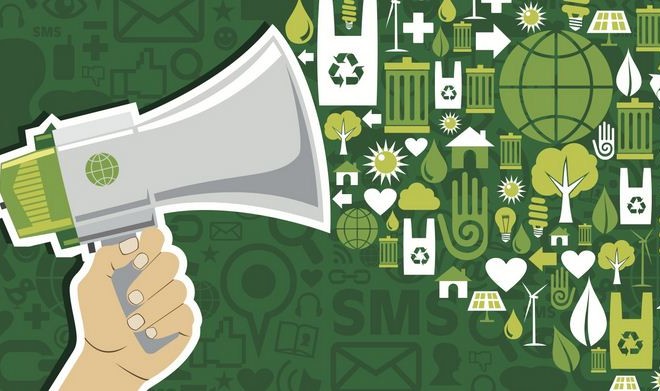 According to the Small Business Administration, over half of America's working citizens are employed by small businesses. Small businesses also employ many workers in other developed countries.
Though these businesses may be small, they still can produce a substantial amount of waste that is harmful to the environment. For this reason, many small businesses are deciding to become more environmentally friendly. Not only are they reducing their impact on the environment, but they are also attracting new customers that are inclined to patronize green businesses.
Here are top 10 ways that you can utilize green marketing in your business:

10 – Instead of mailing a printed newsletter, you can save money and the planet by sending an email that contains a digital copy of the newsletter.
By using digital communication methods, it also makes it easier to get customer feedback.

9 – Use recycled paper to print all of your flyers, business cards, letters, and envelopes.
Printing on recycled paper shows that your business is eco-friendly. Let your customers know that all of your marketing materials are recycled by printing on the backside "Printed on 100% recycled paper."

8 – Rather than holding a business meeting in person, try to collaborate over the internet using a free videoconferencing program such as Skype or TokBox.
By hosting an online meeting, everyone will be able to save time and money by not having to drive through traffic or pay for gas to get to the meeting.

7 – When sourcing promotional products for your business, try to find products that are reusable.
Rather than buying purified bottled water with your business name printed on it, you could order reusable BPA-free water bottles to show that your business understands what it means to be green. Giving away reusable water bottles not only helps the environment, but it gives your business more exposure as reusable bottles will be used over and over again.

6 – Buy from local businesses to reduce your carbon footprint and save money on shipping costs.
By not having your marketing materials transported in a mail truck or an airplane, you are reducing your carbon footprint while saving money on shipping costs.

5 – Use a car that gets good gas mileage when on business trip.
When going to business meetings, trade shows, and any other business-related venues, you should always use a car that gets good gas mileage so that traveling is more economical and environmentally friendly.

4 – Give your customers an incentive to go green by offering discounts at your business.
For example, you could host a neighborhood cleanup and offer a 15% discount to the customers that participate in the event.

3 – Make your Office Environmentally Friendly
Make your office more environmentally friendly by reusing the backsides of printed materials as note paper.

2 – Utilize Recycled paper in your promotional paraphernalia.
Instead of throwing junk papers away, put it in a shredder and use the paper shreddings as packing material to ship your promotional products.

1 – Consider buying carbon offsets from a non-profit Eco-friendly organization
If your business involves a lot of traveling, you should consider buying carbon offsets from a non-profit organization that will plant trees to offset the harmful greenhouse gases that traveling puts into the environment.

Contributor, Hayley is a business consultant, author and blogger residing in beautiful Portland Oregon. After you've implemented your green ideas, consider investing in customer experience management software. With this type of software, you will be able to get actual customer feedback that you can use to create a business that your customers will be satisfied with.