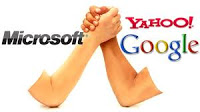 A report yesterday [Oct-22-11] freaks me out this early Halloween. I mean, is this a joke? [Mashable] according to The Wall Street Journal, The Great Google is mulling purchasing Yahoo and has contacted at least two venture capital firms to help buy the company's core business, according to a report.
Google and prospective partners have held discussions, but haven't put forth a formal proposal to buy the search giant, according to The Wall Street Journal, which cited "a person familiar with the matter…"
Hmmm… kinda interesting topic for this week so I research and found these few reasons why Google might buy yahoo!
Here's top 10 lists of the Possible Reasons why Google wants Yahoo!
1 – Google would be interesting to bring in Google's very own social networking service Google+ to Yahoo's audience of nearly 700 million unique visitors a month.
2 – The deal will help Google to get a closer access with the current Yahoo's "premium" content publishers like ABC News.
3 – Part of Google's attempt to bid up prices to make the acquisition more difficult for competitors such as Microsoft.
4 – Google wants to increase it current ads revenue by selling the ad space across Yahoo sites. Yahoo's display-ad business including graphical, interactive and video ads is worth a whopping $2 billion annually. Google is the No. 1 player in Web search but in the display-ad market, Facebook is dominating the overall market with projected $2 billion in net revenue this year, with Yahoo generating $1.6 billion and Google generating $1.1 billion.
5 – Part of Google's strategy to get in the Chinese market's big giant Alibaba. Currently Yahoo has an approximately 43% stake in Alibaba.com with pre-tax value that worth more than $12 billion dollars.
6 – Google has pile of cash sitting in its coffer – $42.56 billion so buying Yahoo might just be another good idea to diversify its investment.
7 – Google aim to add Yahoo own's Flickr to their existing portfolio and integrate it into Google+.
8 – Google will be able to lessen their US Corporation Taxes by gradually transfer functions from US Google search to a foreign owned Yahoo.
9 – Google aims the right answers for Yahoo!Answers.
10 – Google wants to show he's always the big daddy!
Thoughts: Well, I like the idea. You know why? I'm a big fan of Google and it will makes life easier for me. *LOL…Ciao!