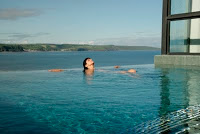 Make no mistake, this list isn't necessarily a top 10 of the best in the country but more of a list that complies with our image as a company. Listed here are just really desirable hotel and spa breaks we think you would enjoy. Some of these we already have on site and some that we would absolutely die for.
10 – The Savoy – London
Standing since 1889, The Savoy is a true London icon. Synonymous with the capitals heritage and style and situated on the banks of the Thames with The London Eye for a view, this place just screams London. It has recently been the recipient of a £100 Million revamp, the hotel seamlessly blends its original decor with the upgrade of fabulous art deco where all 268 of its rooms just state elegance.
9 – The Langdale – Windermere, Cumbria
The Langdale in the 'Lakes' is a resort comprising luxury hotel accommodation, self-catering lodges and cottages, all of which are marked at least 4*with almost every review it gets. An absoloutely brilliant venue that has some fabulous spa days available. Set in the heart of Cumbrian woodland with exclusive streams and rivers, this idyllic location also has top notch spa and 2 AA rosette restaurant, you really will NOT want to leave.
8 – St. Brides – Saundersfoot, Pembrokeshire
St. Brides Spa and Hotel comes in at number 8 on our least purely because its destination. With its contemporary design and magical views overlooking the harbour with elevated views over the beautiful Carmarthen Bay, this place is a real treasure. Look out for the outdoor hydrotherapy pool on the cliff top.
7 – The Feversham Arms & Verbena Spa hotel – Helmsley, North Yorkshire
Situated on the very edge of North Yorkshire Moors in the picturesque market village of Helmsley, this lovely quaint hotel is perfect base to explore the local towns shops or galleries or even the moors and further along is the coast. You can also make use of their spa that was recently given a 5 bubble award by the good spa guide.
6 – Ragdale Hall – Melton Mowbray, Leicestershire
Spa breaks at Ragdale Hall offer the perfect antidote to the stresses of working and family life. One of the finest locations we have on site, it has one a Health Spa of the Year award year by year for the last 10 years. A Luscious place with an excellent range of spa breaks. Definitely worth a go.
5 – Cliveden House – Taplow, Berkshire
Cliveden House is unique in many ways. One of the more regal on our list, it has an absolutely brethtaking spa and is surrounding by 376 acres of wondrous gardens and parkland. Notable guest of the hotel have included the likes of Winston Churchill and Charlie Chaplin.
4 – Sheraton Grand – Edinburgh
The Sheraton Grand, the only location on the list from Scotland but what it makes up for the lack of numbers make up in quality and then some! It is one of Scotlands most famous spas. Situated just beneath Edinburgh Castle, this 5* star hotel boasts 269 rooms, each more beautifully designed than the last, an a world class spa on the roof.
3 – W London – London
Situated on Leicester Square, this little delight is the envy of all local Hotels. It boasts 192 rooms, 21 suites including 3 spa suites, on site speciality spa and world class restaurant. This place has got everyone talking.
2 – The Club – Jersey
Described as Jersey's most exciting luxury boutique hotel, this stunning hotel partnered with its Michelin star restaurant 'Bohemia' and magnificent spa is a real treat. Just a stones throw away from the beautiful Jersey beaches too. Stylish yet comfortable.
1 – The Scarlet – Mawgan Porth, Cornwall
Gazing upon the Atlantic Ocean, is The Scarlet Hotel famed for its beauty and ethic of being an Eco-Hotel . Boasting local produce for its fabulous food, the restaurant is an absolute joy. Having just the 37 rooms here only serves to emphasise that feeling of intimacy, which is a good thing. The spa is also outrageously beautiful with its own signature of interior design and just adds to the feeling that this place is just lovely.
Reference/Source: ineedpampering.com by Angelika Adviento

About I Need Pampering Established in early 2005, I Need Pampering was created to cater for those that demand the very best in gift experience shopping. All our gift experiences have all been carefully selected from some of the top UK suppliers in the industry, most of them being award winning and innovative, known for their professionalism and expertise. We are continually growing year on year and have thousands of you coming back for more great gifts, so we must be doing something right. Our mission statement is a simple one, to deliver the best customer service to accompany the best packages and products the industry has to offer. We know that if you are impressed with your certificate, first of all you are going to remain a regular customer, and secondly, there is no greater tool than word of mouth advertising. Everything about our website has been carefully researched, thought-out and crafted to the tiniest detail to provide you with a pleasant, easy and exciting shopping experience. Spa days and spa breaks are our speciality with a host of the finest Spa Hotels and resorts in the UK. We also specialise in luxurious boutique hotel breaks and glamorous photoshoot makeovers. We are pleased to say that we are not just bound by the pampering experiences (exquisite as they may be) I Need Pampering has something for everyone. All of us here at I Need Pampering are constantly scouting the country for new and exciting locations for fabulous spa days and hotel breaks for not only you to enjoy but for us too, as we love a bit of pampering as well. Its tiring work providing you guys with the best experiences around. Customer feedback is also paramount to us. Whether you are buying this gift for yourself or a corporate gift you are guaranteed a fabulous time just remember to tell us about your day. Writing a customer review will earn you I Need Pampering reward points in the same that way that you would when making a purchase. I need pampering are now also featured with Ideal World Shopping and Ideal World Vitality channels, so look out for even more great gift experiences on the TV. Luxury online shopping has never been easier!