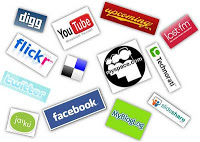 In the past few years, Facebook has surpassed MySpace as the most popular social network and Twitter has become so popular that news anchors read tweets while on the air. And while the surge in popularity for social networking centered around social networks designed for schools, it is being increasingly used by adults, with only one out of every ten Twitter uses being under the age of 18.
For the last couple of years, Compete.com has published a list of the top twenty-five social networks. Since Compete didn't publish the list this year, I thought it would be fun to see how the social networks are doing.
However, to change things up, I'm using unique visitors as the key demographic rather than total monthly visits. This gives a slightly different perspective, with social networks like LinkedIn that people may not visit on a daily basis looking a little better side-by-side with Facebook, which people might visit several times a day.
Here's The complete top 10 list of popular social networks:
Facebook with 133,623,529 unique visits.

Facebook is a social networking service and website launched in February 2004, operated and privately owned by Facebook, Inc. As of January 2011, Facebook has more than 600 million active users. Users may create a personal profile, add other users as friends, and exchange messages, including automatic notifications when they update their profile. Additionally, users may join common-interest user groups, organized by workplace, school or college, or other characteristics. The name of the service stems from the colloquial name for the book given to students at the start of the academic year by university administrations in the United States to help students get to know each other better. Facebook allows any users who declare themselves to be at least 13 years old to become registered users of the website.
Facebook was founded by Mark Zuckerberg with his college roommates and fellow computer science students Eduardo Saverin, Dustin Moskovitz and Chris Hughes. The website's membership was initially limited by the founders to Harvard students, but was expanded to other colleges in the Boston area, the Ivy League, and Stanford University. It gradually added support for students at various other universities before opening to high school students, and, finally, to anyone aged 13 and over, but based on ConsumersReports.org on May 2011, there are 7.5 million children under 13 with accounts, violating the site's terms.

MySpace with 50,615,444 unique visits.

Myspace,stylized My____ and previously MySpace, is a social networking website. Its headquarters are in Beverly Hills, California where it shares an office building with its immediate owner, News Corp. Digital Media, owned by News Corporation.
Myspace became the most popular social networking site in the United States in June 2006, a position that it held throughout 2007 until 2008.[9] In April 2008, according to comScore, Myspace was overtaken internationally by its main competitor, Facebook, based on monthly unique visitors.

Twitter with 23,573,178 unique visits.

Twitter is a website, owned and operated by Twitter Inc., which offers a social networking and microblogging service, enabling its users to send and read messages called tweets. Tweets are text-based posts of up to 140 characters displayed on the user's profile page.
The website is based in San Francisco, California. Twitter also has servers and offices in San Antonio, Texas; and Boston, Massachusetts. Twitter, Inc. was originally incorporated in California, but as of 2011 is incorporated in the jurisdiction of Delaware.
Twitter was produced in March 2006 by Jack Dorsey and launched in July. Since then Twitter has gained popularity worldwide and is estimated to have 200 million users, generating 65 million tweets a day and handling over 800,000 search queries per day.

Linkedin with 15,475,890 unique visits.

LinkedIn (pronounced /ˌlɪŋkt.ˈɪn/) is a business-oriented social networking site. Founded in December 2002 and launched in May 2003, it is mainly used for professional networking. As of 22 March 2011, LinkedIn reports more than 100 million registered users, spanning more than 200 countries and territories worldwide. The site is available in English, French, German, Italian, Portuguese and Spanish. Quantcast reports Linkedin has 21.4 million monthly unique U.S. visitors and 47.6 million globally.

Classmates with 14,613,381 unique visits.

Classmates.com is a social network service created in 1995 by Randy Conrads who founded Classmates Online, Inc.
The social media website was originally designed to assist members in finding friends and acquaintances from kindergarten, primary school, high school, college, work and the United States military. In 2010, CEO Mark Goldston described the transition of the website "to increasingly focus on nostalgic content" such as "high school yearbooks, movie trailers, music tracks, and photographic images. To this end, and to appeal more to older users, the website name was changed to Memory Lane, which included a website redesign.

MyLife with 8,736,352 unique visits.

MyLife (formerly Reunion.com) is a social network service founded in 2002 by Jeffrey Tinsley after meeting his wife at their high school reunion. The company began with the acquisition of highschoolalumni.com and PlanetAlumni.com. The website claims to help members find and keep in touch with friends, relatives and lost loves.
In its own press release, Reunion.com claims to be the 6th top social networking site as of August 2007 with 28 million members, growing by nearly 1 million new members each month, mostly in the United States and Canada. Quantcast estimates Mylife has 4.2 million monthly unique U.S. visits.

Ning with 6,120,667 unique visits.

Ning is an online platform for people to create their own social networks, launched in October 2005. Ning was co-founded by Marc Andreessen and Gina Bianchini. Ning is Andreessen's third company (after Netscape and Opsware). The word "Ning" is Chinese for "peace" (simplified Chinese: 宁; traditional Chinese: 寧; pinyin: níng), as explained by Gina Bianchini on the company blog. Quantcast estimates Ning has 7.4 million monthly unique U.S. visitors.

LiveJournal with 3,834,155 unique visits.

LiveJournal (LJ) is a virtual community where Internet users can keep a blog, journal or diary. LiveJournal is also the name of the free and open source server software that was designed to run the LiveJournal virtual community. LiveJournal's blogging features include those found in similar blogging sites (multiple authors, commenting, calendars, and polls). However, LiveJournal differentiates itself from other blogging sites by its WELL-like features of a self-contained community and some social networking features similar to other social networking sites.

Tagged with 3,800,325 unique visits.

Tagged is a social networking site based in San Francisco, California, United States, founded in 2004. The website suggests new people for members to meet based on shared interests. It also allows members to browse people, play games, and share tags and virtual gifts. Tagged has 100 million registered members. Quantcast reports Tagged has 6.2 million monthly unique U.S. visits and 20.4 million globally. Tagged's first acquisition was the popular social and instant messaging client Digsby, which has 3 million registered users.

Last.fm with 3,473,978 unique visits.

Last.fm is a music website, founded in the United Kingdom in 2002. It has claimed over 40 million active users based in more than 190 countries. On 30 May 2007, CBS Interactive acquired Last.fm for £140m ($280m USD).
Using a music recommender system called "Audioscrobbler", Last.fm builds a detailed profile of each user's musical taste by recording details of the songs the user listens to, either from Internet radio stations, or the user's computer or many portable music devices. This information is transferred to Last.fm's database ("scrobbled") either via the music player itself (Rdio, Spotify, Amarok) or via a plugin installed into the user's music player. The profile data is then displayed on the user's profile page. The site offers numerous social networking features and can recommend and play artists similar to the user's favourites.
Perhaps the two biggest surprises were Facebook's nearly doubling their monthly visitors in the last year and Twitter quadrupling their monthly visitors. Twitter also tripled their monthly visits, which makes it easy to crown them as the fastest growing social network.
Also of interest is MySpace's 13% decrease. It might not be surprising to note that MySpace is losing traffic to Facebook, but MySpace recently acquired Imeem, which was previously ranked 10th on the most popular social networks list. When you add the two together, MySpace shrunk by around 20% over the last year.