There are few better ways to ensure that a memory is never lost than taking a photo, but what are the best options on the market today for digital cameras? Choosing a camera can be a difficult task because there are so many factors to consider, such as price, image quality, battery life and many more.
Where will you use your digital camera? There are different options based on the type of photography that you hope to participate in from professional quality cameras all the way down to devices more designed for hobby users.
When it comes down to actually making the decision on which camera to buy, consumers must consider which camera will best suit their needs and FindTheBest has created a top 10 lists to help them do just that. (Best Digital Camera in the market today – SLR Reviews)
10 – Nikon D90, Nikon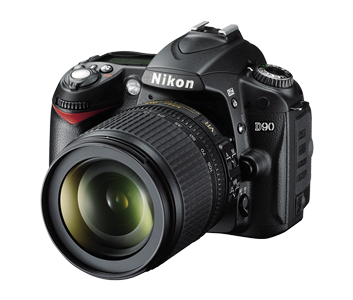 Key Features
12.3-megapixel DX-format CMOS imaging sensor: Coupled with Nikon's EXPEED image processing technologies and NIKKOR optics, breathtaking image fidelity is assured.

World's first D-SLR with an HD movie mode: Record exceptional 24fps movie clips with sound at up to 720p HD (1280 x 720 pixels) in Motion JPEG format, enhanced by NIKKOR interchangeable lens quality and versatility.
3-inch super-density 920,000-dot color LCD monitor
High resolution, 170-degree wide-angle viewing guarantees confident image review and movie playback.
11-point AF system: Consistently fast and accurate autofocus, reinforced by the Nikon Scene Recognition System, delivers razor sharpness in a wide variety of conditions.
Nikon 3D Color Matrix Metering II with Scene Recognition System: Nikon's renowned 420-pixel RGB 3D Color Matrix Metering II, teamed with the exclusive Scene Recognition System, evaluates images, referencing an on-board database of over 30,000 photographic scenes, for unmatched exposure accuracy.
Auto Active D-Lighting: Selectable and Automatic, Active D-Lighting optimizes details within shadows and highlights, taming high-contrast situations in real time.
In-Camera Image Editing
Creative freedom stems from exclusive in-camera image editing, featuring Fisheye effect, Straighten and Distortion Control as well as D-Lighting, Red-eye Reduction, Image Overlay, Monochrome and more.
Continuous shooting as fast as 4.5 frames-per-second: Combined with fast 0.15ms power-up and split-second 65ms shooting lag, dramatic action and decisive moments are captured easily.
Low noise ISO sensitivity from 200 to 3200: High signal-to-noise components and design deliver exceptional performance, even at high ISO setting.
Built-in image sensor cleaning
Effective 4-frequency, ultrasonic sensor cleaning frees image degrading dust particles from the sensor's optical low pass filter.
One-button Live View: Easy to use Live View activates access to 3 contrast detection focus modes including Face Priority AF.
Comprehensive exposure control: Five advanced scene modes plus Program Auto, Shutter Priority, Aperture Priority and Manual.
Durable, high precision shutter
Testing to over 100,000 cycles assures shutter life and accuracy.
GPS geo-tagging
GP-1 GPS unit (optional) provides automatic real-time geo-tagging.
9 – Sony HX1, Sony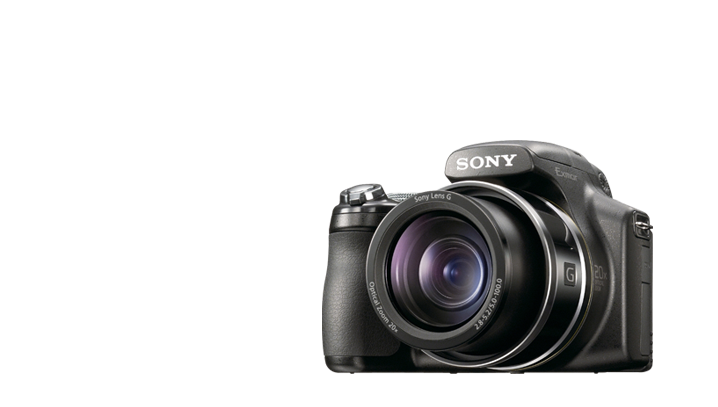 Superior Wide Angle to Telephoto Range
The Cyber-shot HX1 allows you to capture a scene with greater flexibility than any other camera. In addition to 9.1MP and 3.0″ LCD, its powerful 20x optical zoom G lens ranges from 28mm wide angle to 560mm telephoto. With Sweep Panorama, you can capture wide-angle views that extend beyond human vision—up to 224 degrees.

Packed with Innovative Features
Because Sony designs and manufactures the three core elements on which digital imaging depends, the HX1 can achieve breakthrough performance and capabilities unlike other cameras. Exemplified in G Series Lens, Exmor™ CMOS Imager and Bionz™ processor, Sony Image3 creates an elevated standard in imaging.
Don't Miss the Decisive Moment
With the ability to shoot 9MP images at 10 frames per second, the HX1 allows you to capture action like no other compact digital camera. Its high speed mechanical shutter captures each frame without the distortion common with electronic shutters.

The First Camera with Sweep Panorama
Equipped with Sweep Panorama mode7, the HX1 reaches beyond the limits of wide angle lenses and makes it easy to capture expansive, breathtaking panoramic shots. Simply press the shutter button and "sweep" the camera horizontally or vertically—and the camera assembles the shots into a single frame which can cover up to 224 degrees field of view.

Overcome Low-light Challenges
By capturing and superimposing six images, the HX1 revolutionizes low-light photography. Handheld Twilight mode renders and image with up to 50% less noise than other cameras, and Anti-motion Blur mode overcomes the blur of a moving subject.
A Smarter Auto Mode
Intelligent Auto (iAuto) mode goes beyond traditional auto settings by recognizing and adjusting to scene conditions and lighting, enhancing natural skin tones, and reducing blur.
Capture and Share Your Memories in HD
Record your movies in stunning 1080p HD resolution and with the built-in stereo microphone record audio that is crisp and clear. View your photos in glorious high definition on a compatible Sony BRAVIA® or similar HDTV via an HDMI cable (sold separately).
Edit, Manage, and Share Your Images
Easily retouch and enhance your pictures with 10 in-camera tools and quickly find images with convenient Image Management functions. Plus, with the included PMB (Picture Motion Browser) software, it's a breeze to transfer, manage, archive and share your photos.
8 – Nikon D3X, Nikon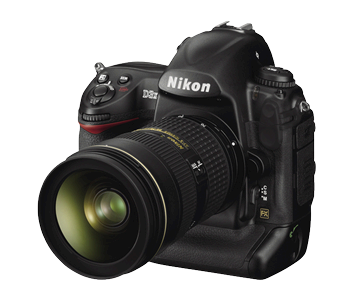 Key Features
Extreme resolution 24.5-megapixel FX-format (35.9 x 24.0mm) CMOS sensor
Large 5.94µm pixels capture astonishing detail and subtleties with outstanding dynamic range for demanding commercial applications.
138 MB1 Processed NEF (RAW) 12 or 14 bit image files
Selectable bit depths of 12-bit (4,096 tones) or 14-bit (16,384 tones), both yielding incredible image quality through a 16-bit processing pipeline, for smoother tonal gradations.
Two Live View shooting modes
Two Live View modes add flexibility, and up to 27x magnification in the Tripod Mode, acute focusing accuracy is easily confirmed.
Fast, accurate 51-point AF system
AF system features 4 Dynamic AF modes, including 3D Focus Tracking, for autofocus precision and razor sharpness.
3-inch super-density 921,000-dot VGA LCD monitor
Individual factory calibration assures the color accuracy of each D3X monitor for critical image review.
Nikon Picture Control
Four preset options: Standard, Neutral, Vivid and Monochrome, and 9 customizable settings provide advanced, personalized color control.
Dual CF card slots with overflow, backup and copy options

Up to 4,400 images per battery charge

Nikon EXPEED image processing technologies
EXPEED extends and assures breathtakingly rich image fidelity and reduces noise, even at high ISOs.
Low noise ISO sensitivity from 100 to 1600
Added ISO settings of Lo-1 (ISO 50 equivalent), Hi-1 (ISO 3200 equivalent) and Hi-2 (ISO 6400 equivalent) extend versatility.
Continuous shooting at up to 5 fps at full FX-format resolution
Commercial image quality teams with speed and handling to create new shooting possibilities—in the studio or on location.
1,005-Pixel 3D Color Matrix Metering II with Scene Recognition System
Two Nikon-exclusive technologies provide intelligent auto exposure capabilities, along with refined auto white balance detection and faster, more accurate AF performance.
100% viewfinder coverage
Rugged, durable and precise magnesium-alloy construction
Effectively protected from invasive dust, moisture and electromagnetic interference with a self-diagnostic shutter mechanism tested to exceed 300,000 cycles.
Virtual Horizon Graphic Indicator
7 – Nikon D3S, Nikon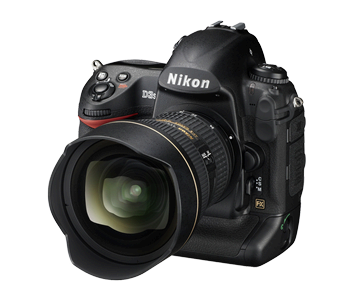 Key Features
Nikon-original FX-format CMOS Sensor
Newly engineered for striking image fidelity and low-noise, optimizing pixel size and count in a 12.1-megapixel sensor to produce extraordinarily rich files.
Continuous Shooting Up to 9 FPS
Secure exacting moments in time with an expanded buffer, allowing continuous capture of up to 82 JPEG (fine) or 36 14-bit NEF (RAW) images.

One-button Live View with Two Shooting Modes
Two modes for studio or remote shooting—Tripod Mode offers 27x magnification for precise focus confirmation.

Dynamic Integrated Dust Reduction System
Ultrasonic process combats the accumulation of dust on the optical low-pass filter, safeguarding image quality.
Fast, Accurate 51-Point AF System
4 Dynamic modes and 15 cross-type sensors deliver AF precision and razor sharpness.

Scene Recognition System
Referencing an onboard image database, teamed with RGB metering, SRS enhances exposure and white balance evaluation and improves AF speed and accuracy.
Nikon Picture Control
Four preset options and 9 customizable settings provide personalized style control.

Dual CF Card Slots with Overflow, Backup and Copy Options
Approx. 4,200 Images per Battery Charge
Low Noise ISO Sensitivity from 200 to 12,800
Renowned low-noise performance at 12,800, plus expanded settings to an astounding ISO 102,400 (equivalent) and ISO 100 (equivalent).
HD Video Capture
Record smooth 24 fps HD video, leveraging low-noise D3S image quality along with high fidelity stereo sound capability.
3-Inch Super-density 921,000-dot VGA LCD Monitor
D3S monitors are individually calibrated during assembly to assure accuracy.
Nikon EXPEED Image Processing
Drives breathtakingly rich image fidelity, low-noise and fast image processing.
1,005-Pixel 3D Color Matrix Metering II
Nikon-pioneered RGB metering includes color information to intelligently determine more accurate exposures.
Rugged and Precise Magnesium Alloy Construction
Effectively protected from invasive dust, moisture and electromagnetic interference with a self-diagnostic shutter mechanism tested to exceed 300,000 cycles.
100% Viewfinder Coverage
Virtual Horizon Graphic Indicator

6 – Sony HX1, Sony
5 – Pentax K-7, Pentax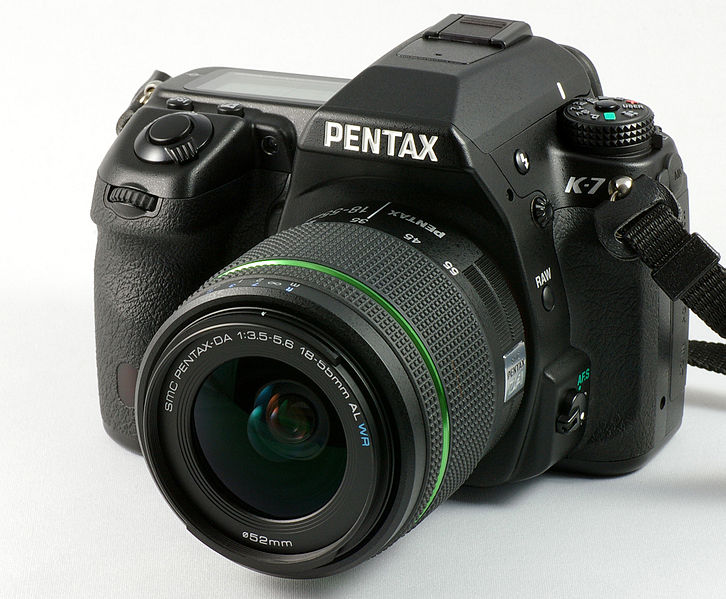 New features include:
– body is still weather resistant like the K20D; however, it is now made of magnesium alloy, and it is now also low temperature resistant
– a high-definition video recording function (30 frames per second at 1536×1024 resolution or HDTV (cropped))
– TAv exposure mode: Time/Aperture Value: photographer sets his own desired shutter speed/aperture, while the camera adjusts the ISO accordingly to compensate exposure
– in-camera high dynamic range imaging function to create one composite image from three images with different exposures
– dedicated AF-assist lamp
– in-camera electronic level that works with Earth's gravity, usable in total darkness too (a 1st by Pentax in any camera model from any brand)
– automatic horizon correction
– a new shutter rated for 100,000 actuations and capable of shutter speeds as fast as 1/8000 second
– continuous shooting speed of up to 5.2 frames per second
– a viewfinder with 100% field coverage
– a new Natural-Bright-Matte III focusing screen
– a new autofocus module
– a 77-segment light meter
– a newly developed DR II dust removal system
– a 3" LCD monitor with a wide angle IPS panel with approximately 921k dots
– Face recognition in live view mode
– a new-generation Shake Reduction mechanism which can compensate for rotational movement
– lighter weight: the K-7 body weighs 55 g (7.5%) less than the K20D
– very quiet shutter
4 – Canon EOS-1D Mark III, Canon


Features
– Entirely new 10.1 Megapixel Canon CMOS Sensor (APS-H size, 1.3x lens conversion factor), featuring the EOS Integrated Cleaning System
– World's fastest digital SLR: shooting up to 10 fps, with a burst rate up to 110 full-resolution JPEG images or 30 RAW images
– All new high-precision AF system with 19 user-selectable AF points and 26 additional "assist points"; superior low-light performance and faster operation
– New lighter body with enhanced weather resistance and outstanding reliability: featuring a shutter that's durability-tested to 300,000 exposures
– Dual "DIGIC III" Image Processors work with new CMOS sensors to produce superb image quality; new Highlight Tone Priority option adds control of bright highlights
– Large 3.0-inch LCD monitor, featuring Live View function
– Fully compatible with over 50 EF lenses and a wide range of EOS System accessories
3 – Canon PowerShot G11, Canon


Features
– New 10.0 Megapixel sensor coupled with Canon's DIGIC 4 Image Processor designed as the High Sensitivity System for improved low light image performance.
– Full range of shooting and recording modes including RAW + JPEG for the ultimate creative control.
– Large, bright 2.8-inch Vari-angle LCD with 461,000 dots for shooting at a variety of angles plus an optical viewfinder.
– A host of optional accessories including Speedlite flashes, underwater housing and Tele-Converter Lens are available.
– A high-powered Wide-Angle 5x Optical Zoom (equivalent to 28 – 140mm) with Canon's Optical Image Stabilizer gets you up close and personal to your subjects.
– DIGIC 4 Image Processor improves the overall camera performance.
– HDMI output for viewing still images on an HDTV.
– Improved Smart AUTO intelligently selects the proper setting for the camera based on 22 predefined shooting situations.
2 – Nikon D3, Nikon

Key Features
Nikon's original 12.1-megapixel FX-format (23.9 x 36mm) CMOS sensor: Couple Nikon's exclusive digital image processing system with the 12.1-megapixel FX-format and you'll get breathtakingly rich images while also reducing noise to unprecedented levels with even higher ISOs.

Extreme low-noise ISO range with advanced noise reduction: This enables photographers to confidently select from 200-6400 ISO with an expanded range that includes: Lo-1 (100 ISO), Hi-1 (12,800 ISO) and Hi-2 (25,600 ISO).
Selectable 12-Bit or 14-Bit A/D Conversion: The choice of selecting bit depths at 12-bit (4,096 tones) or 14-bit (16,384 tones), both yielding incredible image quality through a full 16-bit processing pipeline, enables photographers to choose smaller files at faster operating speeds, as opposed to larger files with smoother tonal gradations at slower operating speeds.
Fast, accurate 51-point auto focus with 3D focus tracking: Add onto that, three dynamic AF modes to deliver exacting autofocus precision at blazing speeds.

Nikon's exclusive Scene Recognition System (SRS): Improved 1,005-pixel 3D Color Matrix Metering II provides even more intelligent auto exposure capabilities, along with smarter auto white balance detection and faster, more accurate AF performance.
Nikon's exclusive Active D-Lighting: Image enhancement provided on the fly while shooting produces broader tone reproduction in both shadows and highlights by controlling light intensity and exposure compensation while applying localized tone control technology to achieve the right level of contrast across the entire image for sharp, detailed results.
Nikon's self-diagnostic shutter system: Tested to 300,000 cycles, this system is a clear indication of advanced engineering and durable construction.
Continuous shooting at up to 9 frames per second: At full FX resolution and up to 11fps in the DX crop mode, the D3 offers uncompromised shooting speeds for fast-action and sports photography.
Nikon's exclusive EXPEED Image Processing Technology: The foundation of Nikon's newest Image Processing Systems, EXPEED incorporates the concepts, innovations and years of Nikon's digital image processing experience, providing superior image quality with state-of-the-art technologies at blazing processing speeds.
3.0-inch super density 921,000-dot VGA color monitor: With 170-degree, wide-angle viewing and tempered glass protection, you'll get even better critical image review capabilities.
Two Live View shooting modes: Use either hand-held or with a tripod when shooting in a studio, remote situations or from challenging angles.
New Picture Control settings: This gives photographers dramatically advanced color control with 4 preset options; standard, neutral, vivid and monochrome, as well as 9 customizable settings.
The World's First Virtual Horizon Graphics Indicator: The D3's super-density color LCD monitor, teamed with Nikon's innovative Electronic Virtual Horizon delivers instant and accurate confirmation of the D3's position relative to "horizon level." You can also level the D3 while looking through the viewfinder or on the top-deck LCD.
Comprehensive state-of-the-art dust and moisture countermeasures and electromagnetic interference: With a rugged, durable and precise magnesium-alloy chassis and body, the D3 goes beyond other D-SLRs to protect against invasive moisture, dust and even electromagnetic interference. A comprehensive series of O-rings and other specialized seals, combined with additional engineering, keeps you shooting when lesser cameras would fail.
1 – Nikon D700, Nikon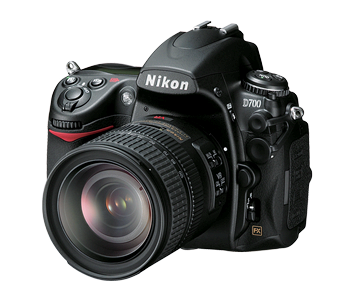 Key Features

Nikon's original 12.1-megapixel FX-format (23.9 x 36mm) CMOS sensor: Teamed with Nikon's exclusive EXPEED digital image processing, the D700 delivers breathtakingly rich image quality.

Continuous shooting up to 5 frames per second: Shoot at up to 8 frames per second with the optional MB-D10 Multi-power Battery Pack.

Two Live View shooting modes: Choose from hand-held or tripod modes to suit shooting requirements.

Fast, accurate 51-point AF with 3D Focus Tracking: Exacting autofocus precision, plus three Dynamic AF modes.

1,005-Pixel 3D Color Matrix Metering II: Legendary Nikon exposure accuracy aided by an onboard database of over 30,000 images.

Nikon Picture Control settings: Advanced color control with 9 customizable settings and 4 preset options allow fine tuning of image appearance preferences.

Broad ISO sensitivity up to 6400 and incredibly low noise: Super low-noise performance from 200-6400 ISO, with the added versatility of Lo-1 (100 ISO) Hi-1 (12,800 ISO) and Hi-2 (25,600 ISO).

Three-Inch, super-density 921,000-dot VGA color monitor: High resolution with
170-degree wide-angle viewing, calibrated color and tempered-glass protection assure confident image review.

Rugged magnesium-alloy construction: Along with extensive dust and moisture protection and a durable shutter mechanism tested to 150,000 cycles, the D700 merges pro D-SLR performance with expanded agility.

Dynamic Integrated Dust Reduction System: Effective quad-frequency, ultrasonic sensor cleaning minimizes image degrading dust particles.

Nikon's exclusive Scene Recognition System: SRS further extends auto-exposure intelligence while also advancing white-balance detection and autofocus performance.

Active D-Lighting with NEW Auto mode: Unique three-phase dynamic control to capture previously lost details in shadows and highlights while maintaining normalized contrast.

[Contact or email us with your questions, comments or tips.]

<!-comments-button-->