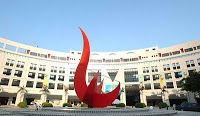 Welcome to the full results of the 2011 QS Asian University Rankings. View Asia's top 200 institutions overall, or search within individual subject or criteria tables to find out which universities excel in the areas that matter to you.
Here's the top 10 list out of 200 best Asian universities (Rank,School,Country,Classification,Score)
1 – The Hong Kong University of Science and Technology
Hong Kong, M|CO|, Score: 100.00

The Hong Kong University of Science and Technology (often abbreviated HKUST) is a public university located in Hong Kong. Established in 1991 under Hong Kong Law Chapter 1141 (The Hong Kong University of Science and Technology Ordinance), it is one of the nine universities in Hong Kong.
Professor Tony F. Chan is the current president of HKUST. The campus is located in Sai Kung District in the New Territories of Hong Kong. Overlooking Clear Water Bay, the school is home to 9,000 students as well as more than 450 faculty. Since its official opening in 1991, the university has become one of the top universities in Hong Kong and is among the most prestigious in Asia. It is ranked as the best university in Asia according to QS Asian University Rankings 2011. Also, the THE-QS World University Rankings (known from 2010 onwards as the QS World University Rankings) in its 2009 edition ranked HKUST 35th worldwide and 26th in technology. The HKUST Business School's MBA program is ranked 52nd worldwide by the EIU[4]and 6th worldwide by the Financial Times. Additionally, the school's Executive MBA program is run in partnership with Kellogg School of Management and is ranked number one worldwide by FT. HKUST also has a partnership with NYU's Stern School of Business in forming the Master of Science in Global Finance (MSGF).
2 – University of Hong Kong
Hong Kong, L|FC|, Score: 99.80

The University of Hong Kong is the territory's oldest university, and with a history that stretches back nearly 100 years, it has grown with and helped shape the city from which it takes its name.

Today, HKU, as it is fondly called, is a dynamic, comprehensive, university of world-class standing. With ten Faculties and numerous research centres, its reputation as a centre of intellectual excellence is recognised around the world. It continues to build on its strengths with innovative research and teaching, producing well-rounded graduates with outstanding leadership qualities.
3 – National University of Singapore (NUS)
Singapore, XL|FC, score: 99.30

The National University of Singapore (NUS) is Singapore's global university with distinctive strengths in education and research and an entrepreneurial dimension. NUS is a multi-campus university which spans three locations – its principal 150-hectare Kent Ridge campus, Bukit Timah campus and Duke-NUS Graduate Medical School Singapore at Outram. More than 28,000 students from 80 countries make the University a hub of activity and buzz.

NUS offers comprehensive curricula in the Faculties of Arts & Social Sciences, Business, Computing, Dentistry, Design & Environment, Engineering, Law, Medicine and Science. A University Scholars Programme grooms talented students for leadership by developing their personal, intellectual and leadership qualities. An NUS Graduate School for Integrative Sciences and Engineering spearheads trans-disciplinary graduate education and research in science, engineering and medicine.
4 – The University of Tokyo
Japan, L|FC|, Score: 97.40

The University of Tokyo was established in 1877 as the first national university in Japan. As a leading research university, the University of Tokyo offers courses in essentially all academic disciplines at both undergraduate and graduate levels and conducts research across the full spectrum of academic activity. The university aims to provide its students with a rich and varied academic environment that ensures opportunities for both intellectual development and the acquisition of professional knowledge and skills.

The University of Tokyo has a faculty of over 4,500 and a total enrollment of about 29,000, evenly divided between undergraduate and graduate students. As of 2009 there were 2,555 international students, and in 2008 over 3,500 foreign researchers come annually to the university for both short and extended visits while 9,130 academics visited foreign universities for academic purposes. The University of Tokyo is known for the excellence of its faculty and students and ever since its foundation many of its graduates have gone on to become leaders in government, business, and the academic world.
5 – The Chinese University of Hong Kong
Hong Kong, L|FC|, Score: 97.20

The Chinese University of Hong Kong (CUHK) is a top comprehensive research university ranked 42nd globally in the 2010 QS World University Rankings and has standing as one of the world's premier universities ranked in the upper tier.
The Chinese University is the only tertiary education institution in Hong Kong with Nobel Prize winners on its faculty, including Chen Ning Yang, James Mirrlees, Robert Alexander Mundell and Charles K. Kao (winner of the 2009 Nobel Prize in Physics). Other eminent thinkers at the university include mathematician Shing-Tung Yau, holder of the prestigious Fields Medal and Veblen Prize, and computational theorist Andrew Yao, winner of the Turing Award.
The Chinese University is an officially trilingual campus; its languages of instruction are English, Cantonese, and Mandarin. The school is also home to the renowned Yale-China Chinese Language Center.
The University has 61 academic departments organized under eight faculties: arts, business administration, education, engineering, social science, medicine, science, and law. Within these 61 departments are 117 undergraduate programs and 247 postgraduate programs.
6 – Seoul National University
South Korea, L|FC|, Score: 96.90

From the Start of the New Nation
Korean people have always maintained their faith in the power of education, even through colonial occupation and war during the tumultuous first half of the 20th century. Thus in 1946, just months after Korea regained its independence, Seoul National University was established as the first piece of the educational foundation for the new nation.
After a few short years, the campus had to be abandoned at the start of the Korean war in 1950, as civilians fled south to escape the frontlines. But the passion of the professors and students sustained the school through the war, with classes held outside refugee camps.

Comprehensive Research University
Thanks to this 'education fever', Seoul National University has grown remarkably in the past six decades. Now comprising 16 colleges and associated graduate schools, 6 professional graduate schools, and 65 research institutes, the SNU community has expanded to nearly 23,000 students and 2,500 faculty members. It has moved to Gwanak campus which has 192.366km2 of campus and 300 of buildings for education and research. SNU is in building new campuses outside of Gwanak such as 'Bio information technology port at Cheongna(0.6km2, by 2017), Advanced institute of convergence technology (0.1km2, by 2008) and Greenbio research complex (by 2010).
7 – Kyoto University
Japan, L|FC|, Score: 96.30

Founded in 1897, Kyoto University has deeply considered its traditions of liberal and academic freedom, educating many. We continue to actively maintain these principles, which are the foundation of academic freedom.

Kyoto University places top priority on basic research, develops advanced technology leading to the acquisition of intellectual property, and then returns this knowledge to society through education, social cooperation, and the opportunity for lifelong education.

In 21st century, people stand at the crossroads of survival in a changing natural environment. Kyoto University understands this struggle as it grapples with the problems of education in man's future.

Kyoto University has 3 campuses nestled in a basin, which forms the main part of Kyoto, a city which in tradition and culture of which Kyoto University is a part.
8 – Osaka University
Japan, L|FC|, Score: 96.09

Osaka University (大阪大学 Ōsaka daigaku?), or Handai (阪大 Handai?), is a major national university in Osaka, Japan. It is the sixth oldest university in Japan as the Osaka Prefectural Medical College, and formerly one of the Imperial Universities of Japan.
It is a well known university where Hideki Yukawa obtained his Nobel Prize in Physics on his early work.
9 – Tohoku University
Japan, L|FC|, Score: 94.30

Tohoku University was founded in 1907 as the third imperial university, during the period when Japan had begun to transform itself into a modernized society. Since then, it has played a leading role in both research and education in Japan, and is now ranked among the top universities in the Asia-Pacific region.

From the start Tohoku University has maintained uniqueness within Japan. The university has always conceived strong loyalty to science while other former imperial universities have tried to meet the governmental needs. This has resulted in remarkable success in the University's own research and also the cultivation of brilliant students who have maintained a desire for science even after they left the university. A typical example, and probably the best known is Mr. Koichi Tanaka, the 2002 Nobel Prize laureate and a graduate of the class of 1983.

The university sees science as something to be used for the good of humanity. This has encouraged us to apply the most advanced scientific knowledge in various fields such as engineering, medicine, and law, to the needs of society. The university is widely regarded as one of the most active in industry-university cooperation in Japan.

We have also placed great emphasis on an "open door" policy. Tohoku University was the first national university to turn coeducational and there is a constant influx of large numbers of International students and scholars from all over the world. In April 2004, all national universities in Japan became incorporated body and therefore legally independent of the national government. We are firmly convinced that the key to success to this new organizational structure is our existing "open door" policy and in particular, our ambitious plans for continued transnational research collaboration and student exchange.

Tohoku University is located in the northern part of Honshu Island–the main island of Japan–, in the City of Sendai. There are several campuses, fully equipped with everything necessary to a modern academic environment in scenic surroundings and a mild climate. Sendai itself is a historic port city, close to the mountains and permeated with woodland areas.

Tohoku University is situated in an extremely comfortable place to live and work and has some of the most friendly and exciting colleagues you will find in Japan.
9 – Tokyo Institute of Technology
Japan, M|CO|, Score: 94.30

At the turn of the new millennium, Tokyo Institute of Technology, Tokyo Tech, celebrated its 120th anniversary. Founded in 1881 as Tokyo Vocation al School and later elevated to a university in 1929, Tokyo Tech has been very successful as a university specializing in science and technology, producin g a great number of leading engineers and professi onals in the fields of science and technology. In 1967, the Faculty of Science and Engineering (the on ly faculty up to that time) was separated into two faculties: the Faculty of Science and the Faculty of Engineering. The new era had started, and Tokyo Tech has developed even more remarkably since then. Research in new fields and interdisciplinary areas of science and technology has been actively conducted. The Interdisciplinary Graduate School of Science and Engineering, the Faculty of Bioscience and Biotechnology, the Graduate School of Information Science and Engineering, and the Graduate School of Decision Science and Technology were founded in succession. With its cohesive organization and superior quality of research and education, Tokyo Tech has been recognized as one of the leading universities in science and technology in the world.
Please visit topuniversities.com to get the complete 200 list. Thanks.
This work is licensed under a Creative Commons Attribution 4.0 International License.





Contact us or email us with your questions, comments or tips. Read more trending news here at HenSpark!



Recommended Stories