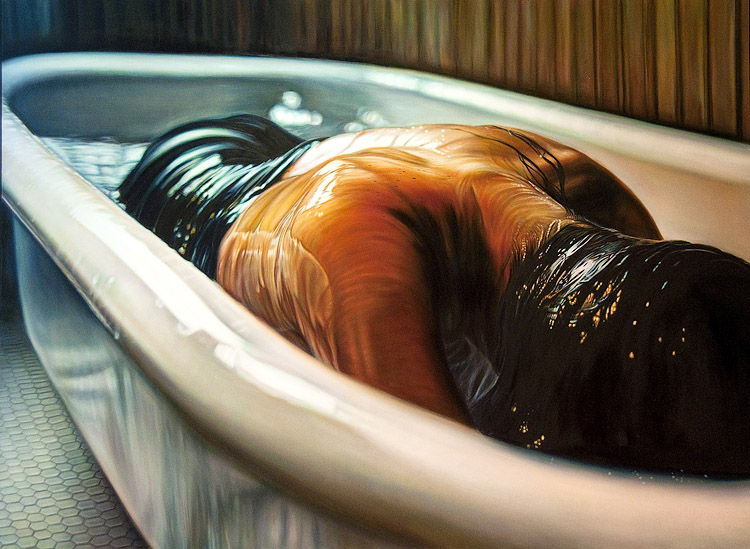 Featured Artwork: Oil Paintings by Ana Teresa Fernandez – Like everyone else, I'm easily drawn to the world of arts and visuals. When I see galleries of paintings in public like malls and bazaar – I can't help but stop and take a look at some art piece which usually amazed me and feels like I'm content of just looking at them.
Recently, I was scanning (I mean surfing) across the web when I stumble a picture showing a swimming woman in pool.
I didn't hesitate to research who's the photographer then what makes me feel like a fool is that, it's actually a painting by a great painter from Mexico – Ana Teresa Fernandez.
Let's talk about her, she holds a master's degree in Fine Arts at San Francisco Art Institute and has exhibited internationally in Mexico and South Africa.
Her paintings attack the double standard imposed on women, showing them performing menial tasks like laundry and sweeping. (Oh, how fool am I becoming…*LOL)So I decided to add her painting to our list.
Here, take a look at some of her top 10 lists paintings which makes me teary eye.
Thanks Ana for showing your talents to us.
10 – Ablution, Untitled (Performance documentation)
9 – Ablution, Left to Swoon (Performance documentation)
8 – Ablution, Untitled (Performance documentation)
7 – Telarana, Untitled, Documentation of Jennifer Locke's "Glue" performance
6 – Pressing Matters, Untitled (Performance documentation at San Diego/Tijuana border)
5 – Ablution, Aquarius (Performance documentation at San Diego/Tijuana border)
4 – Bay Area Now 5, Eco y Narciso II (performance documentation at Rodeo Room)
3 – Telarana, Untitled (Performance documentation)
2 – Ablution, Untitled (Performance documentation)
1 – Telarana, Untitled (Performance documentation)
Ana Teresa Fernandez was born in Tampico, Mexico. She holds a master's degree in Fine Arts at San Francisco Art Institute and has exhibited internationally in Mexico and South Africa.

(Source: Anateresafernandez.com)

[Contact or email us with your questions, comments or tips.]

<!-comments-button-->