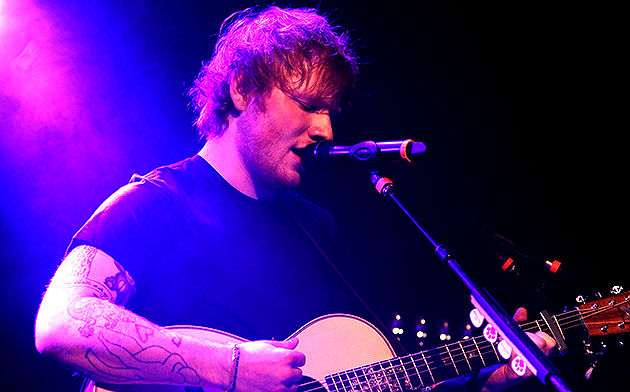 Many fans claim singer Ed Sheeran is one cool fella – and judging from the viral video we found on YouTube, this statement is certainly true!
On a stage at West Edmonton Mall in Canada, 13-year-old Sydney Bourbeau was singing Sheeran's Thinking Out Loud for a fundraiser when the singer heard her.
Perhaps the Grammy-nominated singer was doing some shopping or was just checking out something in the mall but upon hearing the youngster singing, he could not help but check her out.
Finding the young girl on stage, the singer swiftly walked towards her and, with a smile, took the microphone for an impromptu duet that had her a bit confused.
It was adorable to watch the girl looking bewildered, unsure of what to do when this hunk showed up and grabbed her mic for a duet.
It was unfortunate that there was only one mic on stage and the crew was not quick enough to hand the singer another one but the performance was awesome nonetheless.
A lot of people who watched the video remarked how the girl did not appear to identify Sheeran and was too bewildered about what was happening but Bourbeau contradicted these theories saying she was awestruck by the singer's appearance and had wanted to talk to him but she was not sure whether she should continue singing or stop and talk to her idol.
Got to love Ed Sheeran! He heard a fan singing Thinking Out Loud while shopping and decides to join her on stage!

http://www.heart.co.uk/news/today-youtube/ed-sheeran-surprises-fan-singing-video

Posted by Heart West Midlands on Monday, June 15, 2015
Well, it did not really matter as this was surely a once-in-a-lifetime experience for Bourbeau.

Also, the video has gone viral and this kid is now the envy of Sheeran's countless fans. The clip shared on Facebook by Heart West Midlands has gained over 12 million views, 440,000 likes, and 253,000 shares within just 2 days while the YouTube video posted by Murray Cummings received almost 3.8 million views.

There was no doubt that Bourbeau was a really lucky girl – and she has an amazing voice, too! It was just plain lucky that she was singing a Sheeran song while the singer was out shopping.

I bet other hopeful fans are thinking of doing the same thing, too; though this impromptu performance might just be a rare occurrence and won't be happening again.

After all, what are the chances, really, of a singer being in the same place while someone was singing his/her song in public, anyway?

(via NDTV)

[Contact or email us with your questions, comments or tips.]

<!-comments-button-->