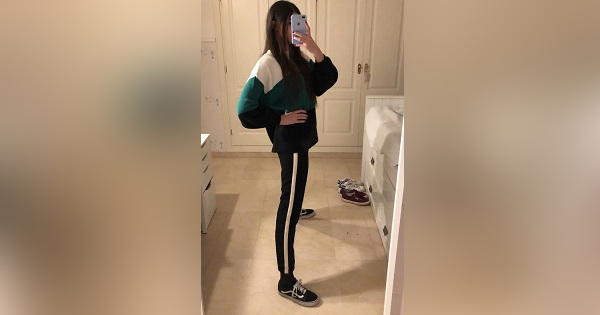 We've seen a lot of optical illusions that just might make your head crack as you try to figure out which is which or why the photo appears to look so crazy that you wonder about the truth behind the illusion.
Take for example "The Dress" which had torn the internet on whether it was blue and black or gold and white. Crazy, right?
Well, there's another clothing item that's got netizens scratching their heads in confusion because the woman in the photo appears to have very, very slim legs! My head hurts just trying to figure it out!
It all started when fitness enthusiast and model, Twitter user @milanoysl, posted a photo of her outfit as she was feeling amused over how she had combined vertical and horizontal stripes.
While most of the world doesn't really mind mixing vertical and horizontal stripes, people noticed something rather strange about the photo.
Before we reveal the explanation to the optical illusion, check this photo first and tell us what you think:
TEEN VOGUE https://t.co/CyugbOy7pu?amp=1





— marisol (@milanoysl) February 25, 2018
Do you see the woman with super slim legs? That must have been some really, really bad Photoshop fail! But it's not.

User @milanoysl had angled the shot to emphasize the stripe on the side of her track pants but because the line was something tan or whitish cream, it appeared to be splitting her leg into two; thus creating the optical illusion that she had very slim legs.

Of course, if you really look closely at the photo, you would realize that the woman wasn't facing front because her foot could be seen at the back, with the angle giving away where her body was actually facing but this escaped many people's eyes.

Also, some sites have mischievously photoshopped the foot out of the picture, completing the 'two very slim legs' optical illusion. LOL.

Despite the explanation, you really can't unsee this, eh?

<!-comments-button-->