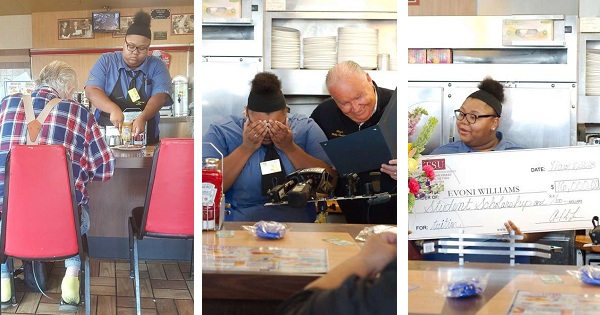 When 18-year-old Evoni "Nini" Williams cut 78-year-old Adrien Charpentier's food because he had weak hands and was struggling to breathe, she had no idea that the kind deed would bring her internet fame.
But more importantly, the teen's action would land her a $16,000-scholarship at Texas Southern University! Isn't that wonderful?
Evoni has been working at the Waffle House in La Marque, Texas to save up for college. The teen's fortune took a wonderful turn last March 4, 2018.
It started out to be just another day of work for Evoni when Adrien arrived for breakfast. The old man was on oxygen and struggling to breathe; his hands were also no longer functioning well. So, he asked help from the young waitress in cutting up his food to bite-sized pieces. She readily obliged.
The kind deed was spotted by Laura Wolf who was also dining at the restaurant at the time. She snapped a photo of the kind deed, posting about it on Facebook.
I don't know her name but I heard this elderly man tell her his hands don't work too good. He was also on oxygen and struggling to breathe. 😔 Without hesitation, she took his plate and began cutting up his ham. This may seem small but to him, I'm sure it was huge.

I'm thankful to have seen this act of kindness and caring at the start of my day while everything in this world seems so negative. If we could all be like this waitress & take time to offer a helping hand….🤝 #wafflehouse #kindness #givingback #offerlove #bekind #goodnews




Later, Evoni shrugged the kind deed off, saying it was just something that she would have done to everyone else at any given day but the public was just as impressed with the deed as Laura. The story would receive national attention, gaining more than 115k reactions and close to 59k shares within a few days.

After learning that Evoni was working at Waffle House to save up for college, Texas Southern University quickly stepped in to offer her a $16,000 scholarship!

For her kind deed, La Marque Mayor Bobby Hocking declared March 8, 2018 as Evoni "Nini" Williams Day.

The teen was feeling rather overwhelmed by the attention she received, crying in happiness during the simple proclamation ceremony and awarding of her scholarship held at the restaurant…

<!-comments-button-->