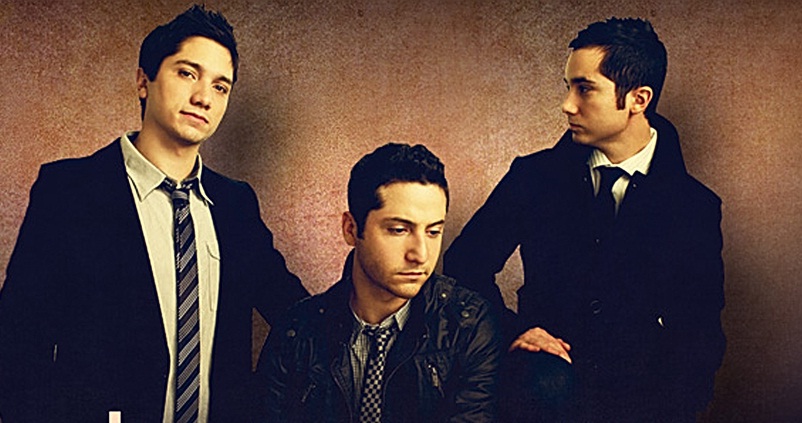 Boyce Avenue is an American acoustic rock band. It was formed in Sarasota, Florida by brothers Alejandro, Daniel and Fabian Manzano. The band is named after a combination of two streets the brothers lived on as children. They are signed to Universal Republic.
Alejandro Manzano (Vocals, Guitar, Piano)
Fabian Manzano (Guitar, Backing Vocals)
Daniel Manzano (Bass, Percussion, Backing Vocals)
Here's top lists of Boyce Avenue's Best Acoustic Covers ever. Hope you'll enjoy. I'm a big fan too!
All of Me(Original: John Legend)

Alejandro Manzano of Boyce Avenue performing "All of Me" by John Legend
Audio & Video Produced by Alejandro Manzano & Daniel Manzano
Arrangement by Alejandro
Engineered, Mixed, & Mastered by Adam Barber
Video by 3 Peace Productions
Roar(Original:Katy Perry)

Boyce Avenue and Bea Miller cover "Roar" by Katy Perry
Audio & Video Produced by Alejandro Manzano & Daniel Manzano
Arrangement by Alejandro
Recorded & Engineered by Adam Barber
Mixed & Mastered by Adam Barber
Additional Mixing & Mastering by Alejandro & Daniel
Video by 3 Peace Productions
Demons (Original:Imagine Dragons)

Boyce Avenue and Jennel Garcia cover "Demons" by Imagine Dragons
Audio & Video Produced by Alejandro Manzano & Daniel Manzano
Arrangement by Alejandro
Recorded & Engineered by Adam Barber
Mixed & Mastered by Adam Barber
Additional Mixing & Mastering by Alejandro & Daniel
Video by 3 Peace Productions
We Found Love(Original: Rihanna feat. Calvin Harris)

Alejandro and Daniel Manzano of Boyce Avenue cover of Rihanna's song "We Found Love"
Audio Produced by Alejandro Manzano and Daniel Manzano
Arrangement by Alejandro
Recorded & Engineered by Adam Barber
Mixed & Mastered by Adam Barber
Additional Mixing & Mastering by Alejandro & Daniel
Video Produced by Daniel & Alejandro
A Thousand Years(Original: Christina Perri

Alejandro Manzano of Boyce Avenue acoustic cover of "A Thousand Years" by Christina Perri
Audio Produced by Alejandro Manzano & Daniel Manzano
Arrangement by Alejandro
Recorded & Engineered by Adam Barber
Mixed & Mastered by Adam Barber
Additional Mixing & Mastering by Alejandro & Daniel
Video by 3 Peace Productions
Bryan Adams(Original: Heaven)

Boyce Avenue feat. Megan Nicole cover "Heaven" by Bryan Adams
Audio Produced by Alejandro Manzano & Daniel Manzano
Arrangement by Alejandro
Recorded & Engineered by Adam Barber
Mixed & Mastered by Adam Barber
Additional Mixing & Mastering by Alejandro & Daniel
Video Produced by Daniel & Alejandro
Here Without You(Original: 3 Doors Down)

Alejandro and Daniel Manzano of Boyce Avenue cover of the 3 Doors Down song "Here Without You"
Audio Produced by Alejandro Manzano & Daniel Manzano
Arrangement by Alejandro
Recorded & Engineered by Adam Barber
Mixed & Mastered by Adam Barber
Additional Mixing & Mastering by Alejandro & Daniel
Video Produced by Daniel & Alejandro
When I Was Your Man(Original: Bruno Mars)

Boyce Avenue and Fifth Harmony cover "When I Was Your Man" by Bruno Mars
Audio & Video Produced by Boyce Avenue
Arrangement by Alejandro Manzano
Engineered, Mixed, & Mastered by Adam Barber
Video by 3 Peace Productions
We Can't Stop(Original: Miley Cyrus)

Boyce Avenue and Bea Miller cover "We Can't Stop" by Miley Cyrus
Audio & Video Produced by Alejandro Manzano & Daniel Manzano
Arrangement by Alejandro
Recorded & Engineered by Adam Barber
Mixed & Mastered by Adam Barber
Additional Mixing & Mastering by Alejandro & Daniel
Video by 3 Peace Productions
Mirrors(Original: Justin Timberlake)

Boyce Avenue and Fifth Harmony cover "Mirrors" by Justin Timberlake
Audio & Video Produced by Boyce Avenue
Arrangement by Alejandro Manzano
Engineered, Mixed, & Mastered by Adam Barber
Video by 3 Peace Productions
The band
The band formed in 2004 when Daniel moved back to Florida after graduating Harvard Law School. Alejandro and Fabian were both attending classes at the University of Florida.

In 2006 Boyce Avenue began posting videos on YouTube (Boyce Avenue on Youtube), both of original material and cover versions.

Some of these covers like boyce avenues fast cars have reached up to 11,000,000 views. These covers have been released in EPs digitally via their independent record label, 3 Peace Records.

While producing the videos for YouTube, Boyce Avenue was continuing to create original material for a debut album, All You're Meant To Be, for release on March 3, 2008. In January 2009 the band performed a stand-alone show in New York City.

With their sights set on connecting with their online fan base, the band turned their attention to touring, playing four headlining shows in the Philippines. Shortly following this, the band returned to the States to begin its first tour of the US.

Following these tours, the band launched a tour of Europe, including dates in Germany, Ireland and the UK. In early 2010, the band returned to the Philippines to play festivals with Kris Allen and the Jabbawockeez. This was followed by a spring revisit tour of Europe in 2010.

They are currently the most searched for band on Youtube with over 300 million views and counting, and are known for their distinct cover songs. The band frequently tours (aka boyce avenue tours) to the Philippines and the U.K.

Most recently the band signed with Universal Republic and has a second album, entitled All We Have Left, released on June 15, 2010.

The album was produced and financed entirely by Boyce Avenue prior to being signed to Universal Republic.

The album contains reworked songs from "All You're Meant To Be" and brand new songs written for the album. The albums first single "Every Breath" was released digitally on March 16, 2010. The music video for Every Breath was released on March 20, 2010.

They cover new popular songs (boyce avenue cover songs) which their fans have chosen for them, including multiple collaborations with other Youtube artists such as Kina Grannis, Alex Goot, Megan & Liz, David Choi, Savannah Outen, and DeStorm.

[Reference/Source: Boyce Avenue on Youtube Channel]
[Reference/Source: Wikipedia.org]

Message from Boyce Avenue
"Because of your support we are the 2nd most viewed band on YouTube behind Linkin Park! We do what we love everyday because of you! Thanks so much! ;)"

[Contact or email us with your questions, comments or tips.]

<!-comments-button-->