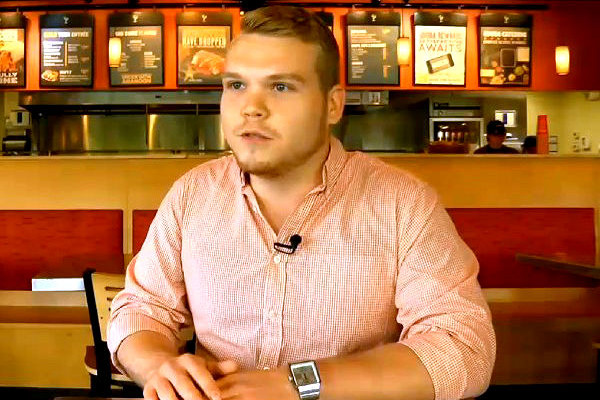 What would you do if you were working in a restaurant and a disabled person arrives, takes his/her order, and then ask you to help them eat?
Many workers just might say "no" because they had other better things to do – and it is not very likely that a lot of disabled people would go out on their own, anyway. Still, if that happens, what would you really do?
Well, for Ridge Quarles of Qdoba restaurant in the Louisville, Kentucky, it was not really such a big deal.
The young man spent a few minutes of his time feeding a disabled woman because she could not do so herself.
The act was caught on camera by Dr. David Jones, another regular at the restaurant.
"It seems to me that if everybody in the world would just use a little simple gift that they have to maybe benefit somebody else, just think what the world would be like", says Jones.
After seeing the interaction between the disabled woman and the restaurant worker, the doctor videotaped the encounter and shared it on social media for his friends and everybody else to appreciate this young man's deed.
Little did he know that the post would quickly go viral, with lots of people praising Quarles for what he did to the disabled old lady.
The Lady is a Regular Customer
According to Quarles in an interview with WAVE, in his 5 ½ years of working at Qdoba, he had known a lot of regulars in the restaurant. The lady he helped a few weeks ago was actually one of the regulars.

Quarles said this lady is often dropped by someone at the curb by the restaurant but would have to wait until someone inside the restaurant notices her or another incoming customer helps her in.

The first time she dined at Qdoba, Quarles had helped her to a table and brought her food plus utensils.

He asked whether she needed something else; she quietly asked whether he would mind if she asked him to help her eat. Without second thought, Quarles immediately obliged.

With the restaurant having such kind, helpful staff, it is no wonder that the lady quickly became a regular and said Qdoba is her favorite place to dine in.

[Contact or email us with your questions, comments or tips.]

<!-comments-button-->