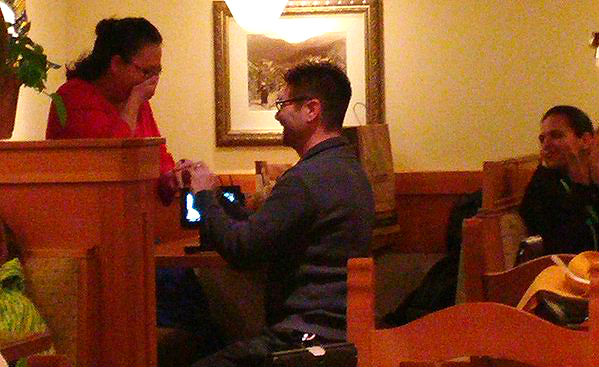 There have already been a number of marriage proposals that had gone viral on the web but there's this one which was not like all the others – for the "proposal" wasn't really a "real" one since the couple has been married for years!
We couldn't fault Fred Christiansen, the guy who took the photo, for mistaking the symbolic proposal for the real thing.
After all, not too many guys propose to their partners after years of marriage.
It is just that Darryl Miller had never really formally asked his wife Melissa's hand in marriage. So, he decided to make it up to her by doing a proposal on their fourth anniversary.
He had the help of the staff of the restaurant, Olive Garden, as one of the servers was their family friend.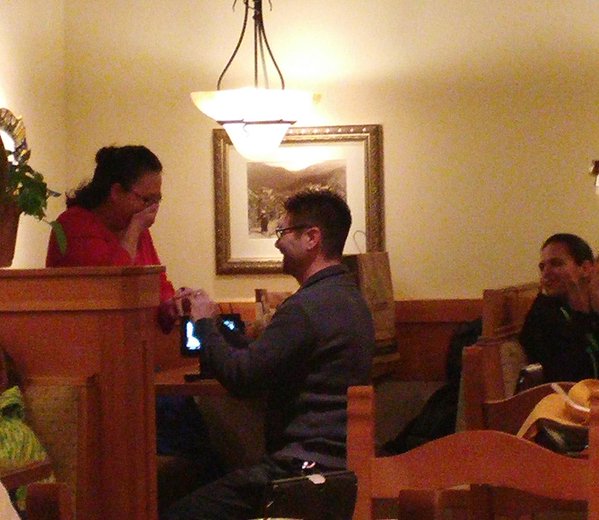 While having dinner, Darryl asked Melissa to close her eyes. This did not really surprise Melissa since Darryl always makes her do that when he is presenting her with a gift.

What she did not know is that this gift was more special because it was a "proposal" ring.

She was in for a big surprise when she opened her eyes – and everyone else in the restaurant watched the lovely moment, hoping with abated breath that she would say "yes".

Of course, she said "yes!" and everyone cheered.

Fred, the phone photographer, was not able to give the couple a copy of the picture he took of them but he thought it they should have it as a beautiful memory of the proposal, thinking it was a real proposal.

In hopes of locating the couple, he sent the photo to Idaho Press-Tribune who posted it on Facebook.

The post was also picked up by 6 On Your Side where someone finally recognized them.

Melissa later revealed, "It's an amazing moment, we will always have that memory for the rest of our lives. And, obviously, it touched some people there at the restaurant but I had no idea it would get the response that it has."

Despite the moment not being a typical proposal, the two are planning to frame the snapshot.

Melissa said, "The biggest thing is I want to thank the person that snapped the photo."

(via kivitv)

[Contact or email us with your questions, comments or tips.]

<!-comments-button-->