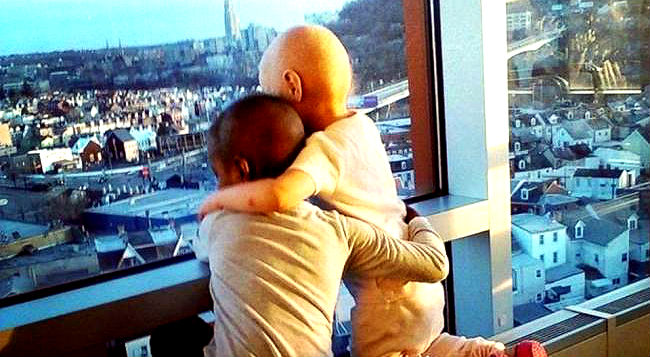 Cancer is a killer; there is no doubt about it. It has killed millions of people across the world, including young babies and toddlers.
It is sad how this disease is killing even the small kids but there are hopeful moments that happen from time to time – the kids going cancer-free after treatment and being able to spend more time with their families.
Sadly, there are also many instances when the cancer comes back with a vengeance.
With most people having had experience with cancer, whether firsthand or in friends and relatives, it is easy to see why this touching photo of two cancer-stricken girls went viral.
This photo was taken and shared by Tazz Jones, the mother of 5-year-old Maliyah Jones (the girl on the left) who has been battling neuroblastoma for almost three years.
Caption this! Repost & Share please! Trying to get this picture seen all over the world. So many people have been…

Posted by Tazz Jones on Sunday, May 3, 2015
Early this year, Maliyah met a new friend at the Children's Hospital of Pittsburgh.

It only took a few seconds for the girls to become fast friends, hugging each other as if they had been friends for years.

Then, they ran to the glass window and looked out to the Pittsburgh skyline with their arms around each other.

Touched by the emotional gesture, Tazz took the photo and shared it on her Facebook page.

As expected, the touching photo swiftly goes viral, with thousands of people showing their support and offering prayers for these two girls.

These kids are too young to die, we know, that's why we are also hoping they would be able to survive this tough fight for their lives.

According to reports, Maliyah has been discharged from the Children's Hospital of Pittsburgh since the photo was taken but it is now confined at the Memorial Sloan Kettering Cancer Center in New York to receive further treatment after she relapsed this year.

Many of those who liked and shared the cancer-stricken girls' photo wished that the two would soon experience a permanent remission and live a bright, fruitful life as adults.

We are also hoping that scientists could soon find more effective ways to prevent and cure cancer.

[Contact or email us with your questions, comments or tips.]

<!-comments-button-->