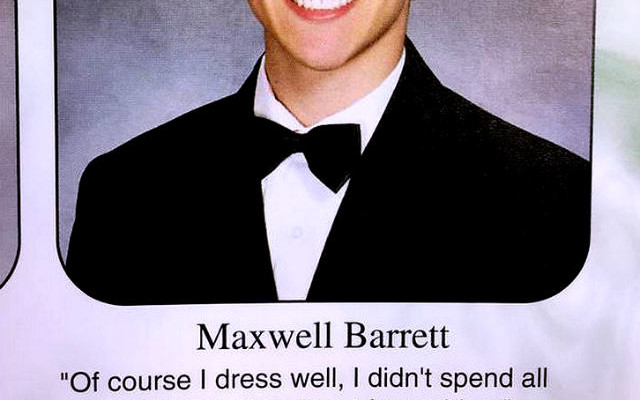 What is the best way to come out as gay for the world, especially your parents, to know? Well, Maxwell Barrett had this brilliant idea of posting a rather witty quote on his yearbook.
Sitting and giving his parents a heart-to-heart talk was not something he felt necessary, especially because he felt that they already knew he was gay.
Plus most of his friends and many of his schoolmates know he was gay, anyway.
Still, Maxwell wanted to leave high school "with a bang", especially because he had never really been the most popular student in school as he was more of a quiet artist than a musician or an athlete.
With his Twitter and Instagram posts going viral mere days after he first posted the photo of his yearbook entry, he is surely graduating as one of the most famous students of Batch 2015 at Raritan High School in Hazlet, New Jersey.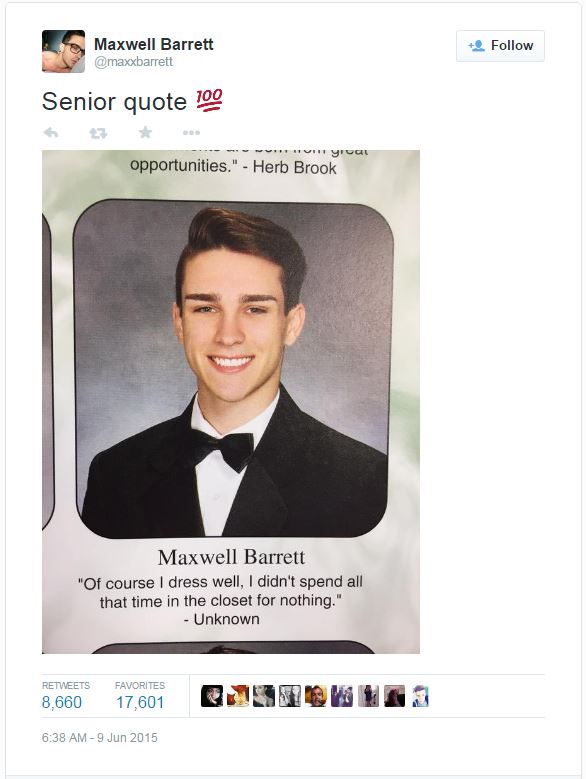 The 18-year-old had seen a similar quote somewhere on the internet, so he tweaked it a bit and came up with the following:
"Of course I dress well, I didn't spend all that time in the closet for nothing." – Unknown
Maxwell did look smartly dressed in his yearbook photo but anyone who did not know he was gay quickly came to the right conclusion after seeing the "closet" part of the quote he chose.
It certainly is amazing how this young man found that perfect quote to match his yearbook entry.
A few days after his posts went viral, he tweeted this:
"What a crazy few days! All over the WORLD my quote has reached and the love and support is so amazing. Just be you."
What a crazy few days! All over the WORLD my quote has reached and the love and support is so amazing. Just be you. pic.twitter.com/ncdv8MyTJ0

— Maxwell Barrett (@maxxbarrett) June 13, 2015
Quite amused by everything that happened after his posting his yearbook photo, Maxwell also wrote this:
"When I look through my yearbook in 30 years that quote is going to make the BEST story ever"
When I look through my yearbook in 30 years that quote is going to make the BEST story ever

— Maxwell Barrett (@maxxbarrett) June 13, 2015
Now that his yearbook entry has gone viral, what did his parents say? According to Maxwell, they were quite supportive, telling him they were proud of him and that his was the best quote on the yearbook!

It is great that his parents showed him lots of love and that his post has been well received by the community.

Maxwell truly exited high school with a bang!

[Contact or email us with your questions, comments or tips.]

<!-comments-button-->