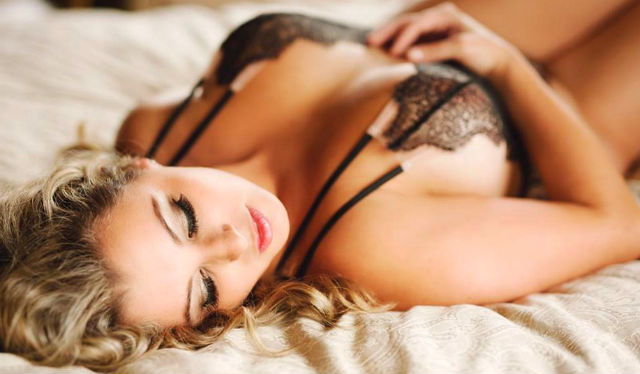 Having been shared around 180,000 times, netizens have been touched with the letter sent by an anonymous husband…
It is not every day that Victoria Caroline Haltom, a photographer who makes "boudoir" pictures of women from San Antonio, Texas, to receive a letter from clients, especially not coming her direct clients.
Instead of receiving an inquiry, a thank you, or a hate email from different people whom she had worked with, Haltom got something altogether differently – it is a heartwarming yet unhappy letter from the husband of her client.
She was so touched by the letter that it made her cry every time she reads it.
According to Haltom, the story revolved around a housewife, "a curvy, beautiful size 18," who wanted an album of self-portraits whom she intended as a gift to her husband for the upcoming Christmas.
However, there's a small request: the client would want Haltom to Photoshop-edit all her existing flaws.
This means she must edit the cellulites, fats, wrinkles, stretch marks and other women's body flaws.
Finding the request possible with Photoshop and other modern means, the photographer complied.
What happened next was totally beyond her expectations – she received an email from the husband of the same client whose pictures she had Photoshopped:
"Hi Victoria,

I am (blank)'s husband, ********. I am writing to you because I recently received an album containing images you took of my wife. I don't want you to think that I am in any way upset with you…. but I have some food for thought that I would like to pass on to you. I have been with my wife since we were 18 years old, and we have two beautiful children together.

We have had many ups and downs over the years, and I think…well, actually I KNOW that my wife did these pictures for me to "spice things up". She sometimes complains that I must not find her attractive, that she wouldn't blame me if I ever found someone younger.

When I opened the album that she gave to me, my heart sank. These pictures…while they are beautiful and you are clearly a very talented photographer…. they are not my wife. You made every one of her "flaws" disappear…and while I'm sure this is exactly what she asked you to do, it took away everything that makes up our life. When you took away her stretch marks, you took away the documentation of my children.

When you took away her wrinkles, you took away over two decades of our laughter, and our worries. When you took away her cellulite, you took away her love of baking and all the goodies we have eaten over the years. I am not telling you all of this to make you feel horrible, you're just doing your job and I get that.

I am actually writing you to thank you. Seeing these images made me realize that I honestly do not tell my wife enough how much I LOVE her and adore her just as she is. She hears it so seldom, that she actually thought these Photoshopped images are what I wanted and needed her to look like. I have to do better, and for the rest of my days I am going to celebrate her in all her imperfectness.

Thanks for the reminder.

Regards,

******** "
And the most moving part of the letter was:
"These pictures… while they are beautiful and you are clearly a very talented photographer… they are not my wife. You made every one of her 'flaws' disappear… and while I'm sure this is exactly what she asked you to do, it took away everything that makes up our life."
The viral letter was shared on the social media gaining 200 thousand likes and has 180 thousand shares as of this posting.

(via Independent UK)

[Contact or email us with your questions, comments or tips.]

<!-comments-button-->