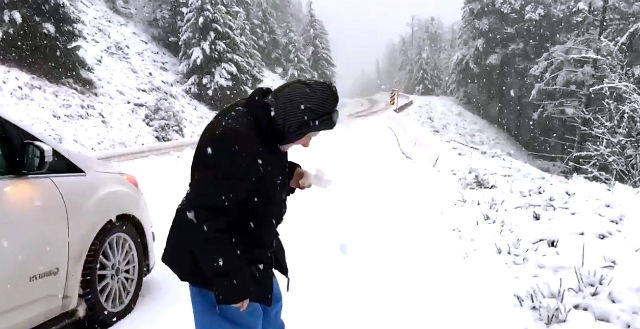 A 101-year-old grandma stars in a heartwarming video taken by her son who enjoyed watching her have a great time playing in the first snow of the season just like a small child.
Posted by Armand Foisy, this video came with the caption, "Here's proof that if you find pure joy in the simple things you can live a 100 years."
Indeed, this wonderful grandma shows us all that it is great to enjoy the simple things – even if it means simply having fun in the snow.
Considering she has lived over a hundred years, she must have touched snow and had fun in it a thousand times even as a child yet it was clear in the video that it seems like she's never seen snow before and enjoyed playing with it like a little girl.
Here's proof that if you find pure joy in the simple things you can live a 100 years.

Posted by Armand Foisy on Wednesday, November 18, 2015
What an adorable grandma!

In the video, Armand narrated that he and his mother, Albina, were driving home just outside their hometown of Lillooet, about 250km north of Vancouver, Canada, when the latter told him to stop the car.

The moment he did so, she flung the door open, went down as fast as her old legs could carry, and picked up the snow.

With gloveless hands she created a snowball which she would later throw with surprising strength! I am quite amazed by this incredible grandma.

Not only did she enjoy the snow like a child, she showed much enthusiasm and strength far more than what we would generally expect from people her age!

It was clear that Armand loves his mother to bits. While many people would feel impatient if faced with something as trivial as an old woman playing in the snow,

Armand readily indulged his mother and even enjoyed the way she was having fun with something so simple.

Instead of telling her to stop playing and hurry up so they can go on their way, he lovingly coaxed her to have fun and laughed heartily when she threw the snowball.

"She's a very happy, a very joyous person. She does not feel that 101 is any detriment to anything," reveals Armand.

When he told his mother that her video went viral, she was overjoyed.

He said, "To say that she is absolutely thrilled and amazed is a total understatement."

(via 9news)

[Contact or email us with your questions, comments or tips.]

<!-comments-button-->