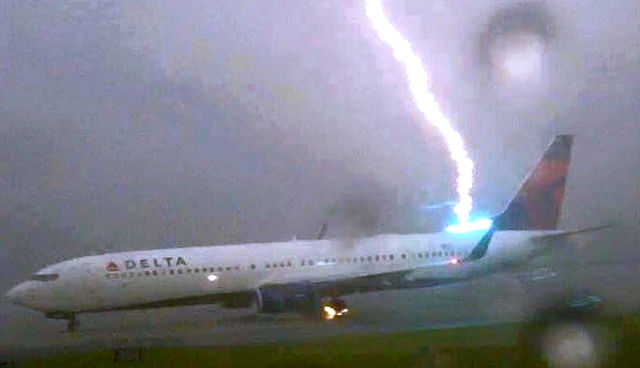 These recent years, aviation accidents occur more often gaining attention from every corners around the globe that hasten the changes on security and safety rules of airline authorities.
Nature is one of the factors that contributes these plane mishaps and one was captured recently on cam – a lightning strikes while on flight.
A shocking viral photo from Twitter by Goldboxatl is now making rounds online where in a lightning strikes a Delta plane landing in Atlanta.
#NationalAviationDay PHOTO OF THE DAY from #ATL @airlineguys @airlineguys @AirlineGeeks @vargasmoni @apoure25 #avgeek pic.twitter.com/PFYphKsl1H

— Eric (@GoldboxATL) August 20, 2015
According to a source, it appears that a lightning has passed through the airplane's metal exterior and exited from the right landing gear which is clearly visible in the viral photo.

Thankfully, it seems that no one was reportedly injured.

Now this photo was a screenshot from the actual amateur footage by Jack Perkins.

Perkins was just filming the line of planes during a ground hold in Atlanta on August 18, 2015 when he captured the direct lightning strike on a Delta flight 737.

The viral Youtube clip now garnered almost 4.8 Million views as of this posting.

[Contact or email us with your questions, comments or tips.]

<!-comments-button-->