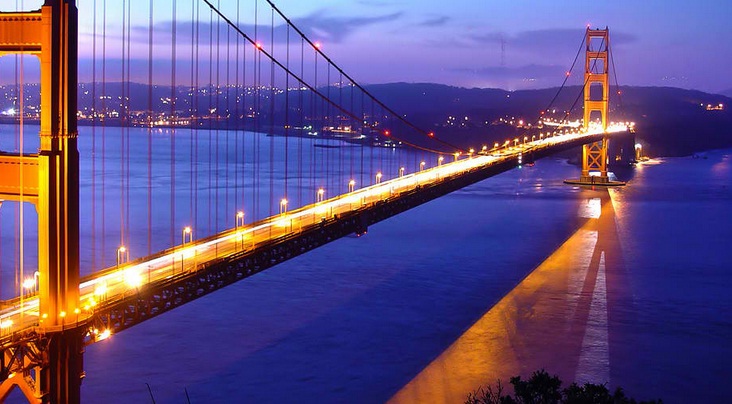 One of the best engineering marvels ever built are the bridges. It connects one place to another, making people to go to the places easier and faster. Transportation both in land and water became easier too because of these infrastructures. But engineers and designers do not stop using their creative minds and they created amazing bridges that will be featured in this list.
I was amazed while I am making the list and I bet you too will feel the same. Some of the bridges that will be featured here are world record holders and some are included because of the unique designs.
10 – Helix Bridge, Singapore
One of Singapore's pride in terms of architectural marvel and great engineering. The Helix Bridge is 280 meters long and made of special stainless steel. Its design resembles the structure of a DNA and at night, the ribbons of LEDs installed around it are illuminated, adding more beauty on this structure. This bridge was opened in 2010 and even though it is new, it is no doubt one of the world's amazing bridges.
9 – Akashi-Kaikyō or Pearl Bridge: Kobe-Naruto, Japan
It connects Kobe in Hyogo Region and Iwaya in Awaji Island and it took twelve years (12) years to build this suspension bridge. By the way, Akashi-Kaikyō holds the record for being the longest bridge in the world. The bridge was not built to have the record, it so happen that in 1995, an earthquake shook Kobe and it was hit halfway during the construction. Engineers and construction workers added 3 feet more to complete the bridge. Because of that incident, it holds the record having 3,911 meters, its length is like four times of the Brooklyn Bridge.
8 – Langkawi Sky Bridge, Malaysia
If you want to view Malaysian mountains and rainforests, this curved-pedestrian cable-stayed bridge in Malaysia is the right place to be. To be in Langkawi Bridge, you have to ride a cable car and travel up the mountain. Why? This bridge is above Gunung Matchincang, approximately 2,300 feet above sea level. It is 410 feet long and its curved shape construction was built by Langkawi Development Authority (LADA). Langkawi Sky Bridge has been the location for the last scene of the Indian movie 'Don: The Chase Begins Again."
7 – The Gateshead Millennium Bridge, England
The Gateshead Millennium Bridge was opened in 2002, the bridge was opened to the public in September 17, 2001 and was dedicated by Queen Elizabeth II on May 7, 2002. The bridge is located in the city of Newcastle, crossing over the Tyne River. What makes it amazing? Because it tilts! It is one of its unique features and it really deserves to be included in this list. When it is not tilted, it is a normal bridge where pedestrian and cyclists pass over but when it was tilted, it makes way for the boats and ships to pass under it. Because of it amazing engineering, design and tilting function it was nicknamed "Winking or Blinking Eye Bridge".
6 – Slauerhoffbrug Bridge
I thought this bridge is just a joke but I was wrong. The Slauerhoffbrug Bridge can be found in Leeuwarden, Netherlands. This bridge was built to make boat traffic and vehicles to easily pass through. Whenever it's the passing boats' turn to pass through, this bridge quickly raise and when it's done it will lower itself so that the land vehicles can pass. It was constructed in year 2000, made from iron and steel, and its raise and lower function is powered by hydraulics. This fully automated bascule bridge is also known as the Slauerhoffbrug Flying Drawbridge.
5 – Octavio Frias De Oliveira Bridge, Brazil
This bridge was opened in 2008 and can be found at Sao Paulo, Brazil. One of the amazing features of this bridge is the two levels of traffic that pass through it. Separated by the pylon, one road can be passes through above and the other passes below. This bridge also has an "X" shaped structure which was decorated with LED lights that adds more beauty as it makes amazing view as you pass. It took five (5) years to build the bridge and 450 workers to finish its construction.
4 – Henderson Waves Bridge, Singapore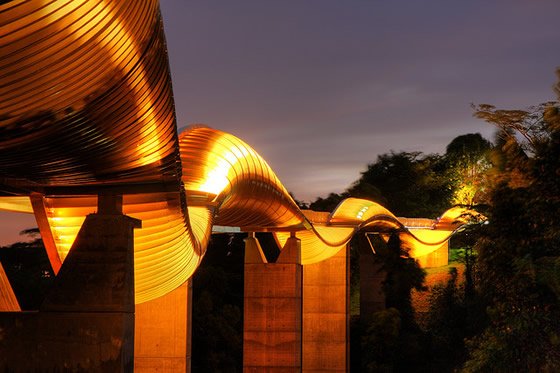 The name defines itself. Henderson Waves Bridge connects two parks in Singapore: Mount Faber Park and Telok Blangah Hill Park. It is made of steel and timber wherein steel is mainly used for construction/structural purposes while timber celebrates the aesthetic quality of the park. The bridge also has seating and lunging areas aside from the sight-seeing areas for you to enjoy.
3 – Siduhe Bridge, China
If you are acrophobic you should never go to this bridge or you'll just faint. The Siduha Bridge in China holds the record for being the world's highest bridge. How high is high? It is higher than the Big Ben, Statue of Liberty, Eiffel Tower and even to the Pyramids of Giza. This bridge is 1,627 feet above the ground crossing a river in a province in Hubei, China. Constructing this bridge is very difficult because cranes, boats and even helicopters are not suitable to use because of its height. Instead, they used rockets with 1000 meters of tether attached to the rocket's end. The rocket was shot across the gorge and with that the construction was made possible.
2 – Millau Viaduct, France
President Jacques Chirac opened this bridge in 2004, and it gained international recognition because of its engineering. What are they?
Hailed the Guinness Book of World Records for being the tallest bridge in the world (1,125 feet tall)
Outstanding Structure Award in 2006
The New York Times described it as "a triumph of engineering"
BBC called it "one of the engineering wonders of the 21st Century"
It was estimated that 394 million euros were spent in building this bridge that crosses over the Tarn River Valley.
1 – Golden Gate Bridge, USA
If we are talking about famous icons in terms of bridge engineering, it is no doubt that the Golden Gate Bridge in San Francisco is one of them. This bridge connects San Francisco and Marin County when it was completed. In 1937, it broke two records and hailed as the longest and tallest suspension bridge. Designed by Engineer Joseph Strauss, it took 4 years, thousands of workers and 35 million dollars to complete the Golden Gate Bridge.