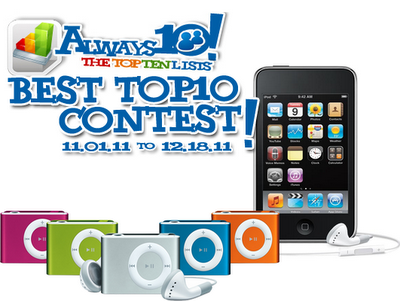 Be ready for The First Best TOP 10 Contest 2011 of Always10list – Top 10 List Collection Blog. The Date 11.01.11 marks the start of the contest and ends this coming December 18, 2011.
You can win a brand new iPod Touch (1st Prize) and iPod Shuffle (2nd Prize) (2 Winners).
Just read the following mechanics on how to join. The Best TOP 10 LISTS Contest 2011 Mechanics and Rules…
1 – Subscribe to Always10 – Top 10 List (Feedburner). Be sure to validate your email.
2 – Become a Fan of Always10 – Top 10 List Facebook Fan Page.
3 – Follow Always10 – Top 10 List Twitter Account @henspark and Tweet with Hash tag #TheBestTOP10Contest and a link to Always10.

(Only One (1) Twitter Account is allowed and you can only Tweet this Contest once on your account)
4 – Submit your Best TOP10 to email:[always10top10@gmail.com]. Please include the following in your submission: Name and short description (About the Author), Website/blog URL and description

(Entry Submission is now OPEN. All submitted entries will be posted starting November 1, 2011 until December 16, 2011)
5 – You can only submit at maximum of Two (2) UNIQUE Top 10 list post in any category.

The post must be original and never been published to any blog or website. It is important to cite some source link if some part of the post is based from another source.

Your post title should start with something like "10 of the …" as you can see in the format of always10's recent and previous titles.

Your post list should be numbered whether it's in order or not. The format should be something like…

Your sample list introduction…
[space]
1 – sample #1 title
[space]
sample #1 paragraph…
[space]
2 – sample #2 title
[space]
sample #2 paragraph…
[space]
and so on…
6 – The Lucky Entries is measured according to

Most TWEET

on Twitter

Most LIKE/SHARE on Facebook

Most PLUS on Google+1

Most COMMENTED on Disqus
7 – (Within Philippine Territory Only) Anyone can join as long as he/she can create a Best TOP10 List. One of the purpose in launching Best TOP10 Contest is to showcase Filipino talents in terms of blogging and blogosphere domination. (Do your best guys!)
8 – Before submitting your entries, please read Always10's Privacy and Policy.
9 – All entries are manually checked.
10 – Expect your entries to be DENIED if the rules is violated. Item Number 5 should be strictly followed.
That's all folks. Ready your Best TOP10 entries and Good Luck. Ciao!
1st Prize Winner: iPod Touch
2nd and 3rd Prize Winners: iPod Shuffle
The Best TOP10 Contest 2011: Approved Entries