After receiving a 911 call at 2:30 AM from a concerned citizen who found a toddler wandering in the cold without a coat or even socks on, two officers from the Cincinnati Police department found the child walking on Montana Avenue just outside the apartment complex in Westwood, Cincinnati.
Officer Jamie Landrum and Officer Will Nastold searched for the 2-year-old child's parents in the apartment complex but could not find them; thus, they were forced to bring him to the District 3 Police Station since he had soiled diapers and soiled pants.
Considering that she still felt cold even when she was wearing her thick uniform and a jacket, Officer Landrum could not imagine just how the child was feeling without proper clothes and shoes on.
Using her own money, she bought the child diapers, pants, t-shirt, jacket, and footsies for the toddler.
With the child now freshly bathed and properly dressed, it was Officer Nastold who took over the babysitting duties.
Still in his full uniform, the officer did not hesitate to drop on the floor and play with the young child.
Sergeant Dan Hils snapped a photo of Nastold on the ground with the boy and posted it on social media.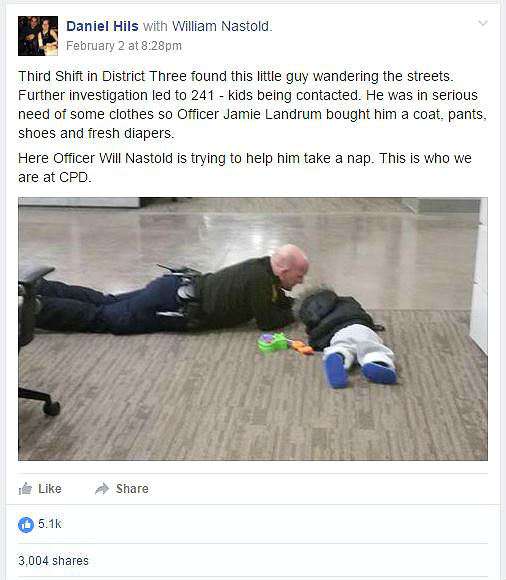 They were surprised when the photo went viral but Nastold was the one who was most shocked, saying he was just doing something that he loved doing and that he had no idea what "viral" meant!

It was only some 3 hours later that the child's mother, 28-year-old Tanisha Caldwell, arrived at the police station to pick her son up.

Visibly intoxicated, she allegedly readily admitted to having been drinking the whole night.

What was even more appalling is that she easily revealed that this was not the first time the boy had managed to go out by himself but in those times, he was found near their house.

Caldwell was subsequently arrested and charged with child endangerment.

Captain Aaron Jones revealed that Caldwell has temporarily lost custody of her child who was placed with his aunt for his own safety.

(Source via inside edition, wbaltv)

[Contact or email us with your questions, comments or tips.]

<!-comments-button-->