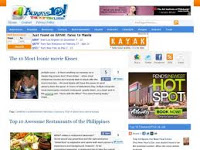 Complements on someones blog/website is important part of the entire blogosphere and web experience as it allows us to see what other people think, get new ideas and perhaps what is equally important achieve OTHER GOALS.
According to jay of ComicBookAndMovieReviews, Here's 10 Reasons why People should visit my "Always10 – Top10 list" Blog/Website.
1 – "Keyword"

It has the word 'always' in the title – which is very nice.
2 – "Design"

It has a clear and lively tone to the design – just like a robot-monkey using a pneumatic-drill.
3 – "Odd Post"

It acknowledges that cleaver people can be stupid too – as seen in "10 of most unusual last wills" post.
4 – "Straight shot"

Never does it use the praise 'and then it got some ass'.
5 – "Sequential order"

The personable tone of the blog, is like hearing a friends mad rant in a sequential order.
6 – "Great Post"

The articles displayed upon this site, all start with words, and end with full stops.
7 – "I may not not BELIEVE this"

If Bill Gates could start again, he would start with something like this.
8 – "Informative and silly mixed"

There is a jovial element to this site, one which is both informative and silly at the same time.
9 – "Panache Cliche"

The overall panache that this site conveys is remenisant to a pissed French man on drugs playing the banjo.
10 – "Nope, I never said that!"

The developer of this website said that they will kill my family if more people don't visit it.
My friend Jay quoted "HA! Hope that this is OK with you buddy." and my reply "LOL, Kinda Stupid but I like it better. 🙂".
Now, I'm a strong believer in accomplishing many things with a single action to make sure that my time gets used correctly. I know many people who can, and actually love doing it, wonder around the web for hours. For me personally it is part of my work!
The End…
About

is a online entertainment magazine. With daily updates on such film genres as Comedy, Drama, Hong Kong, Documentary, and Crime, as well as comic books relating to Batman, Wolverine, Hulk, Flash, and many, many more.