Everyone on online marketing knows these duopoly giants in digital advertising: Google Adwords and Facebook Ads.
Both business have similarities though each of them differ from the approach in online advertising from advertising budget, audience targeting, and their model to advertising goal.
With Google who is the ultimate king in search engine with around 180 billion monthly searches and a proven track record of also the dominant advertising network is now facing a challenge by another giant.
Facebook is undeniably the emperor of Social Media with its empire of 2 billion monthly active users stretching across the planet armed with advertising weapon on targeting specific users based off their specific interests and behaviors.
Scaling up the two colossal companies, we listed a comparison below to help online advertising professionals and business alike on which they should use.
Battle of the Reach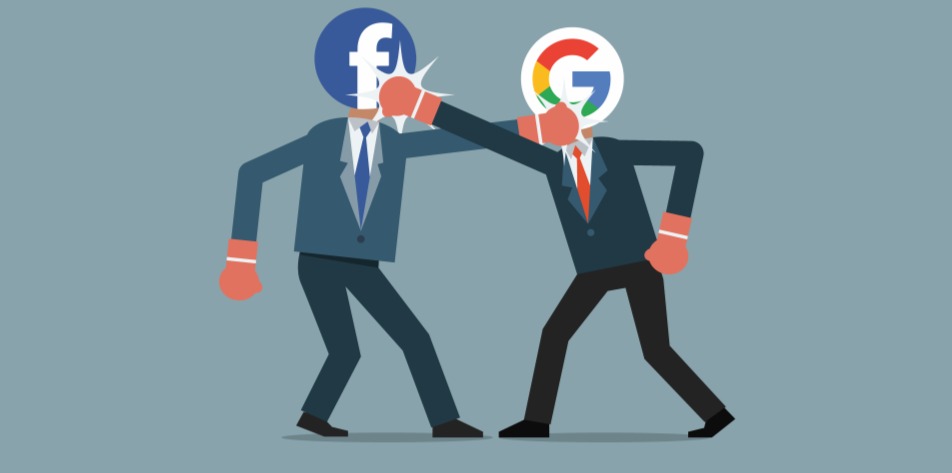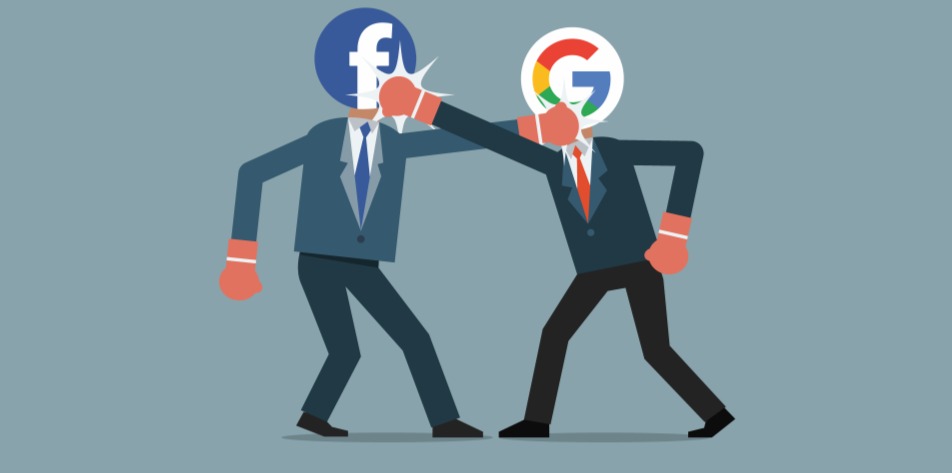 Facebook Ads is reaching 2.8 Billion active monthly users. They also have roughly around 1 trillion monthly page views with a potential audience reach of 43.8% of all internet access.
On the other hand, Google Adwords can reach over 2.6 Billion Goggle searches every month. At the same time, there are approximately 180 Billion Google Searches each month that sum up to a potential reach of 90% of all internet users.
Weapons on Targeting Option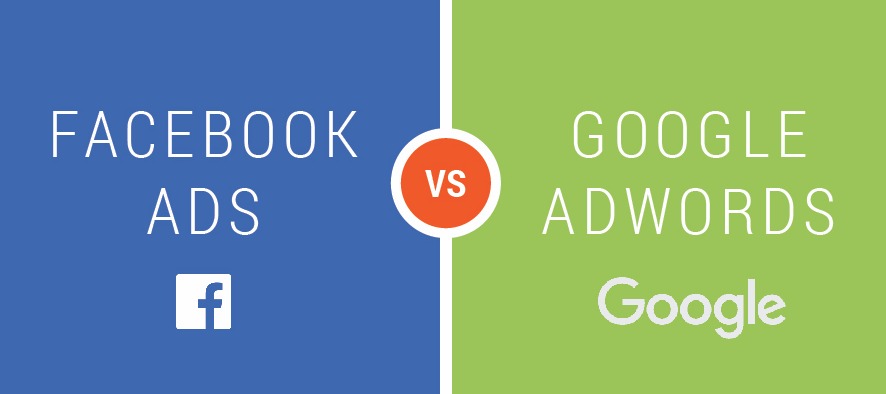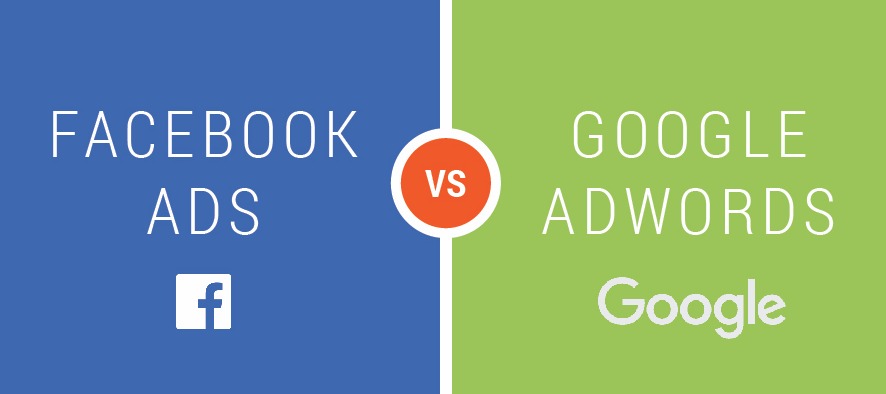 Facebook Ads is loaded with targeting: Location, Demographics, Look-A-Like, Audience Behaviors, Interests, and Website Custom Audiences.
Location: targets consumers where they live – based on country. state/province, city, phone number, zip code
Demographics: age, gender, relationship, education, job title and more
Look-A-Like: target to future prospects based on similarities to current Fans, customers and website visitors.
Behaviors which target based on previous actions, such as likes and devices used to access the platform.
Interests which target based on interests. hobbies and Pages Liked on Facebook
Website Custom Audiences which target to bounced traffic from your website or landing pages
Meanwhile, on Google Adwords Camp is also loaded with targeting Location, Demographics, Language, Keywords, Negative Keywords, and Devices.
Location which is targeting by country, region or city -where your customers are located when they search for you
Demographics which is targeting by age, gender, and parental status.
Language which is targeting language preferences.
Keywords which is targeting by relevant keywords prospects use in search.
Negative keywords which exclude keywords to sharpen your audience targeting.
Device which is targeting ads to show on prospect s computer, mobile or tablets.
Advancing the Battle on Mobile Advertising.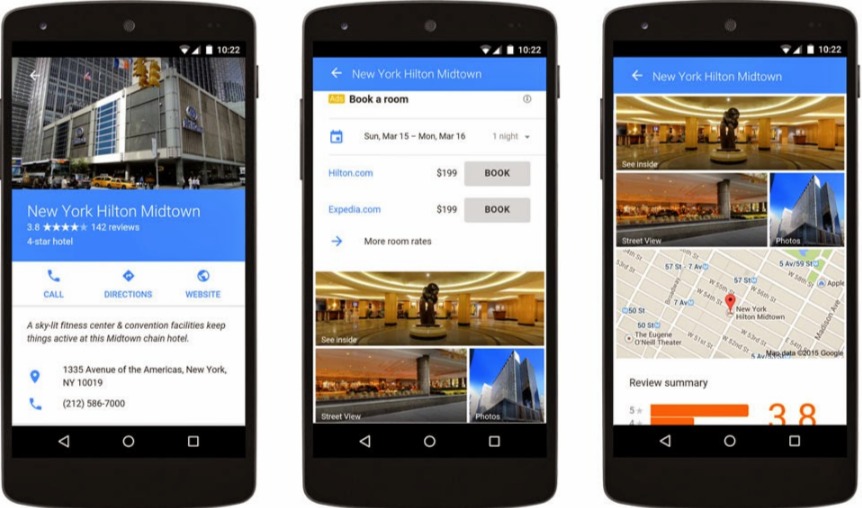 Facebook has optimized ads for iOS and Android. In fact, 21.7% of Facebook Ad Revenue comes from mobile advertising.
On the other hand, Google Adwords:
You can choose budgeting ratio for mobile and for tablets, optimize text ads for WAP-enabled phones and optimize text ads for iOS and Android devices. There are about 46.8% of Google Ad revenue comes from mobile.
The Battle Plan: ROI (Return on Investments)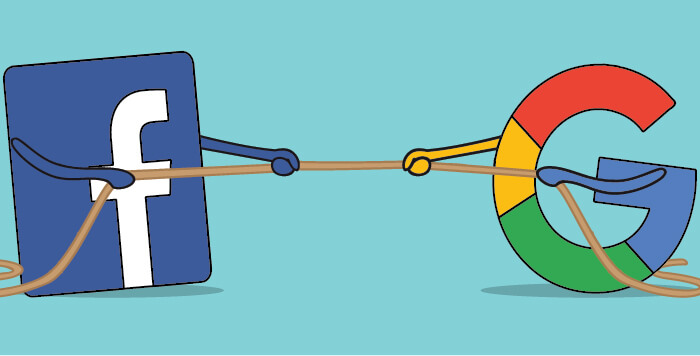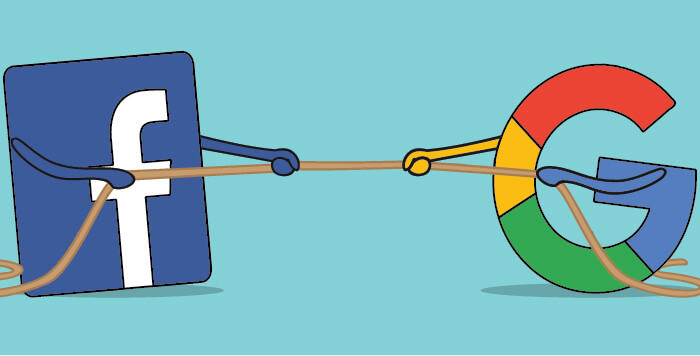 One of the crucial parts of this comparison is the value of benefits they can provide for digital advertising.
Facebook Ads:
Average Cost Per Click (CPC): Under $1, retail industry averages $0.45 CPC
CPC Cost Per Thousand Impressions (CPM): $0.80 – $1.00 per 1,000
Click Through Rate (CTR):
0.027% (for dating ads)
0.919% (for telecommunications ads)
Conversion Rate: 1 to 2%
Average Cost Per Conversion (Facebook Like):
$0.34 (food and beverage industry)
$1.57 (telecommunications industry)
With Google Adwords:
Average Cost Per Click (CPC): varies from $0 35 to $5 – the most expensive keyword CPC is "insurance" at $54.17
Cost Per Thousand Impressions (CPM): $2.75
Click Through Rate (CTR): 2%
Conversion Rate: 2.35%
Average conversion rate of:
eCommerce: 184%
B2B: 2.23%
Finance: 5.01%
Average Cost Per Con-Version (CPA): depending on AdWords CPA Bidding allows you to set your average costs per.
The Aftermath
Based on the analysis we had at hand, the advertising success depends on what type of business goals you are after.
For Google Adwords: they are best proven for Immediate Sales. Facebook Ads is best for brand awareness and lead generation.
[source]
This work is licensed under a Creative Commons Attribution 4.0 International License.





Contact us or email us with your questions, comments or tips. Read more trending news here at HenSpark!