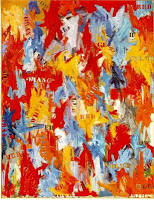 I found this 10 list of world's most expensive paintings from hubpages.com by WHoArtNow and it makes me feel add these list to our top10 collection.
WhoArtNow quoted "If the media is anything to believe, the world's economy is in a terrible state. So to make everyone feel better, we take a look at the incredibly large amounts of money people have spent on some of the world's finest paintings.
The top 10 list comes from both auctions and private sales from around the world, although the majority of the sales come from the last 5 years.
Interesting to know, the most famous painting in the world, Leonardo da Vinci's Mona Lisa was insured for $100 million back in 1962. Adjusted for inflation to 2005 would make it worth $645 Million! Of course, there aren't many people in the world who can afford such paintings, us mere mortals have to live with canvas art. "
10 – Jasper Johns – False Start($80,000,000)


Bought in 2006 by the founders of the Citadel Investment Group Anne and Kenneth Griffin for $80 Million made this one of the most expensive American paintings in the world. Johns is a regarded as a Neo-Dadaists and say he rejected the unique individualism of the Abstract Expressionists.

9 – Claude Monet – Le Bassin aux Nymphéas($80,400,000)


One of Monet's most famous paintings. "Le Bassin aux Nympheas" from the "water lilies" series. The painting, depicting a beautiful scene of a bridge with floating water lilies became the most expensive Monet back in 2008 when it sold for double the previous highest Monet.
8 – Vincent van Gogh – Portrait du Dr Gachet($82,500,000)


This is a previous "most expensive painting" after selling in 1990 to a Japanese Businessman for a staggering $82,500,000. It was painted 100 years before in 1890 and is one of two paintings depicting the great artists doctor.
7 – Francis Bacon – Triptych 1976($86,300,000)


The Irish painter is known for some dark and evil paintings. The Triptych 1976 collection was part of a much larger series of triptychs (three panels of art creating one image). It was purchased at auction in 2007 by Russian billionaire and Chelsea Football Team owner Roman Abramovich.
6 – Gustav Klimt – Portrait of Adele Bloch-Baur II($87,936,000)


Adele Bloch-Baur was the wife of Industrialist Ferdinand Bloch-Baur and was an avid fan and sponsor of Klimts. The Austrian artist only ever painted one woman twice, this was here. Christies looked after the auction which netted close to $88 Million back in 2006.
5 – Pablo Picasso – Dora Maar au chat($95,216,000)


2006 was a good year for expensive art. In May, this Pablo Picasso fetched almost twice it's estimate ($50 Million) when an anonymous Russian Bidder picked it up for a little over $95 million. Dora was Picasso's Mistress and the image has a cat resting on her shoulder.
4 – Pablo Picasso – Garcon a la pipe($104,168,000)


Regarded by many art critics as one of Picasso's "average" paintings, "Garcon a la Pipe" (Boy with Pipe) stunned the art world by fetching a little over $104 Million which makes this the most expensive painting to be sold at an auction. Sotheby's of New York was were the magic happened back in 2004 almost 100 years after it was painted (1905)
3 – Gustav Klimt – Portrait of Adele Bloch-Bauer($135,000,000)
This is the second of the two Klimt's depicting Adele Bloch-Bauer and was subjected to somewhat of a controversy. The painting was sold after the Austrian government forced a previous owner to return it to it's rightful owner after it was stolen by the Nazis in World War 2. The current owner is Ronald S. Lauder, the cosmetics heir.
2 – Willem De Kooning – Woman III($137,500,000)


Between 1951 and 1953, abstract impressionist Willem De Kooning painting 6 Woman paintings. This one, number 3 was originally hung in Iran until it was deemed "unsuitable" for public display. It was traded off for the last Tahmasabi Shahnameh. It was then sold to financial Billionaire Steven Cohen for the staggering $137.5 million.

1 – Jackson Pollock – No 5 1948($140,000,000)


One of the most known abstract impressionists in the world. American Jackson Pollock is not to every one's taste, but he's one of America's best known Artists. It's also huge! It measures a staggering 8ft by 4ft. It's un-confirmed about the price of this piece, and who the current owner is. Inside reports say it went for $140 million back on 2006 to Mexican David Martinez.
This work is licensed under a Creative Commons Attribution 4.0 International License.





Contact us or email us with your questions, comments or tips. Read more trending news here at HenSpark!