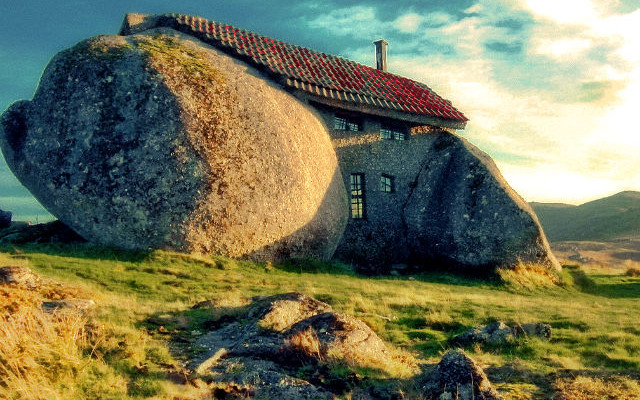 Who can say that building infrastructures is not art at all? What do you think of these top 10 list weird buildings in the world?
Stone House (Guimarães, Portugal)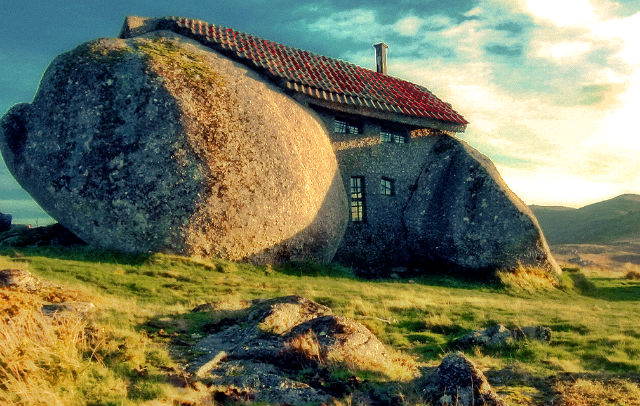 weird houses and infrastructures" width="80%" class="aligncenter"/>
Cathedral of Brasilia (Brazil)
The Cathedral of Brasília (Catedral Metropolitana Nossa Senhora Aparecida) is the Roman Catholic cathedral serving Brasília, Brazil, and serves as the seat of the Archdiocese of Brasília.
It was designed by Oscar Niemeyer, and was completed and dedicated on May 31, 1970.
The cathedral is a hyperboloid structure constructed from 16 concrete columns, weighing 90 tons each.
The exterior of the cathedral resembles the circular plan and ribbed structure of Liverpool Metropolitan Cathedral, but the latter is clad in solid material, while the Cathedral of Brasília allows light in and out for almost the full height of the ribs.
Museum of Contemporary Art (Niteroi, Rio de Janeiro, Brazil)

The Niterói Contemporary Art Museum (Museu de Arte Contemporânea de Niterói — MAC) is situated in the city of Niterói, Rio de Janeiro, Brazil, and is one of the city's main landmarks.
It was completed in 1996.Designed by Oscar Niemeyer with the assistance of structural engineer Bruno Contarini, who had worked with Niemeyer on earlier projects, the MAC-Niterói is 16 meters high; its cupola has a diameter of 50 metres with three floors.
The museum projects itself over Boa Viagem ("Bon Voyage," "Good Journey"), the 817-square metre reflecting pool that surrounds the cylindrical base "like a flower," in the words of Niemeyer.
A wide access slope leads to a Hall of Expositions, which has a capacity for sixty people.
Two doors lead to the viewing gallery, through which can be seen the Guanabara Bay, Rio de Janeiro, and Sugarloaf Mountain.
The saucer-shaped modernist structure, which has been likened to a UFO, is set on a cliffside, at the bottom of which is a beach.
In the film Oscar Niemeyer, an architect committed to his century, Niemeyer is seen flying over Rio de Janeiro in a UFO which then lands on the site, suggesting this to be the origin of the museum.
The Crooked House (Sopot, Poland)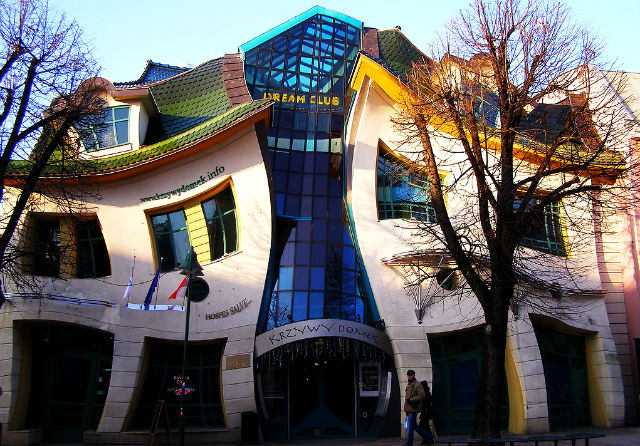 The Krzywy Domek is an irregularly-shaped building in Sopot, Poland. Its name translates in to English as the Crooked House.
The Krzywy Domek was built in 2004. It is approximately 4,000 square meters in size and is part of the Rezydent shopping center.
It was designed by Szotyńscy & Zaleski who were inspired by the fairytale illustrations and drawings of Jan Marcin Szancer and Per Dahlberg.
It can be entered from either Monte Cassino or Morska Streets.
Atomium (Brussels, Belgium)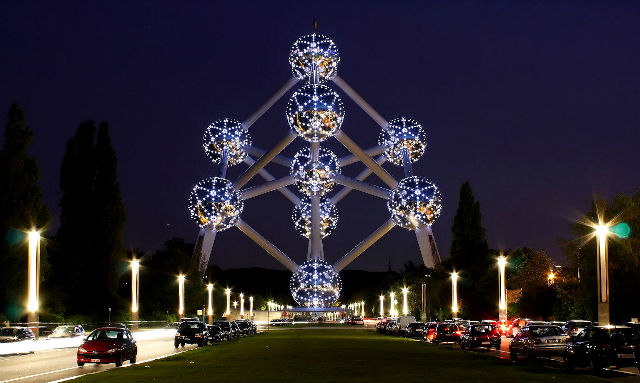 The Atomium is a monument in Brussels, originally built for Expo '58, the 1958 Brussels World's Fair. Designed by André Waterkeyn, it stands 102-metres (335 ft) tall.
It has nine steel spheres connected so that the whole forms the shape of a unit cell of an iron crystal magnified 165 billion times.
Tubes connect the spheres along the 12 edges of the cube and all eight vertices to the centre.
They enclose escalators connecting the spheres containing exhibit halls and other public spaces. The top sphere provides a panoramic view of Brussels.
Each sphere is 18 metres in diameter. Three spheres are currently (2008) closed to visitors, others can be reached easily by escalators. The vertical vertex contains a lift which was very fast and advanced at the time of building (the speed is 5 m/s).
La Pedrera (Barcelona, Spain)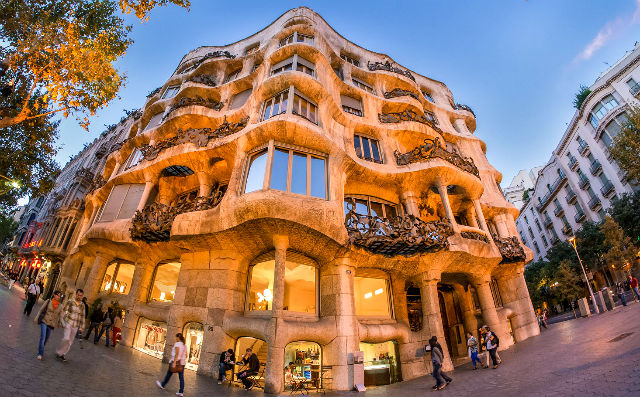 Casa Milà (Catalan pronunciation: [ˈkazə miˈɫa]), better known as La Pedrera (pronounced [ɫə pəˈðɾeɾə], meaning the 'The Quarry'), is a building designed by the Catalan architect Antoni Gaudí and built during the years 1905–1910, being considered officially completed in 1912.
It is located at 92, Passeig de Gràcia (passeig is Catalan for promenade) in the Eixample district of Barcelona, Catalonia, Spain.
Kansas City Library (Missouri, USA)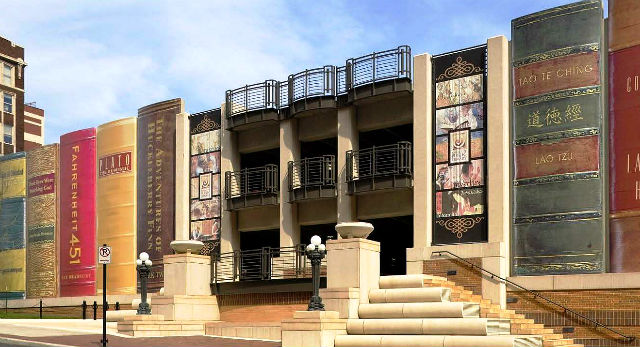 The Kansas City Public Library is a public system headquartered in the Central Library in Kansas City, Missouri.
The system operates its Central Branch and neighborhood branches located in Kansas City, Independence, and Sugar Creek.
Founded in 1873, it is the oldest and third largest public library system in the metropolitan Kansas City area.
Its special collections, housed in the Central Library's Missouri Valley Room, has a collection of Kansas City local history, including original and published materials, news articles, post cards, photographs, maps, and city directories dating from the community's earliest history.
The Library's Ramos Collection includes books, pamphlets, journal articles and other materials relating to African-American history and culture.
"The Community Bookshelf [Central Library Parking Garage] is a striking feature of Kansas City's downtown. It runs along the south wall of the Central Library's parking garage on 10th Street between Wyandotte Street and Baltimore Avenue.
The book spines, which measure approximately 25 feet by 9 feet, are made of signboard mylar.
The shelf showcases 22 titles reflecting a wide variety of reading interests as suggested by Kansas City readers and then selected by The Kansas City Public Library Board of Trustees."
Nautilus House (Mexico City, Mexico)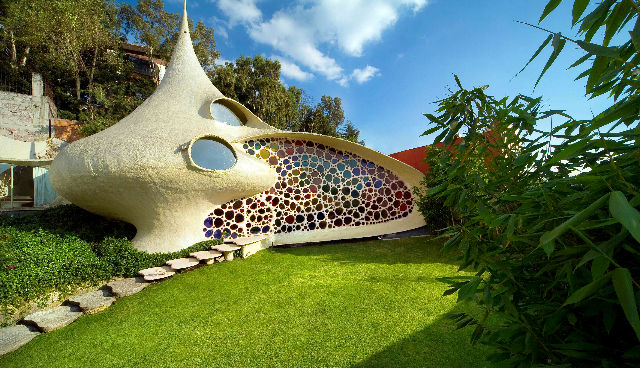 Habitat 67 (Montreal, Canada)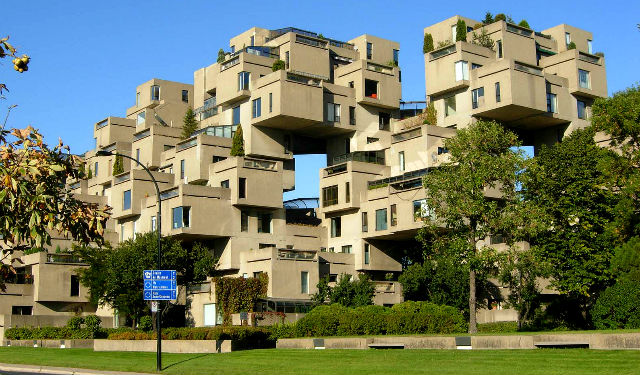 Habitat 67 is a housing complex and landmark located on the Marc-Drouin Quay on the Saint Lawrence River at 2600, Pierre Dupuy Avenue in Montreal, Quebec, Canada.
Its design was created by architect Moshe Safdie based on his master's thesis at McGill University and built as part of Expo 67.
Wonderworks (Pigeon Forge, TN, United States)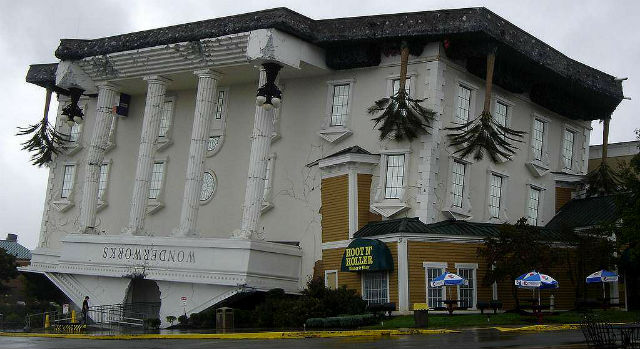 This work is licensed under a Creative Commons Attribution 4.0 International License.





Contact us or email us with your questions, comments or tips. Read more trending news here at HenSpark!