With the trade deadline inching closer, Phil Jackson and the New York Knicks management are now doing everything they can to find a trade deal for Carmelo Anthony.
LeBron James on the latest NY Daily News trade rumor involving the Cavs dealing Kevin Love: "trash"

— Dave McMenamin (@mcten) February 7, 2017
According to multiple reports and sources close to the Knicks, they are now having talks with the Cleveland Cavaliers and LeBron James is all-in for it.
LeBron is very vocal when it comes to his wants and needs for his team to succeed.
As we all know, he is the one who forced the management to kick coach  David Blatt out for Tyronn Lue.
He is also the person behind the acquisition of J.R. Smith and Iman Shumpert.
And just recently, the Cavs acquired deadly shooter Kyle Korver from the Atlanta Hawks and you surely now know the force behind this, The King himself.
If you look into the Cavs roster, they are now so deadly offensively.
They already got a full force, all star line-up that is ready to defend their championship trophy.
But LeBron James thinks that they still lack something as he wanted another playmaker on the team.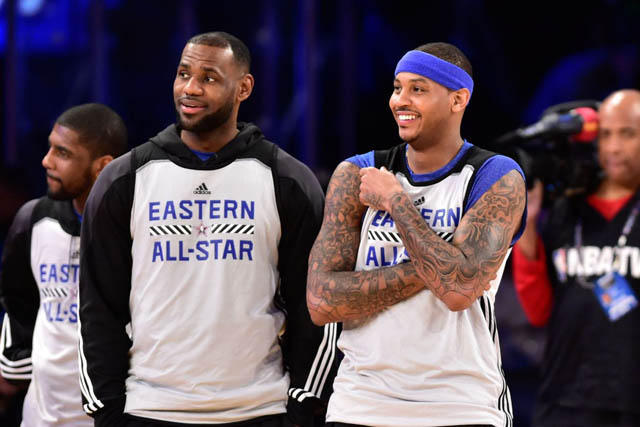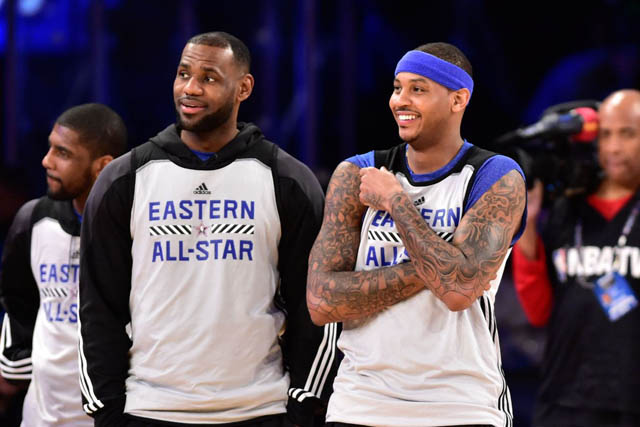 With Phil Jackson's willingness to trade Carmelo Anthony and LeBron James' request for another playmaker, the Kevin Love for Melo might just happen.
Frank Isola of the New York Daily News reported that James is pushing hard the Cavs front office tosend Kevin Love to the Knicks in exchange for his friend and buddy.
Trading Carmelo Anthony won't be that smooth and easy though. First, Melo has a no-trade clause in his contract, which means he'd have to agree to any trade before it could be completed.
Second, Melo will consult her family first if they are OK leaving The Big Apple as his son is still in school and his wife works in New York.
Cavaliers' LeBron James on Kevin Love for Carmelo Anthony trade rumor w/ Knicks: "It's trash" pic.twitter.com/86AK8SgiB8

— Ben Golliver (@BenGolliver) February 7, 2017
But then again, all of this can change if LeBron James himself will ask Melo (and promise him a championship ring this season) and his family to move to Cleveland and call it their new home. championship ring this season.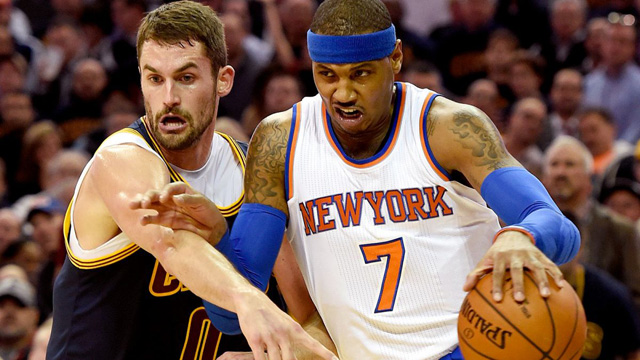 Phil Jackson is hoping to trade Anthony prior to the Feb. 23 trading deadline and one player they are targeting is Kevin Love.
Although Anthony said in a report that he is not yet ready to leave New York, his mind might change now that they are about to miss the playoffs for four straight season.
With his age and years in the league, for sure he now knows that his championship window is coming to a close.
On the other hand, the Cavs is blasting their way on top of the Eastern Conference and they are one of the highly favored team to win the championship this season.
Joining LeBron and the Cavs might be the only chance for Carmelo to get a ring that will cement his legacy in the National Basketball Association.
(via nydailynews, usatoday.com, sbnation.com, nba.com)
This work is licensed under a Creative Commons Attribution 4.0 International License.





Contact us or email us with your questions, comments or tips. Read more trending news here at HenSpark!