She was on her way to the hospital for severe nose bleeding yet Norma Clarke, 78, surprised the medics when she unexpectedly started rapping.
Cool Granny Norma is already a great grandmother to five great grandkids – and is possibly the oldest rapper in Britain or perhaps even the world!
Society might not view old Caucasian people as rappers yet this grandma just proved to everyone that rap knows no age!
And you might also be surprised to learn that she's a big fan of Eminem and of Dr. Dre.
Proving to the world that she can easily keep up with younger rappers, Clarke burst into a rap inside the ambulance heading off to Heartlands hospital from Castle Vale in Birmingham.
In Granny Norma rap story, she told the medics how she had an altercation with a shop keeper.
Yes, grandmas often have this propensity to tell stories but this grandma rapping a story is the coolest one I've ever heard so far!
It was a good thing one of her grandsons, Jordan Lynam, was with her in the ambulance because he was able to capture the impromptu performance.
He shared it on the web and it became a huge thing some hours later on social media.
A lot of people were quite impressed that this old lady could rap like the young ones. A number of them recalled that they saw her some time ago on Britain's Got Talent.
Indeed, she had been on the show back in 2007 and has become a well-known figure in Birmingham because of her participation there.
In fact, it was a young paramedic in that ambulance who first recognized who she was.
Although she was disappointed that she had to head off to the hospital, she had a good time rapping the story for the medics and it took her mind off her condition.
Granny Norma's grandson adores her and is certainly a huge fan, too! Lynam said, "She's just a natural performer. She's got the timing of the delivery perfect. It all goes back to storytelling and poetry she did when she was younger."
It was also later revealed that Clarke is a prolific musician, with over 300 original compositions but most of those are country and western or rock n' roll.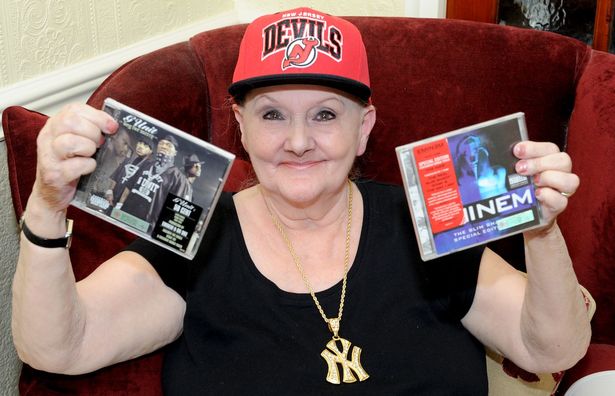 (Image source: Mirror.co.uk)
Granny Norma admitted that a lot of people find her newfound talent surprising, especially after learning that she had only recently started rapping.
She added, "I suppose it is a bit unusual for someone of my age but I've never really thought about it like that. I'm just glad that people appreciate the talents of someone in my age group."

(Source via mirror.co.uk)
This work is licensed under a Creative Commons Attribution 4.0 International License.





Contact us or email us with your questions, comments or tips. Read more trending news here at HenSpark!