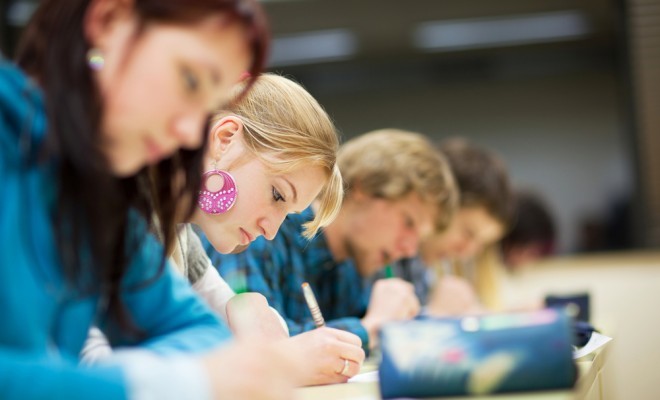 Open-minded and keen students often choose an international boarding school.
In the motivating environment of renowned boarding schools – privately run schools with adjoining boarding facilities – the student's full potential is realized.
The challenge of a stay abroad is enhanced by a valuable learning experience.
Thanks to Gavin Atkins of Asiancorrespondent.com for posting this great list of top 10 schools.
Here's the Top 10 lists of World's Best International Boarding Schools list:
JFK INTERNATIONAL – SWITZERLAND
Switzerland is synonymous with high quality boarding schools, and one of the reasons for this is JFK International.
Located in one of the most beautiful mountain villages in the Swiss Alps, JFK is a classic English language international boarding and day school that caters for 60 to 70 students between the ages of 5 and 14.
While JFK is internationally renowned for its excellence in education, it prides itself on being a small family-style organization where children are treated as individuals.
While JFK maintains the latest computer learning aids, the school considers the interaction between students and teachers to be the most important factor in developing the talents of every child.
The Kennedy School is an idyllic place for children to grow and develop.
The curriculum at JFK is especially designed for international schools and provides students with many experiences through activities, excursions and sports.
Fundamental to its success is the strong belief that each child is a unique individual with differing needs.
BRANKSOME HALL – CANADA
Founded in 1903, Branksome Hall is one of Canada's premier day and boarding schools for girls.
Educating girls from junior kindergarten to university entrance, it is an independent, non-denominational girls' day and boarding school and teaches the prestigious International Baccalaureate, a qualification recognised around the world.
Branksome offers a strong liberal arts curriculum that develops critical thinking and inquiry skills, fosters a balance between academics and co-curricular choices, and emphasizes a global perspective.
Boarding students at Branksome can enrol from Grades 8-12, and enjoy an enriched program within the caring residence environment.
Branksome has an international outlook, with many of its highly qualified teachers having international teaching experience, and girls from Branksome are now to be found in the top universities around the world.
DIOCESAN SCHOOL FOR GIRLS – NEW ZEALAND
The Auckland campus of Diocesan School for Girls is one of the top-performing schools in New Zealand.
It has been in operation for more than a century and carries on the sort of reputation for excellence that sees daughters and granddaughters returning to the campus.
Despite its proud traditions and history, this is not a school that stakes its reputation on past glory.
It's on the shortlist of New Zealand's most dynamic centers of learning, equipped with cutting-edge classroom resources and spectacular recreational facilities.
And it's only getting better with each year.
Many of the students in attendance hail from the area, but a strong contingent of international students is also enrolled. Innes House also has room to accommodate up to 35 boarding students.
WESTMINISTER SCHOOL – ENGLAND
To understand what an exceptional educational institution Westminster School is, all you need to do is read the amazing role-call of famous alumni, ranging from historical figures like Christopher Wren, Ben Jonson and AA Milne through to actor Peter Ustinov, the composer Andrew Lloyd Webber and famous modern day pop stars, like Dido and Gavin Rossdale.
Situated next to Westminster Abbey and the Houses of Parliament in London, Westminster School is one of the world's most distinguished independent boarding and day schools. Amazingly, the origins of the School can be traced back to the monastic school of a Benedictine abbey founded over a thousand years ago.
Over each of the past five years, 50 per cent of pupils were accepted by the universities of Oxford and Cambridge, 45 per cent chose courses to suit them at the country's other leading universities and 5 per cent have taken up places at universities in America.
CHARTERHOUSE – ENGLAND
In 2011, Charterhouse celebrates an extraordinary 400 years of public education as one of the great historic schools of England.
However, Charterhouse offers a dynamic and progressive education, and its graduates continue to fill the best universities in Britain.
Its priority is not examination grades but the stimulation of independent inquiry and intellectual curiosity.
Students are encouraged to maintain a balance between academic work and a wide range of extra-curricular opportunities, with sporting and cultural achievements valued equally. Boys are admitted to Charterhouse in Year 9, when most of them are 13.
A limited number of boys from overseas are admitted after taking tests in English, Mathematics and Science, usually in the January of the year of entry.
Charterhouse also caters for around 50 girls who are admitted each year into the sixth form.
UWCSEA VISION – SINGAPORE
United World College of South East Asia promises no less than a holistic, life-defining educational experience for its students across its two campuses in Singapore.
UWCSEA is the second of 13 colleges around the world that are part of the United World College movement, which was established with the aim of averting wars by using education to promote international understanding, uniting people, nations and cultures for peace and a sustainable future.
As such, UWCSEA has an international focus and has developed a worldwide reputation for providing a challenging holistic values-based education with an emphasis upon academic achievement, service to others, environmental stewardship, teamwork and leadership.
UWCSEA offers programs for children from kindergarten to grade 12, including a number of International Baccalaureate qualifications.
WOODSTOCK SCHOOL – INDIA
Situated in the foothills of the Himalayas, Woodstock School is one of the elite residential schools in India. Woodstock School was founded in 1854, and for the majority of its history primarily served the needs of missions and families engaged in social service in India.
This heritage continues today in the school's commitment to values of excellence, personal responsibility and service.
Woodstock aims to develop responsible global citizens and leaders by providing a world-class international education, rooted in its Christian heritage and values, for a diverse group of students, especially from families in Christian or public service, in an Indian Himalayan environment.
The School provides education for students aged 3 to 18, although boarding is only available to students from grade 3 onwards.
Woodstock has an international reputation for excellence, as demonstrated by the fact that the majority of its students come from countries other than India.
DULWICH COLLEGE MANAGEMENT INTERNATIONAL
Dulwich College Management International (DCMI) is a network of educational facilities in Asia based on the educational philosophies of one of England's leading independent schools, Dulwich College, London.
DCMI commenced operations in China, with the establishment of Dulwich College in Shanghai, a co-educational, non-denominational academic institution offering education to the expatriate community.
Following the success of the Shanghai College DCMI have established Dulwich College in Beijing, Suzhou, and Zhuhai in China as well as in Seoul, South Korea.
DCMI is also developing bilingual kindergartens under a separate brand name, Windsor, and developing A-levels and advanced placement services for the local market.
The success of these Colleges and Schools has established DCMI as a leading provider of international school education in Asia.
CANADIAN ACADEMY – JAPAN
Situated on Rokko Island in Kobe, Canadian Academy was established with the mission of inspiring students to inquire, reflect, and choose to compassionately impact the world throughout their lives.
Canadian Academy is a private international school approved by the Japanese Ministry of Education, and certified to award both the US high school and International Baccalaureate diplomas.
The student body is truly international in its make up, with about 17 per cent of students from North America, 7 per cent from Europe, 55 per cent from Asia, and 20 per cent representing the rest of the world.
Canadian Academy has an international dormitory for students in grades 9-12. The layout of residences for boarders has been devised to create a family environment and to foster a closer relationship between students and their resident house parents.
GEELONG GRAMMAR SCHOOL – AUSTRALIA
With five specialist campuses – Bostock, Toorak, Timbertop, Middle and Senior School – Geelong Grammar caters for all ages of school students.
Now more than 150 years old, Geelong Grammar has developed into one of the most prestigious boarding schools in Australia, most famously hosting HRH Prince Charles at its Timbertop site in 1966. Geelong Grammar School is Australia's largest co-educational Boarding School, attracting a remarkable diversity of students from around the world, and promoting the philosophy that education is dynamic and continuous.
The Boarding Campus at Corio is a vibrant centre for sport, recreation and supervised study with more than 100 co-curricular activities available for students.
Teaching at Geelong Grammar School employs implicit and explicit teaching of Positive Psychology skills and principles across every campus and across all aspects of school life which are known to be effective in improving critical thinking skills and increasing positive emotions in students.
This work is licensed under a Creative Commons Attribution 4.0 International License.





Contact us or email us with your questions, comments or tips. Read more trending news here at HenSpark!