There are many beautiful waterfalls in the world. After all, the vast majority of our planet is covered in water.
When land interrupts the flow of water across the landscape, it is here that waterfalls can form.
Interestingly enough there is no standard definition of what is a beautiful waterfall in the modern lexicon.
By this we mean there is nothing to define what makes up a waterfall alluring, no measurements for it's grandeur or picturesque, and even whether or not a waterfall needs to exist the entire year round.
To the objective tourist these debated ideas are mere semantics compared to standing in plain view of the water thundering over high cliff faces with enough force to pound the local geography into new shapes and forms.
Many waterfalls are thought to be inspiration for many functional and decorative garden fountains.
And I totally agree, it's not easy to put together a top 10 best waterfalls list because it's completely subjective and limited to each person's experience with the falls being named.
This is by no means a permanent list and it's sure to change as we continue to collect more falls from around the world.
So without further adieu, here they are in reverse order… Here's Top 10 lists of the World's Most Beautiful Waterfalls:
SUTHERLAND FALLS
[Fiordland, New Zealand]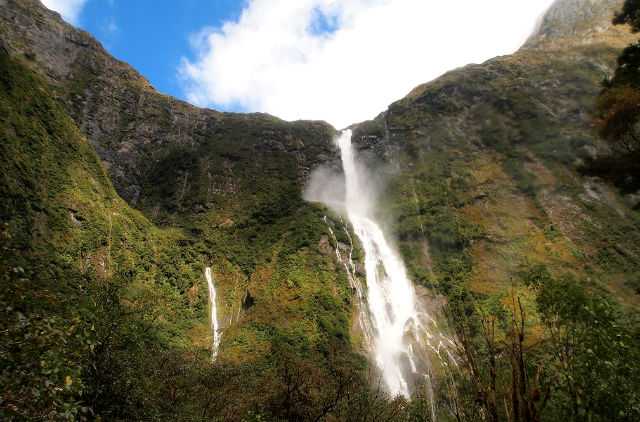 Location
Fiordland, New Zealand,
44°48′.8028″S
167°43′48.76″E
Type
Tiered
Total height
581m
Number of drops
3
Longest drop
248m
Average flow rate
11 m3/s
In a country that holds a special place in our hearts, this gorgeous 580m waterfall is easily New Zealand's most spectacular waterfall and makes our list.
Given its remote location deep in the wild and beautiful Fiordland National Park (also a World Heritage Area), it's one of many highlights of the Milford Track – said to be one of the finest walks in the world.
DETTIFOSS
[Jökulsárgljúfur, Iceland]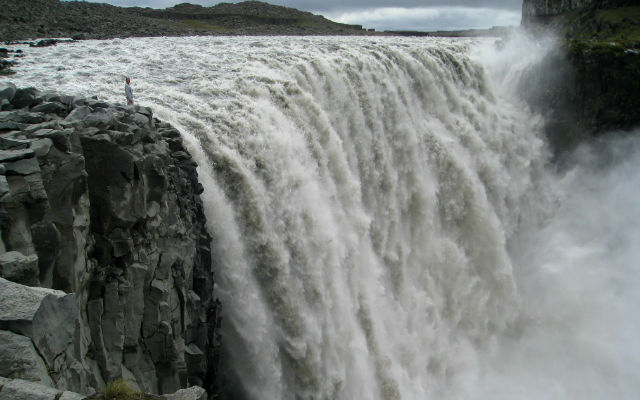 Location
Northeast Iceland
Coordinates
65°48′52.8″N16°23′04.1″W
65°48′52.8″N 16°23′04.1″W
Type
Cataract
Total height
45 m (148 ft)
Number of drops
1
Watercourse
Jökulsá á Fjöllum
Average flow rate
193 m 3 /s (6,816 cu ft/s)
It is Europe's most powerfull waterfall sending glacial meltwaters over its 44m precipice unchecked at a flow of around 500 cubic meters per second.
It epitomizes the wild and raw Icelandic Nature and is a favorite amongst Icelandic Nature lovers.
Its position at the head of the impressive Jökulsárgljúfur (the Icelandic version of the Grand Canyon) surrounded by three other major waterfalls on the same river makes it a no-brainer for this to make our Top 10 Waterfalls List.
GULLFOSS
[Haukadalur, Iceland]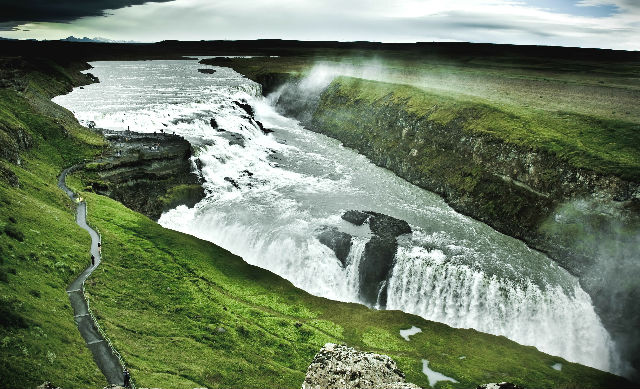 Location
Southwest Iceland
Coordinates
64°19′34″N 20°07′16″W
64°19′34″N 20°07′16″W
Type
Tiered, Cataract
Total height
32 m
Number of drops
2
Longest drop
21 m
Watercourse
Hvítá
Average flow rate
140 m 3 /s
One of the more unique waterfalls you'll ever see in the world, this wild and wide waterfall tumbling on the Hvítá River in two tiers at 90 degree angles to each other is one of Iceland's iconic natural attractions.
Part of the Golden Circle of Iceland's main attractions in the Southwest, this is a must on anyone's itinerary.
In addition to the falls' unique shape, you can see rainbows arcing over the falls when your timing's right and the weather cooperates.
KAIETEUR FALLS
[Potaro River, Guyana]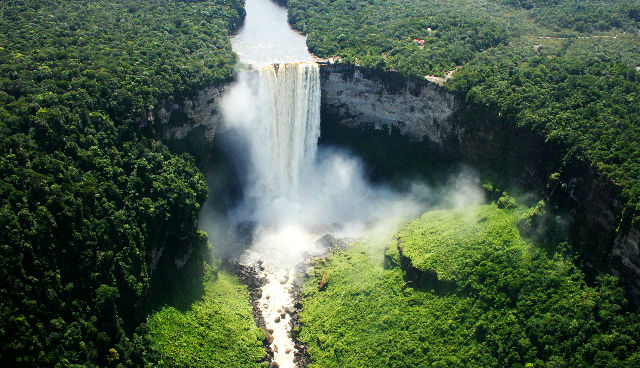 Location
Kaieteur National Park ,  Potaro-Siparuni  Region,  Guyana
Coordinates
5°10′30″N 59°28′49.8″W
5°10′30″N 59°28′49.8″W
Type
Plunge
Elevation
4380
Total height
741 feet/226 metres
Number of drops
1
Longest drop
741 feet/226 metres
Watercourse
Potaro River
Average flow rate
23,400 cu ft/s (660 m 3 /s)
World height ranking
123
Said to be one of the tallest single-drop waterfalls in the world, this rectangular-shaped monster (said to be 741ft tall 370ft wide) sits atop the ancient Guyana Shield amidst some of the most pristine rainforest left on earth!
Indeed a visit to this world wonder can yield rare wildlife settings as well as the reassurance that there are still places on the planet where nature is still allowed to thrive.
Thus, Julie and I had to make room for this waterfall on our Top 10 List!
YOSEMITE FALLS
[California, USA]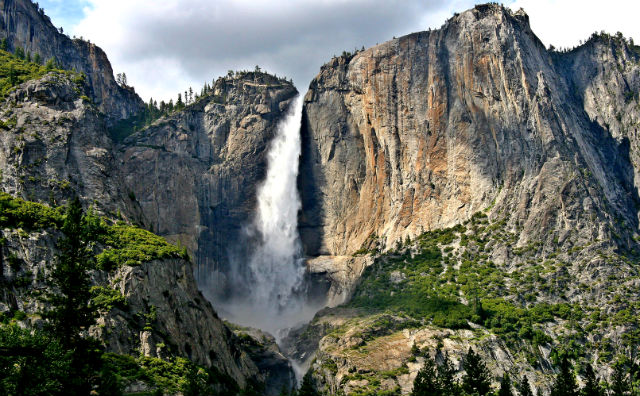 | Location | Yosemite Valley ,  Yosemite National Park ,  California ,  U.S. |
| --- | --- |
| Coordinates | 37°45′18″N 119°35′50″W |
| Type | Tiered |
| Total height | 2,425 ft (739 m) |
| Number of drops | 3 |
| Longest drop | 1,430 ft (436 m) |
| World height ranking | |
Even though this waterfall doesn't flow year round, it does flow for a good part of the year and it's one of the tallest in the world at 2425ft.
It's the crown jewel of attractions in the incomparable Yosemite Valley and it's easily seen from a multitude of viewpoints and trails.
So given its ease of access, scenery, and sheer size, this waterfall makes our Top 10 Waterfalls List.
ANGEL FALLS (SALTO ÁNGEL)
[Canaima, Venezuela]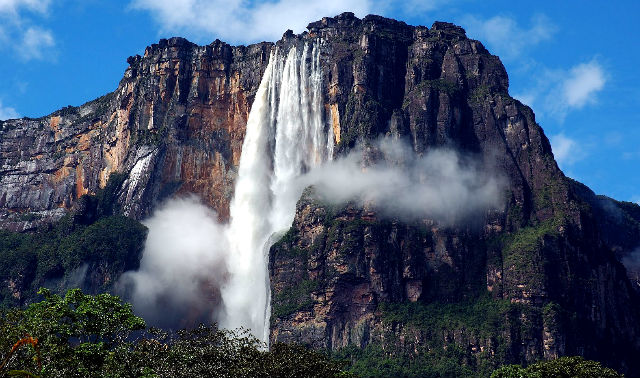 Location
Auyantepui ,  Canaima National Park ,  Bolívar State ,  Venezuela
Coordinates
5°58′03″N 62°32′08″W
5°58′03″N 62°32′08″W
Type
Plunges
Total height
979 m (3,212 ft)
Number of drops
2
Longest drop
807 m (2,648 ft)
World height ranking
1
Plunging uninterrupted for 807m (with total drop of 979m) from a mystical tabletop mountain (tepuy) deep in a Venezuelan equatorial rainforest, it is widely acknowledged as the tallest permanent waterfall in the world.
Its existence defies logic as its source is nothing but the soggy cloud forest on the plateau of the tepuy.
No doubt about it, there's nothing like this waterfall and the adventure to even get to this so-called Lost World (Mundo Perdido) for a chance to see this world wonder is sure to leave you with a lasting impression.
PLITVICE WATERFALLS
[Northern Dalmatia, Croatia]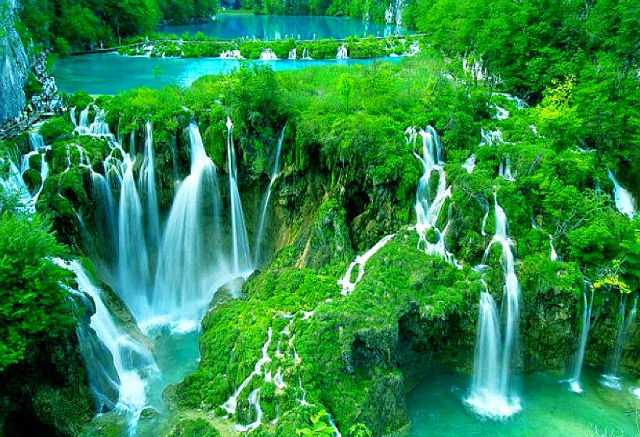 When it comes to the overall waterfalling experience, it's hard to beat this world famous attraction.
While the rest of the waterfalls on our Top 10 List are primarily singular waterfall attractions, this one is really a network of countless waterfalls (some of which are impressive enough to stand out on their own).
The waterfalls themselves segregate the many clear and colorful lakes that bring life to this lush and protected ecosystem.
Plus, you have boardwalks that take you under, over, and around almost all of the notable waterfalls for some of the most intimate waterfalling experiences to be had.
Add it all up, putting these waterfalls on this list was an absolute no-brainer as far as Julie and I were concerned.
NIAGARA FALLS
[Ontario, Canada/New York, USA]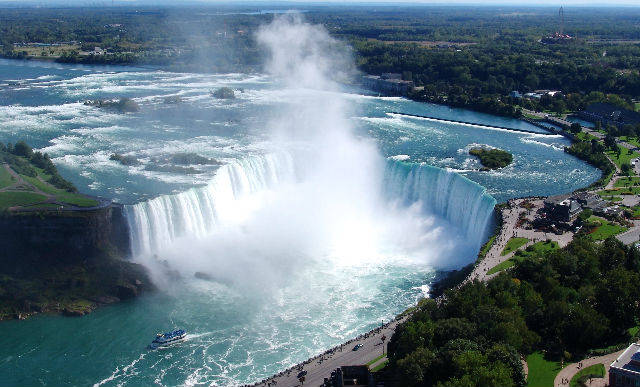 Location
Border of  Ontario , Canada & New York , United States
Coordinates
43.0799°N 79.0747°W
43.0799°N 79.0747°W
Type
Cataract
Total height
167 ft (51 m)
Number of drops
3
Watercourse
Niagara River
Average flow rate
85,000 cu ft/s (2,400 m 3 /s)
Easily the most famous waterfall in North America, this powerful waterfall also ranks as the biggest one by volume with a whopping average of about 750,000 gallons per second (2.8 million Liters per second)!
In addition to its raw power, the falls is easily one of the easiest to access and view from all sorts of angles. While its surroundings are a bit less naturesque for many, it clearly makes the upper tier of our list of Top 10 Waterfalls.
VICTORIA FALLS (MOSI-OA-TUNYA)
[Livingstone, Zambia/Victoria Falls, Zimbabwe]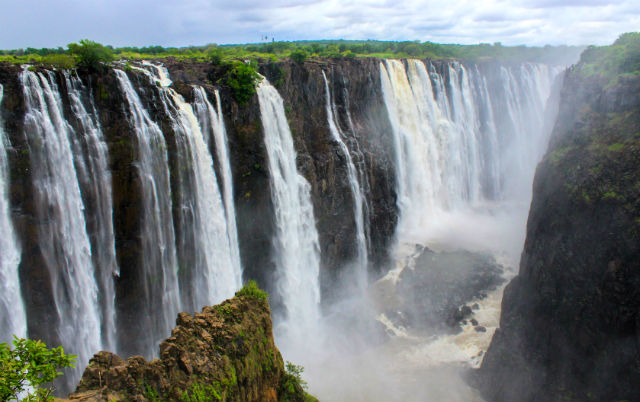 Location
Livingstone, Zambia
Victoria Falls, Zimbabwe
Coordinates
17°55′28″S 25°51′24″E
17°55′28″S 25°51′24″E
Type
Waterfall
Total height
355 ft (108 m) (at center)
Number of drops
1
Watercourse
Zambezi River
Average flow rate
1088 m³/s (38,430 cu ft/s)
Easily deserving of the top spot on this list (though it finished a very close second), it's the largest singular waterfall in the world spanning a width of 1.7km, a height of 108m, and an average flow of 1 million liters per second!
It's no wonder this "smoke that thunders" is considered one of the seven natural wonders of the world and is a UNESCO World Heritage site.
Indeed, it's got power, beauty, and it will make you humble and awestruck.
IGUAZU FALLS (IGUASSU FALLS)
[Puerto Iguazú, Argentina/Foz do Iguaçu, Brazil]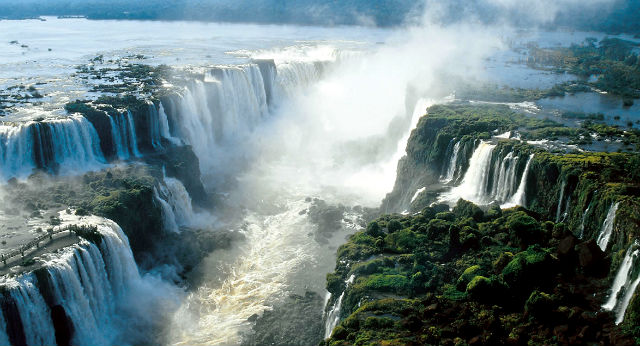 Location
Argentina :  Misiones Province . Brazil :  Paraná State .
Coordinates
25°41′12″S 54°26′41″W
25°41′12″S 54°26′41″W
Type
Cataract
Total height
60–82 metres (197–269 ft)[1]
Number of drops
275[1]
Longest drop
82 metres (269 ft)[1]
Total width
2.7 kilometres (1.7 mi)[1]
Watercourse
Iguazu River
Average flow rate
1,756 m3/s (62,010 cu ft/s)[1]
With its brink spanning a distance of an incredible 2km in its average flow of 1.3 million liters per second, this falls tops our list of favorites.
The falls actually consists of some 275 individual waterfalls and cascades.
Catwalks make it easy to get closeup and intimate views and the rainforest surroundings make the scenery feel right for a natural attraction such as this.
Put it all together and Julie and I believe this falls is heads and shoulders above the rest (except Victoria Falls) that we've seen!
Want more? See stunning and beautiful waterfalls around the globe here.
This work is licensed under a Creative Commons Attribution 4.0 International License.





Contact us or email us with your questions, comments or tips. Read more trending news here at HenSpark!