Planning on building your dream home or already done with the basics but unsure how to make your house look more beautiful? Check out these 50 great exterior siding ideas that would surely increase the curb appeal of your dream home.
Remember, the exterior of your home is just as important as the interior and the foundation. After all, this is the first thing that people would see about the house, not the inside! Meaning, people will gauge your home according to what they see on the outside.
Plus, it wouldn't really hurt to make your house prettier with these sidings. These could even increase your home's resell value.
Simple Classic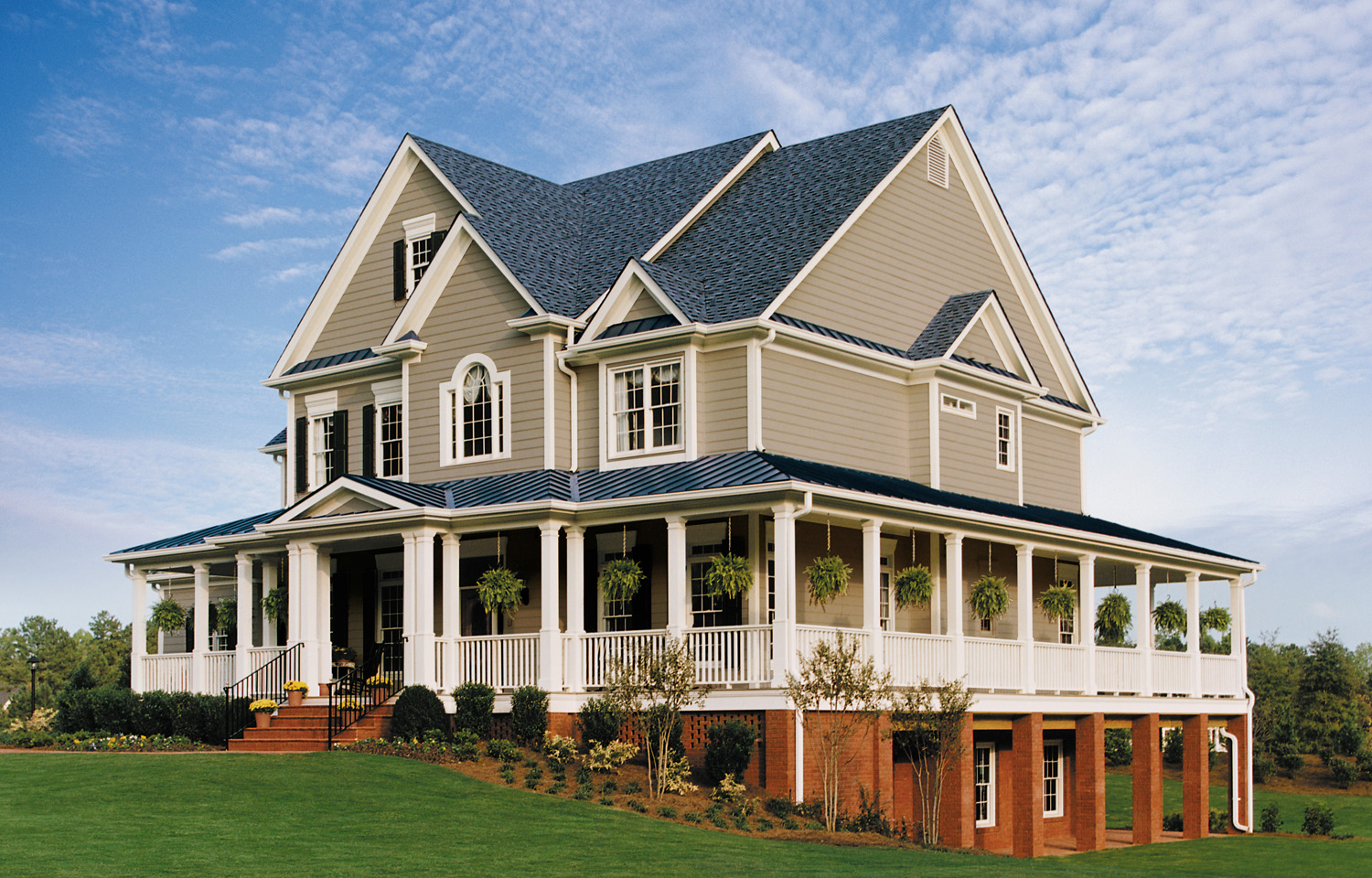 With this home featuring several architectural features, the wood siding style was kept to a minimum so that the home doesn't appear to be too busy. But the brick siding at the bottom floor creates added interest.
Charming Farmhouse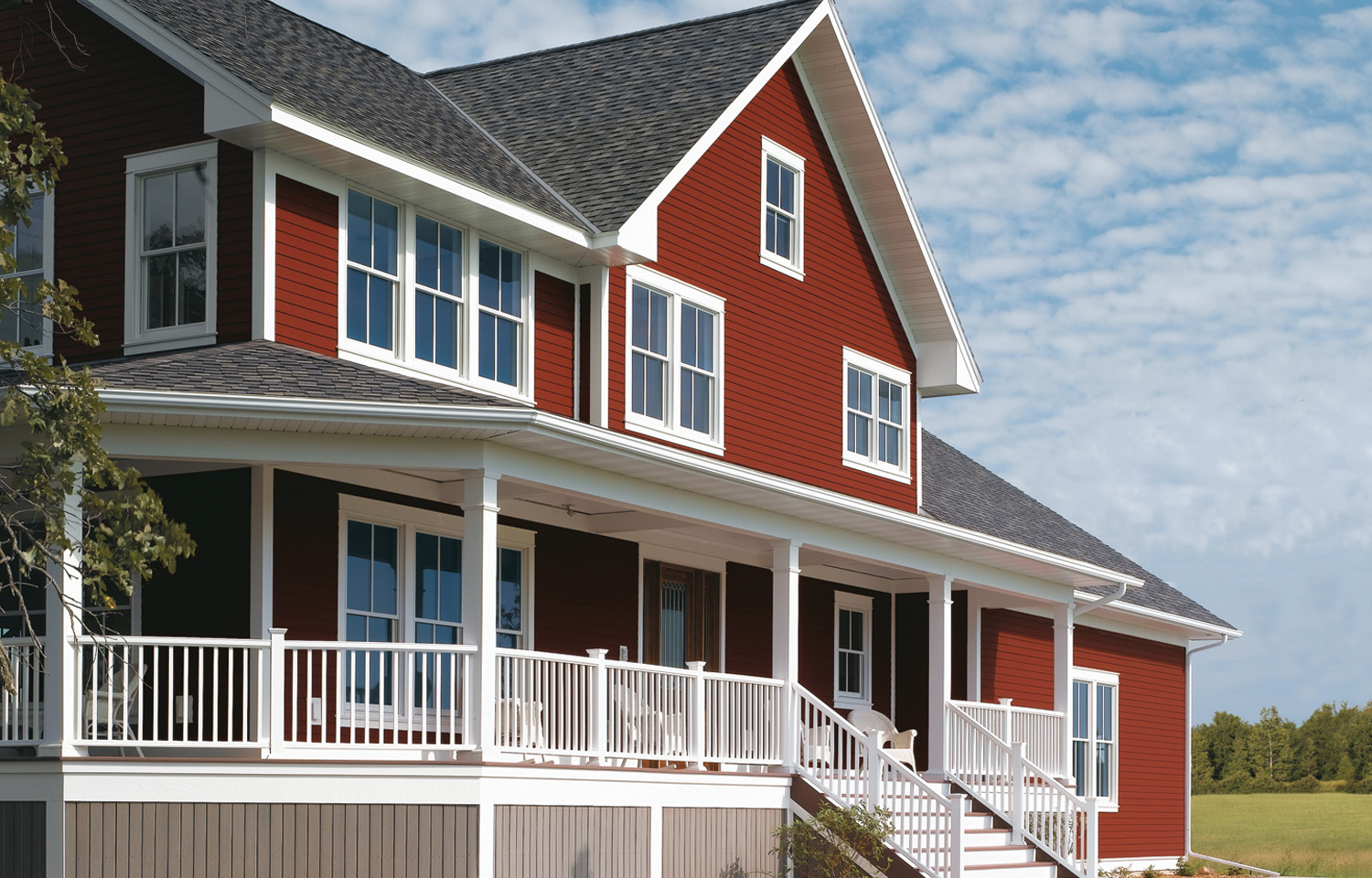 Planning on a farmhouse-style home? You can make use of traditional colors that bring out the home's distinctive style.
Subtle Differences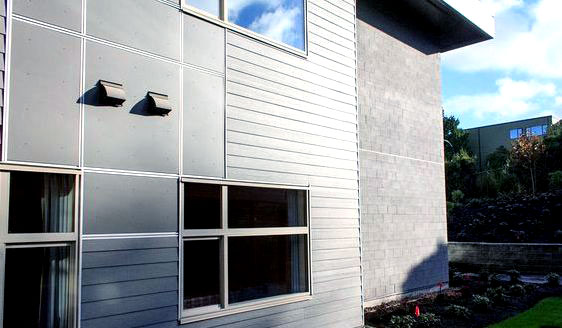 Your home can also feature different textures without too many contrasts. This home features different siding styles but still manages to have a more cohesive look because the colors were kept the same throughout the exterior.
Contrasting Textures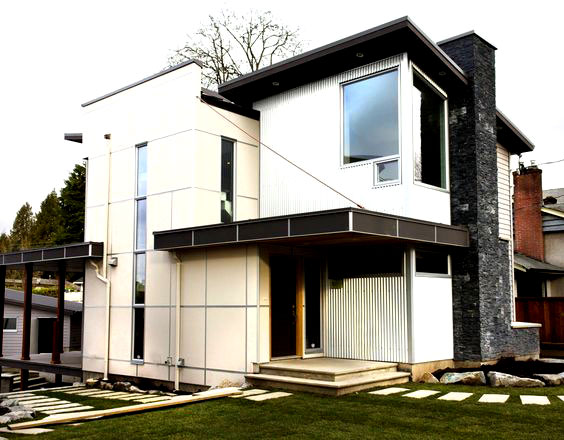 Architectural panels in contrasting colors, corrugated vertical panel, lap siding, and some stone detail create lovely contrasting textures on this modern home.
Modern and Sleek Sidings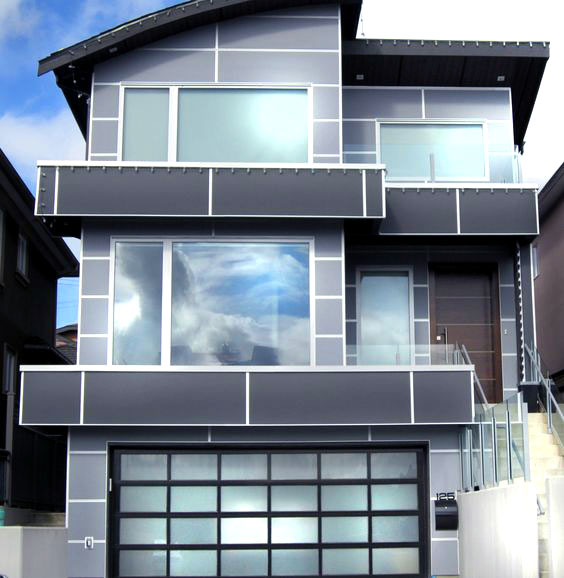 Want a sleek, modern look to your home? Contemporary architectural panels easily create that look. Just add contrasting trim to break the monotony.
Visual Contrasts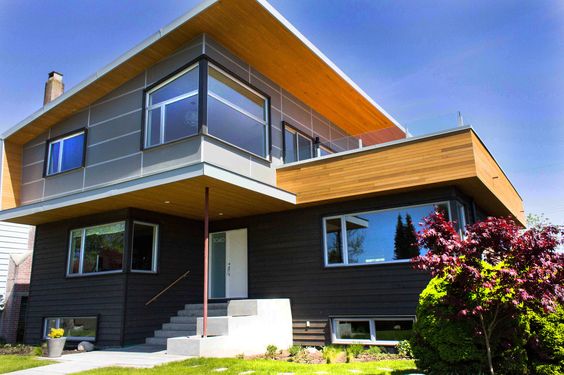 See how this home features different textures that offer a modern upper floor contrasting with the dark wood lap siding on the first floor. But the soft-toned wood panel on the roof deck and the underside of the soffit creates a lovely visual contrast.
Visual Height Boost
The architectural panels placed above the door of this building, contrasting with the dark wood lap siding, makes the structure appears taller than it actually is; the matching soffits complete the look.
Board and Batten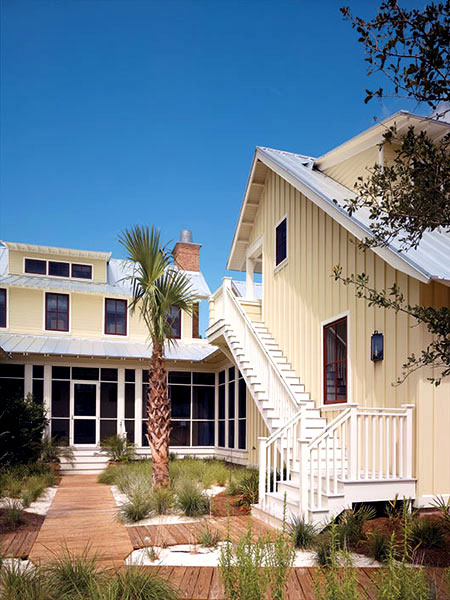 Less popularly used these days, the board and batten siding is a classic exterior that would make a perfect addition to a vacation home or beach house.
You can add variation by using contrasting colors or simply following this one-toned appearance.
Unbroken Lines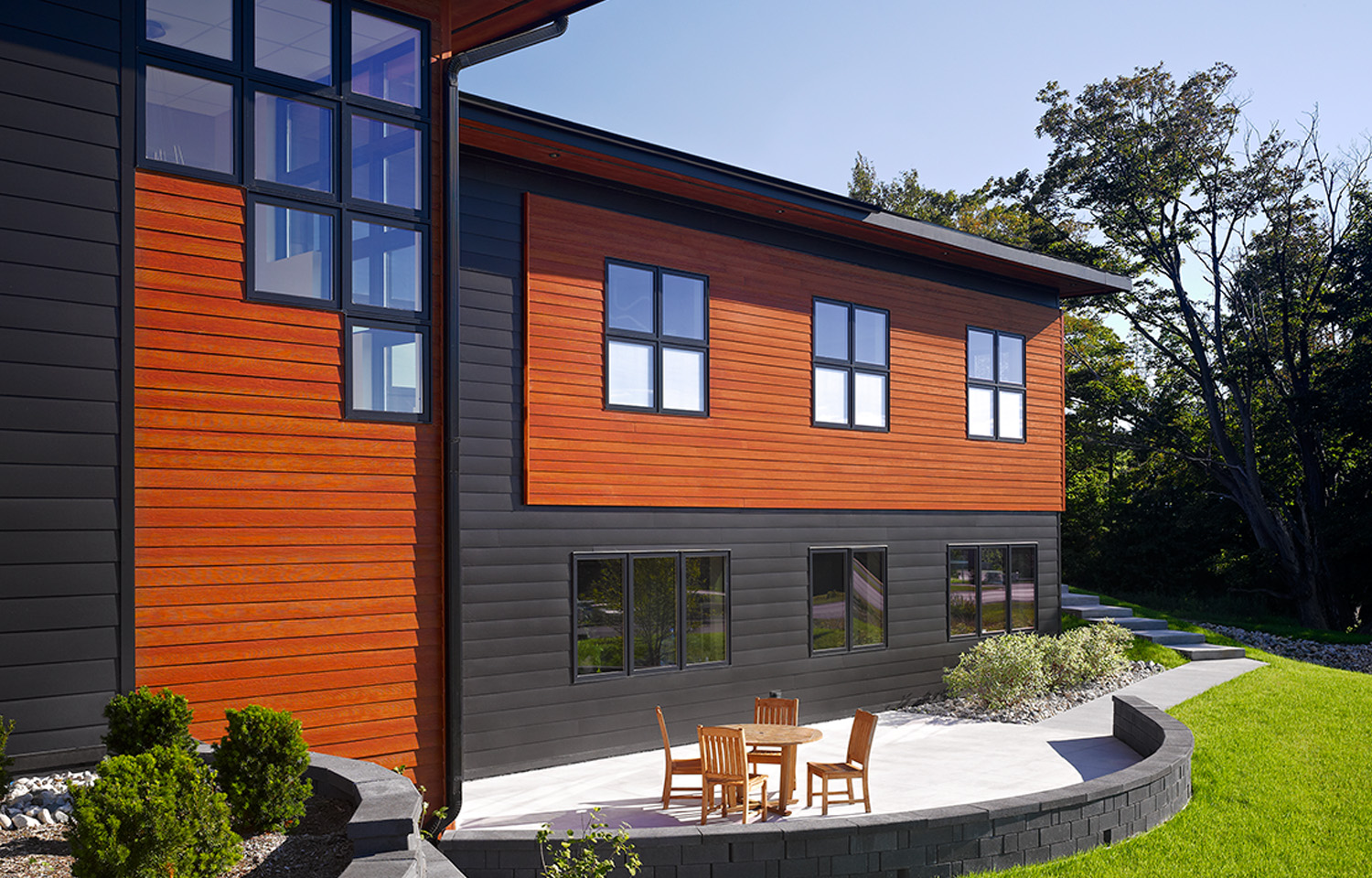 The lap sidings on this home create an unbroken line effect. Paint them in contrasting colors for a crisp, contemporary look.
Shingles as Decoration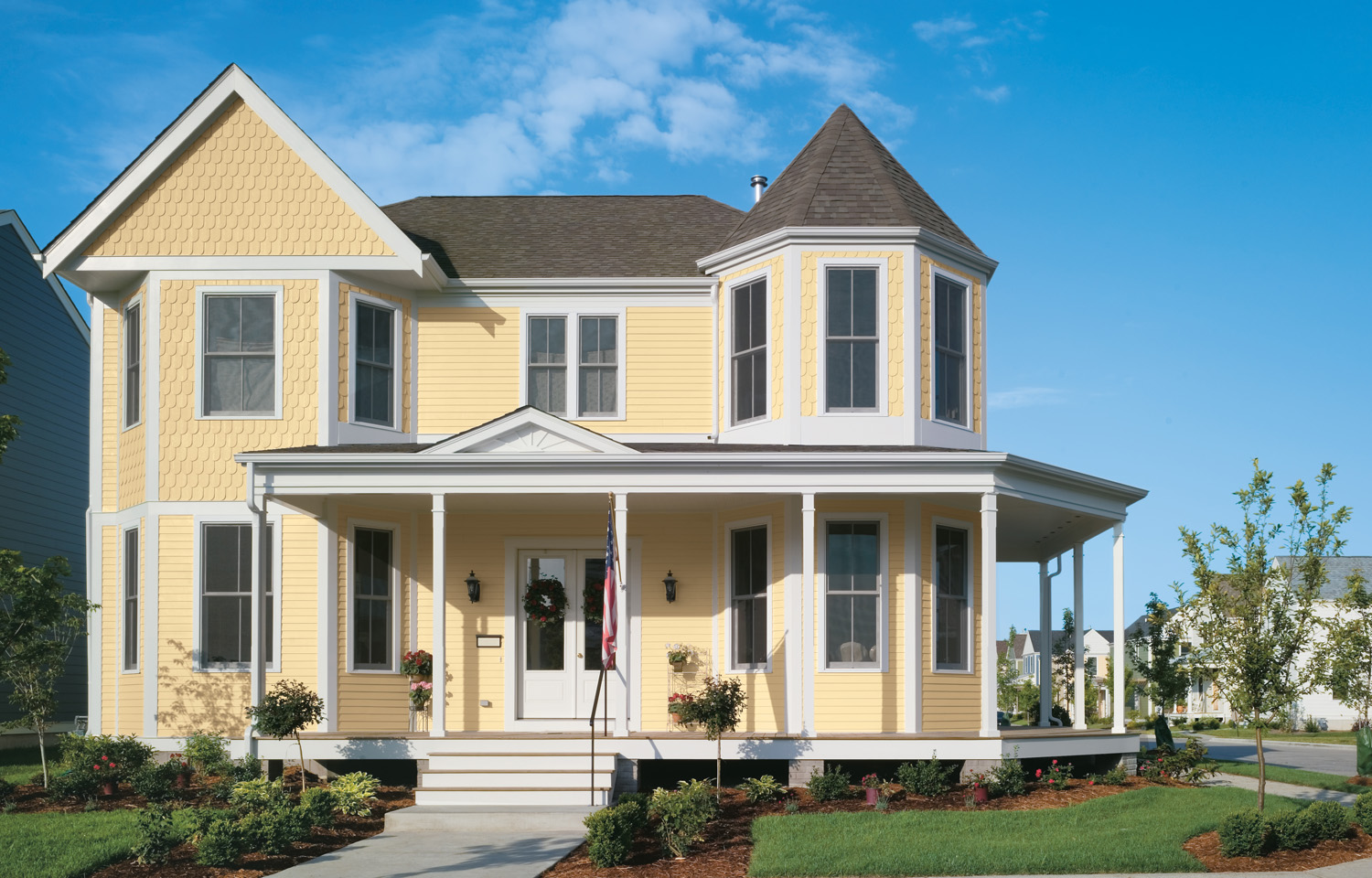 The half-round edge cedar-look shingles create a beautiful yet subtle contrast with the same-colored lap siding in most of the exterior of this charming home.
Multiplicity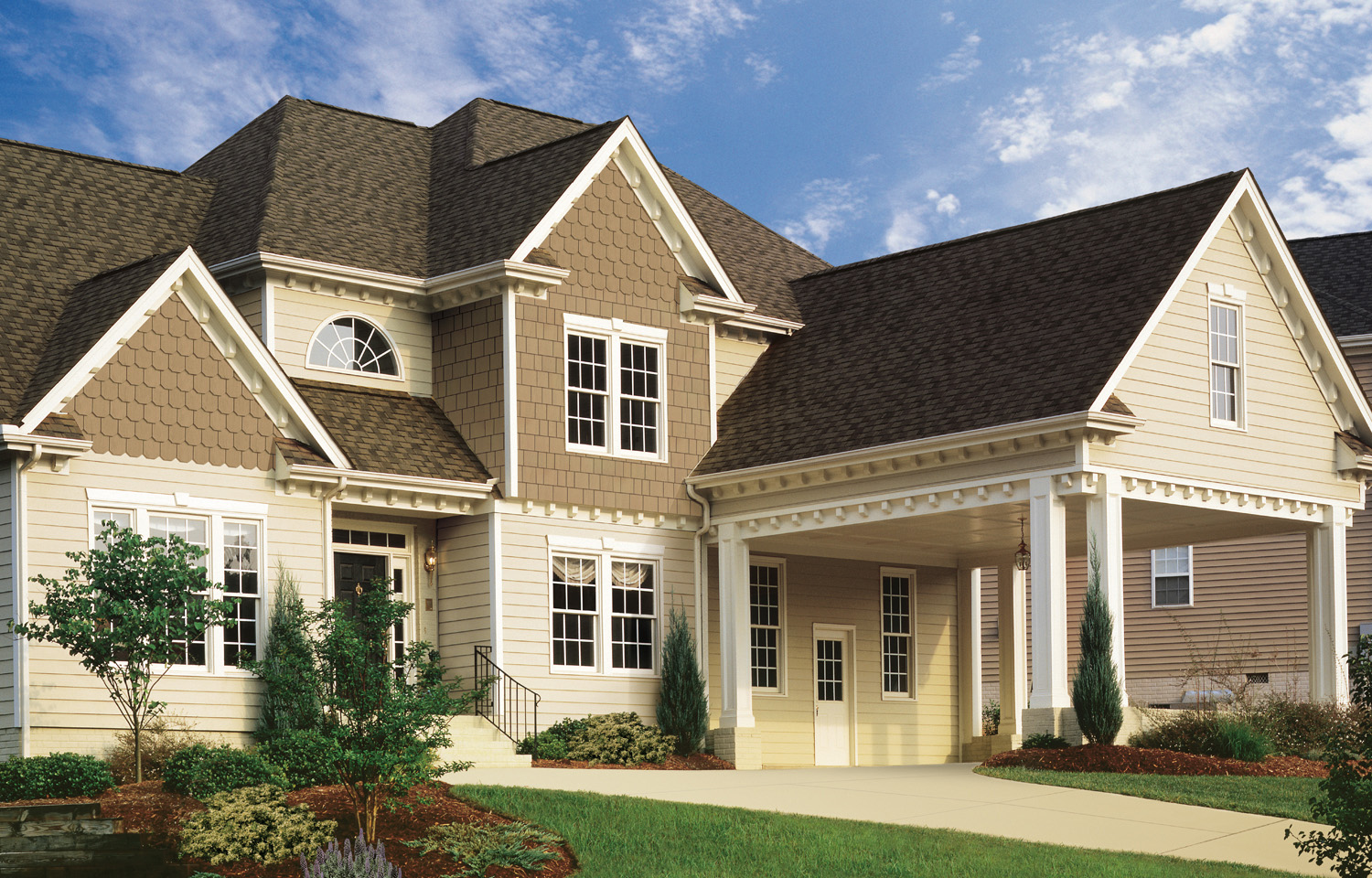 This home features a lot of different sidings and trims that make it more appealing but keeping the colors in a similar tone allows the house to be bold without looking disorganized.
Natural Wood Look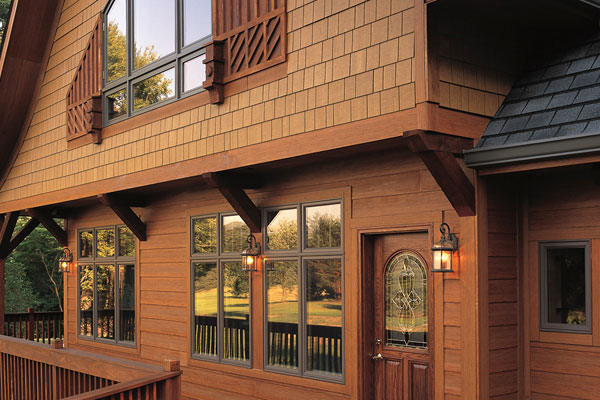 There's really something about a wood home that makes it homier, right? Even with just one color, this home looks lovelier because of the wood sidings and trim.
Mix and Match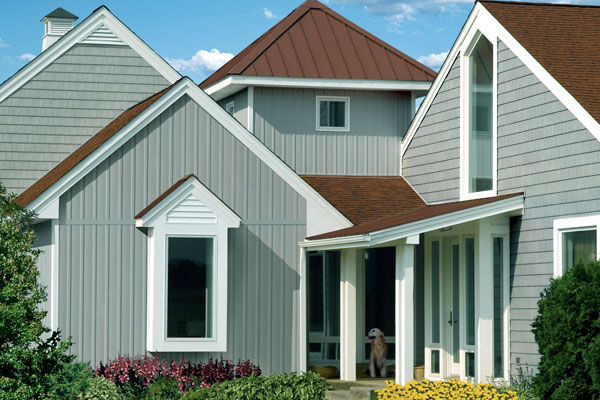 This property is made up of several buildings, but a cohesive look was still achieved by using the same colors. Just mix and match the sidings for a subtle contrast, such as what is done with this multi-building home.
Subtle Color Changes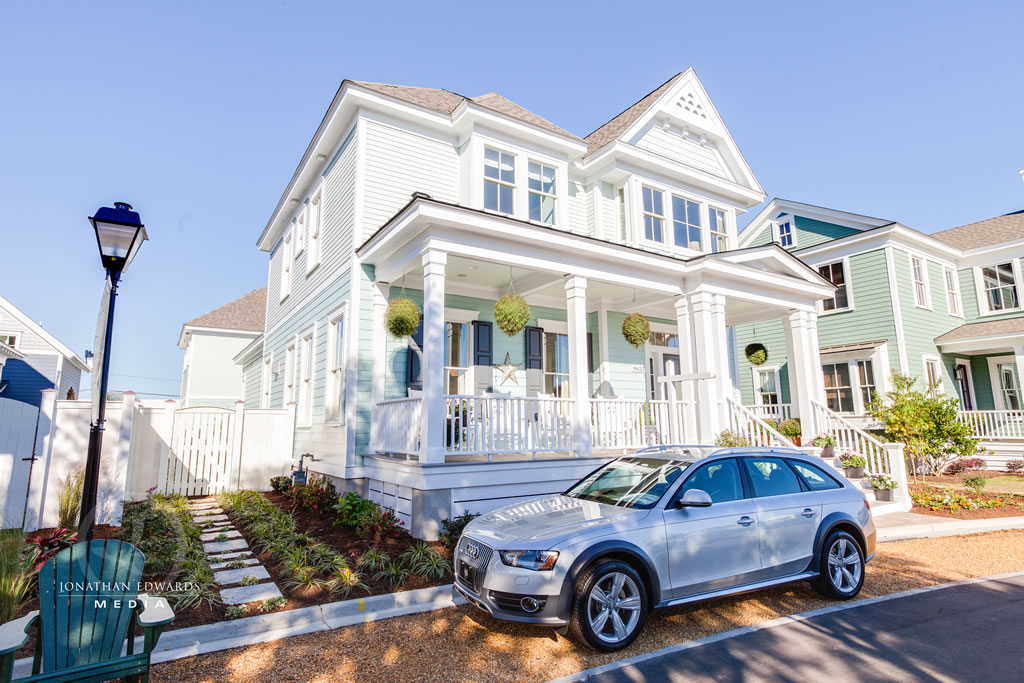 Painting the upper floor of this home with a slightly lighter color makes it appear taller. Also, notice the use of thinner planks on the upper floor.
Appealing Porch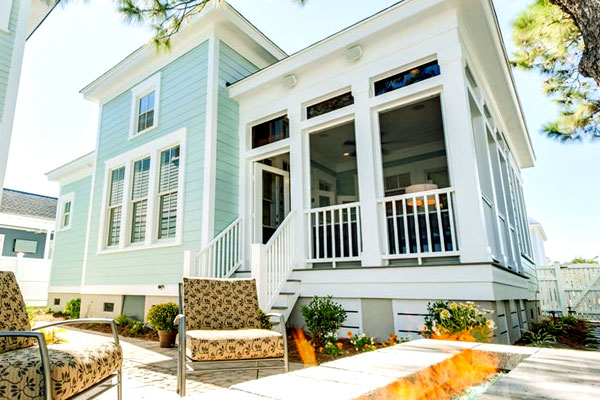 The porch in this home is decorated in the same trim as the windows, creating a continuity even while still emphasizing the added feature.
Clean-Lined with Wood Siding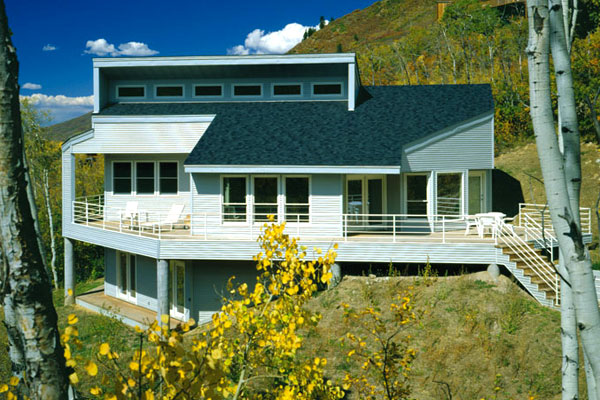 Modern homes often use glass and contemporary architectural sidings, yet this one makes use of simple wood lap siding for a clean-lined look.
Roofline Emphasis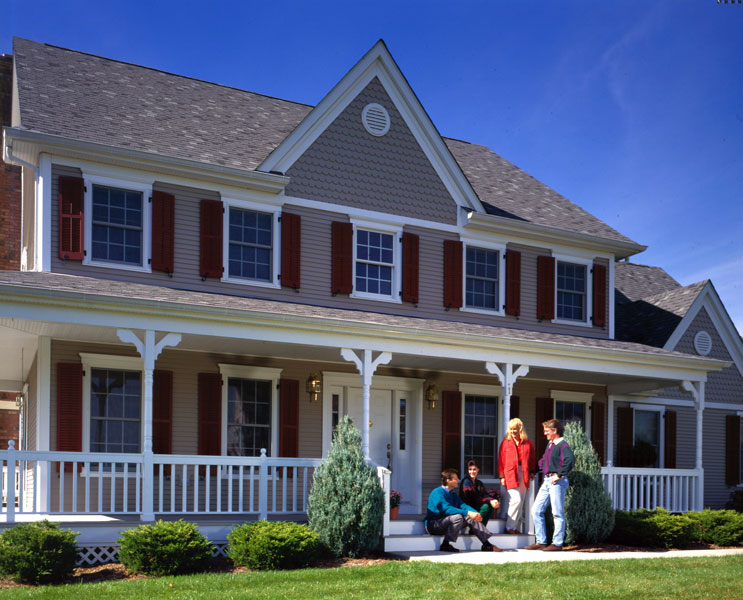 This home features an unusual roofline. To emphasize the unique feature, different siding is used. Even though the half-round shingles are painted the same color as the wood siding, it still adds visual interest to this home.
Geometric Contrast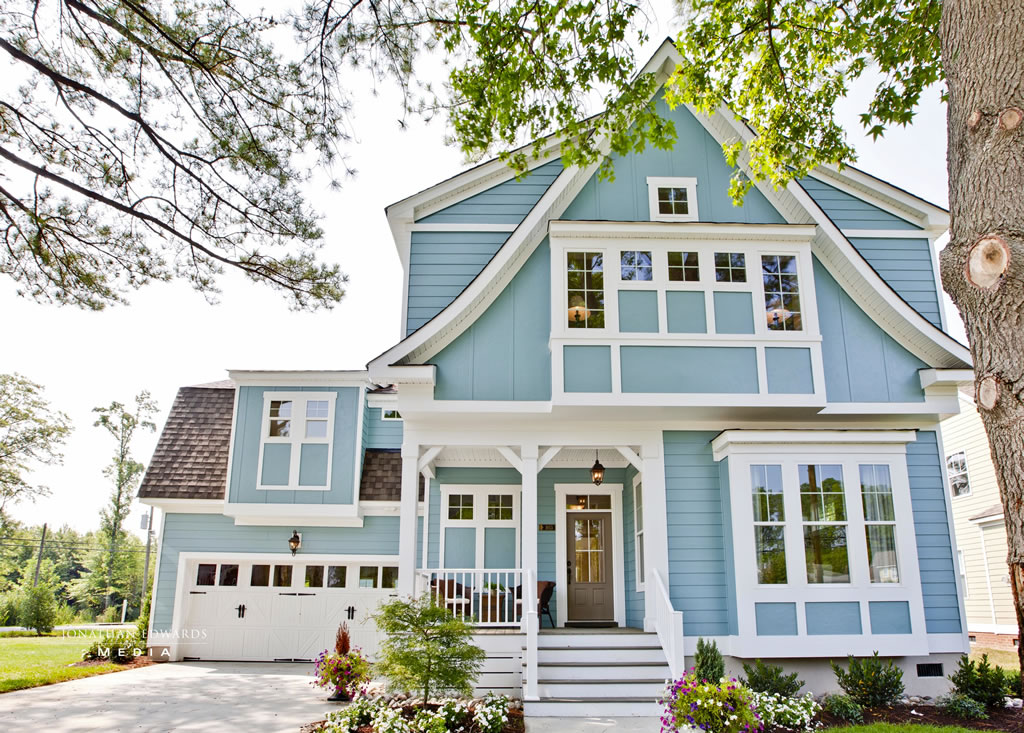 Notice the different sizes of the architectural panels and lap siding plus the use of board and batten on this home? These different siding materials complement the home's unique roofline.
Color Saturation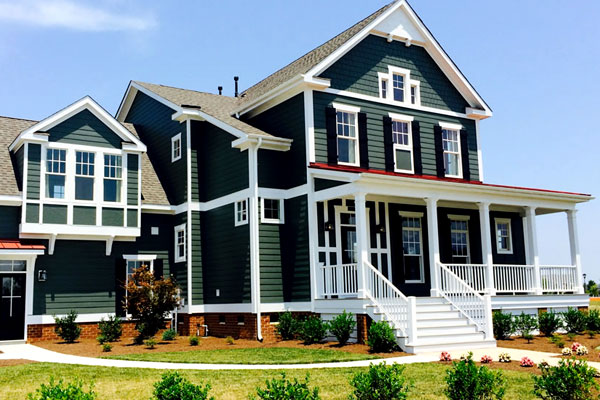 The saturated green paint on this home pops out, thanks to the contrasting white trim. This makes the home still showcase a classic look while putting emphasis on the architectural style.
Two-Tone Façade with Wood Skirting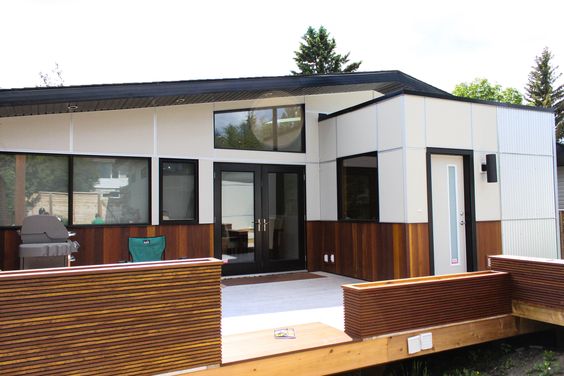 The two-tone façade looks great on this house. The wood skirting in natural colors create a stunning contrast with the light architectural panels.
Modern Trim in Traditional Home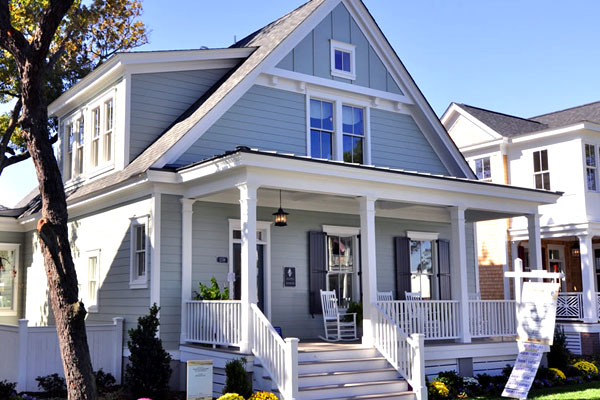 This traditional home features lap siding all over the exterior, but modern architectural panels in the same color add a subtle contrast just beneath the roof line.
Shingles and Fieldstone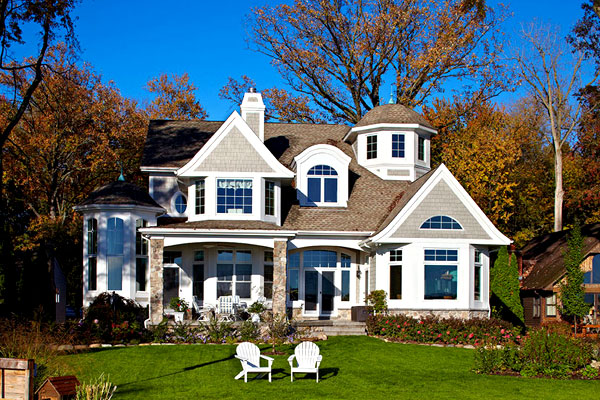 You could never go wrong with a home that features natural fieldstone and roof shingles to match. It gives your home a traditional look and an increased curb appeal.
Shingles All Around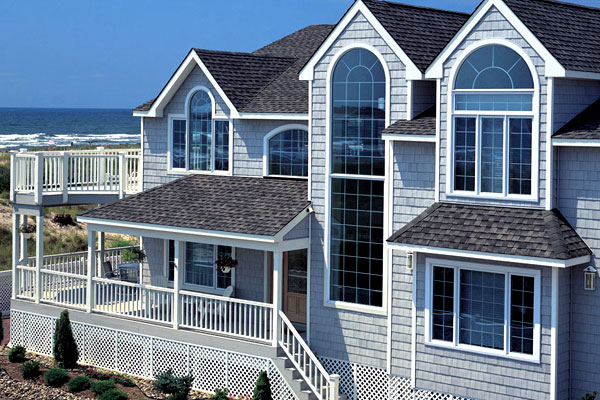 Trying to perfectly blend with its surroundings, this grand seaside home uses shingles not just on the roofs but also on the siding, with great effect.
Trims Galore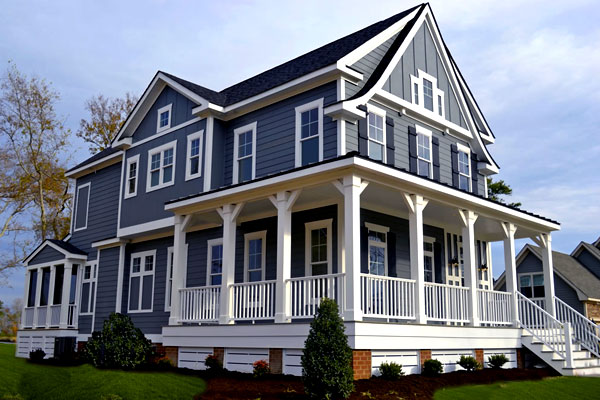 More often than not, the sidings create the main attraction while the trim adds contrast. But this home managed to make the trim as the main attraction, while the contrasting siding fades a bit in the background.
Understated Appeal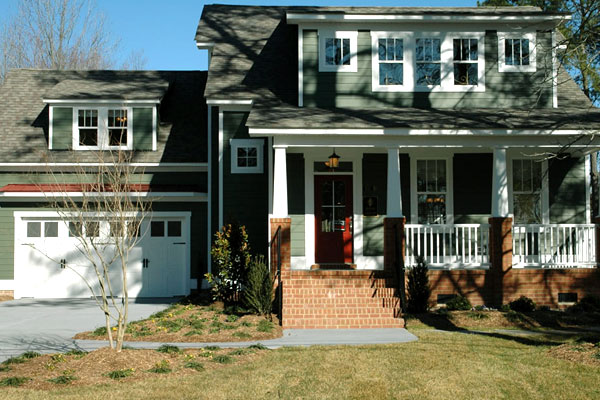 Most homeowners don't really want their homes to be bright and loud, especially on the outside. This one achieved a subtle look without sticking to boring neutral colors.
Subtle Contrasts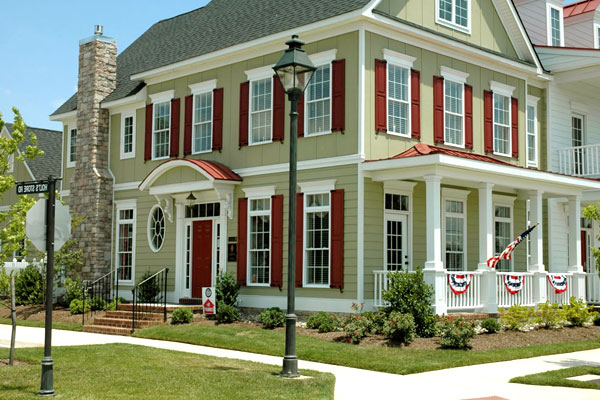 At first glance, you might not notice the differences in the sidings on this house because of the matching colors, but the upper board and batten panels are actually a subtle contrast to the lap siding below.
Faux Windows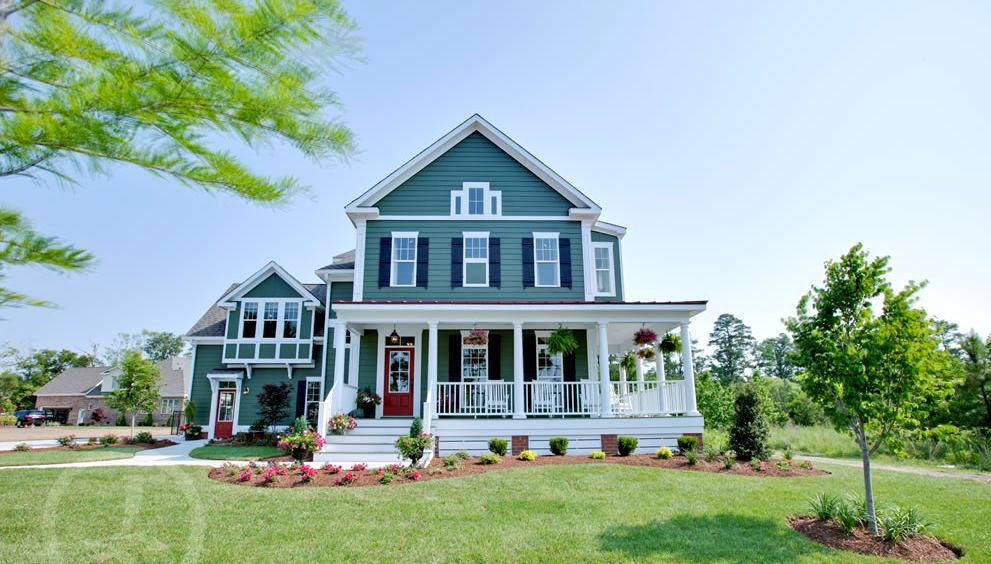 How many windows does this house have? Plenty, that's for sure! But some of the 'windows' here are actually architectural panels and trim that are made to match the windows below, creating more visual appeal to the house.
Bold Trims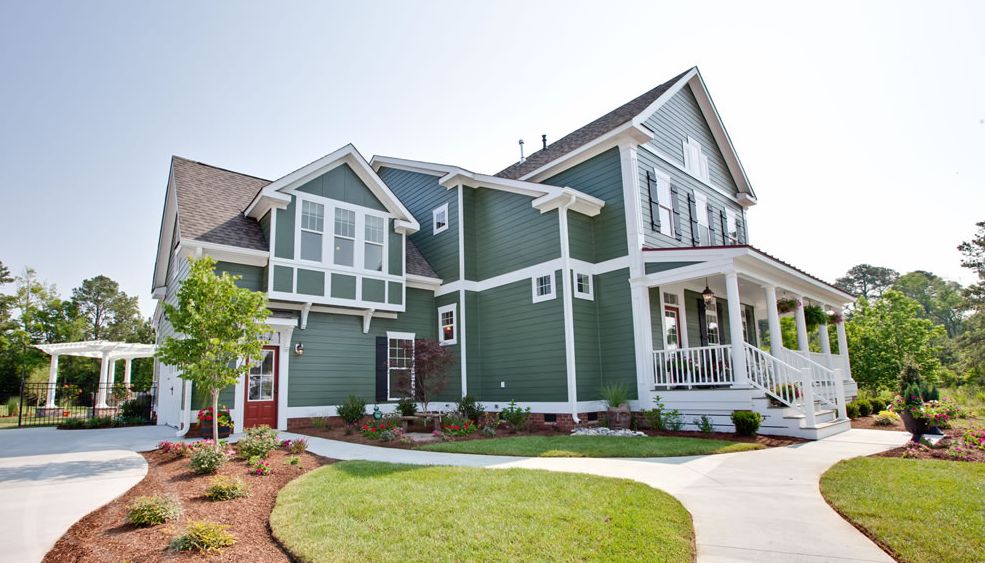 Painting your home's exterior with the same color from top to bottom is much easier to do, but adding bold trim makes the siding look better.
Neutral Tones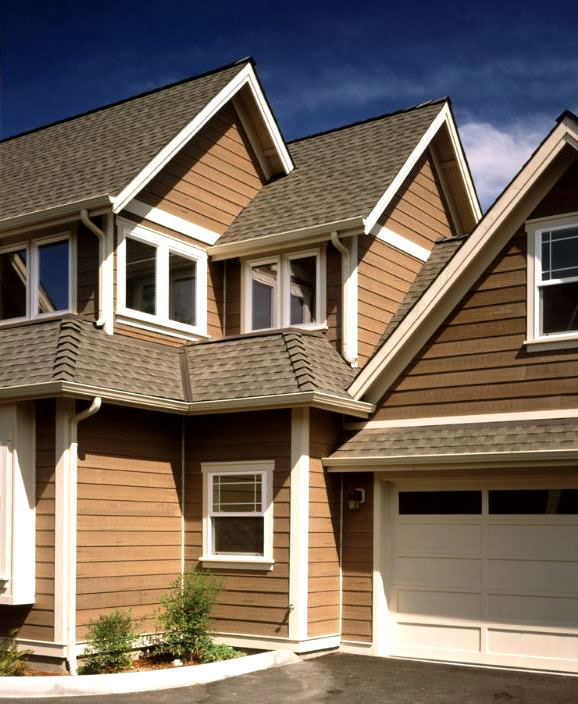 Who said your home has to be bright and colorful? Choosing neutral tones doesn't make your house look boring; it can actually have a good impact on the viewer because this creates a classic, natural effect.
A neutral color also equates to natural wood. It's lovely, sophisticated, yet not loud. You can add white trim to break the monotony.
Mix and Match Siding Types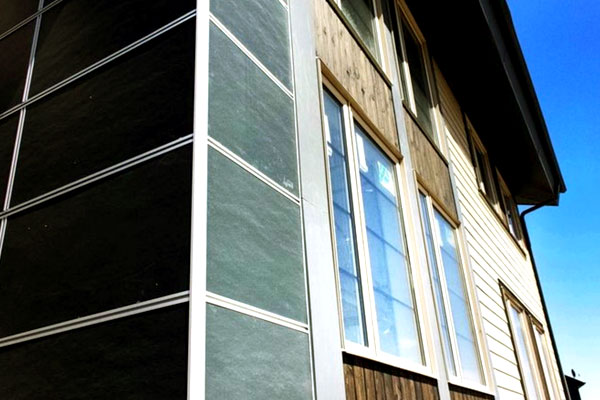 You don't have to pick just one type of siding. In fact, you can create a lovelier effect if you try to mix and match your sidings.
For example, this building uses vertical shiplap with natural colors, traditional lap siding with white paint, and dark-colored architectural panels with contrasting white trim. This gives your home a modern yet also still classic look.
2-in-1 Building Siding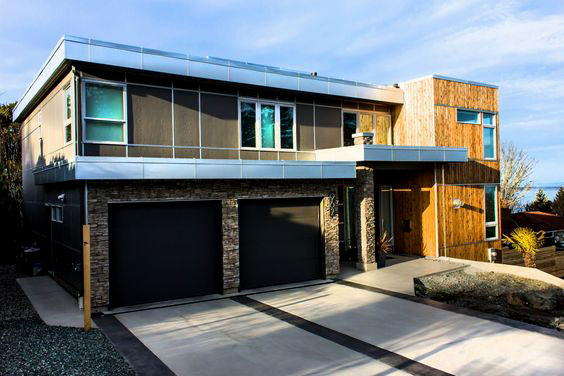 Sometimes, homeowners make additions to their home as the family grows or if they needed a new garage or just something they wanted to add after the house was built. At times, they just want to create a home that appears to be two buildings in one.
In such cases, you can choose the two-building concept to your advantage by decorating each one in a different style. Look how the owners of this home used the modern architectural panel and trim on the larger building and chose a contrasting yet perfectly complementary natural look on the side addition using vertical siding with neutral tones.
Natural Accents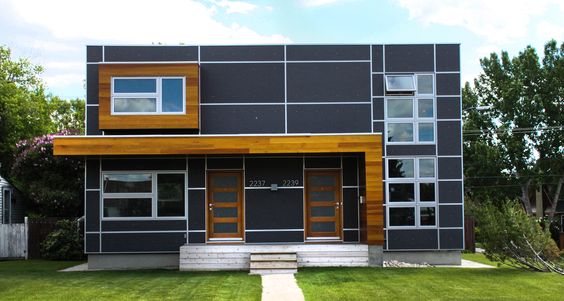 Break monotony from a contemporary architectural siding by adding natural accents just like this wood panel lap siding.
Larger Windows Blend with Siding
Windows are not just useful for you to see outside your home, these also add appeal to the house. Larger windows make the home more inviting, but you can't always have very large windows.
You can still achieve that look, though, by adding architectural panels with deeper contrasting tone to make the windows appear larger.
Contrasting Sides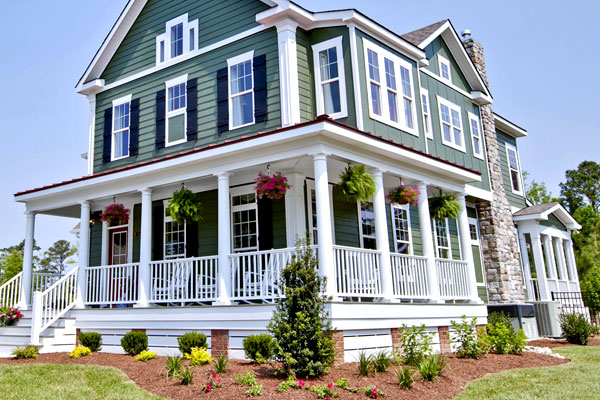 Instead of the usual contrasting features by floor, this home chooses to make contrasts on the sides. The front portion uses lap siding while the sides of the house feature vertical panes. All feature the same color.
Change Directions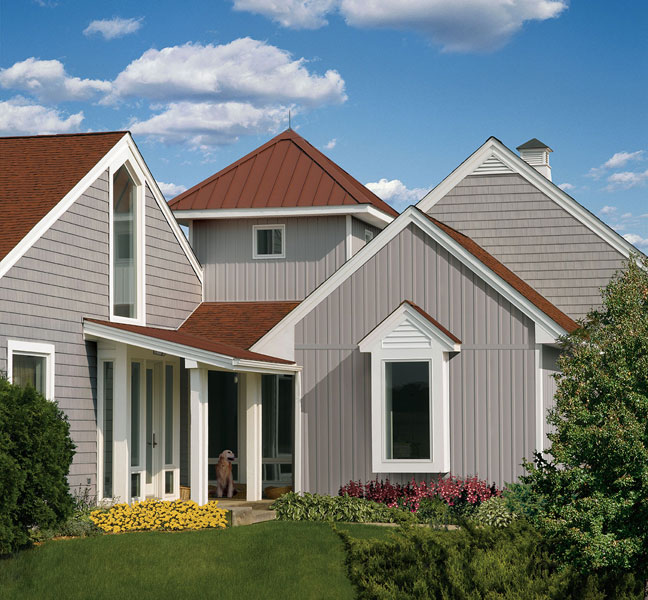 Add more interest to your home by choosing lines to separate sections of the exterior. But keep the colors the same for a cohesive look. Check out the board and batten sidings on this home that pulls attention to the different rooflines, too.
Protruding Panel with Different Materials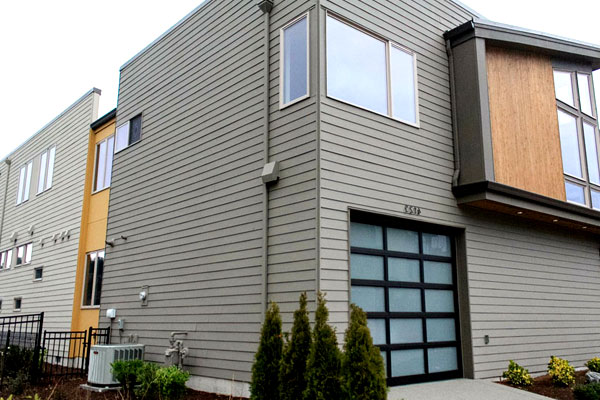 This modern home makes use of traditional lap siding on most of the exterior walls, but a protruding panel with wood siding in natural color creates an interesting mix.
Color Coding in Multi-Family Home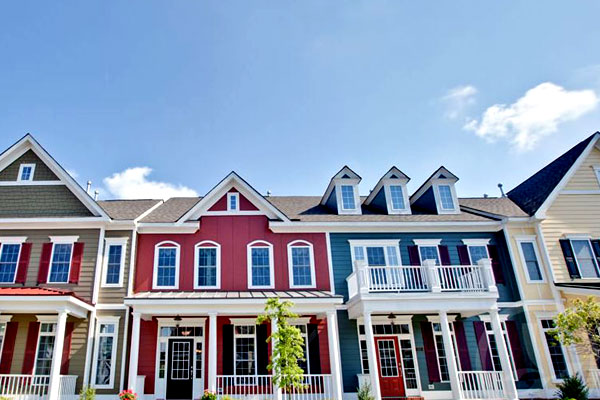 This multi-family townhouse does not have fences to clearly outline individual properties, but they can still create an individual look using a different color and siding material compared with the others.
Of course, this would need cooperation from all homeowners so they could create a harmonious building while still showcasing their individuality.
Textured Facade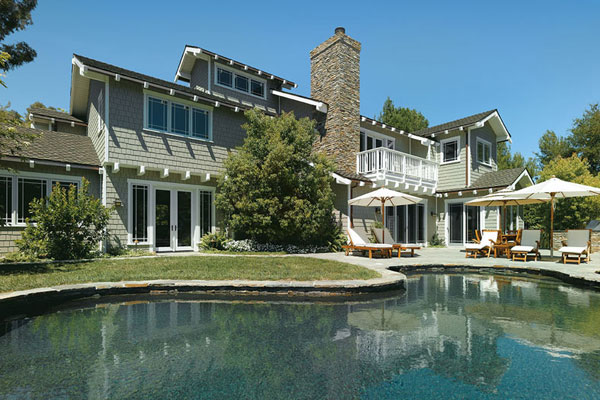 Cedar-look shingles perfectly complement the texture of the fieldstone fireplace chimney in this contemporary home. It creates a traditional appearance with a modern appeal.
Subtle Tones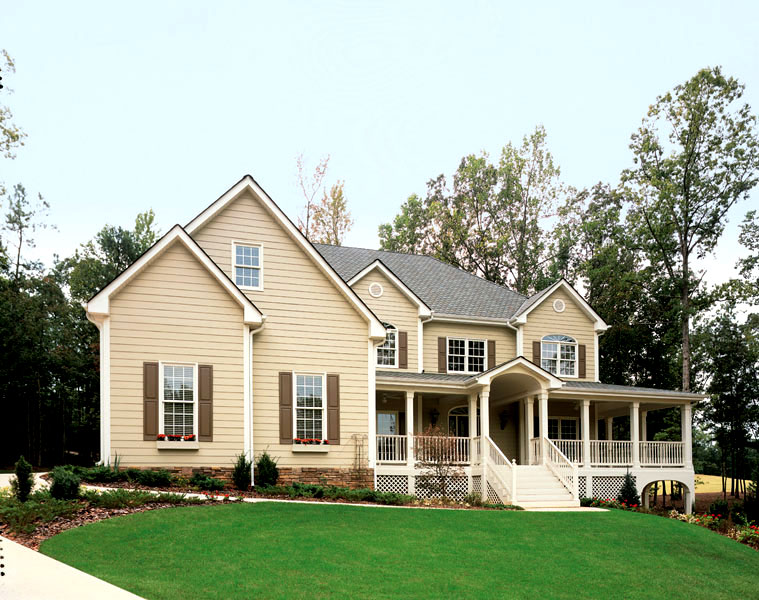 The sidings and the trims don't always have to be in contrast. In this lovely home, the subtle tone on tone effect creates a warm, homey ambiance.
White on White Siding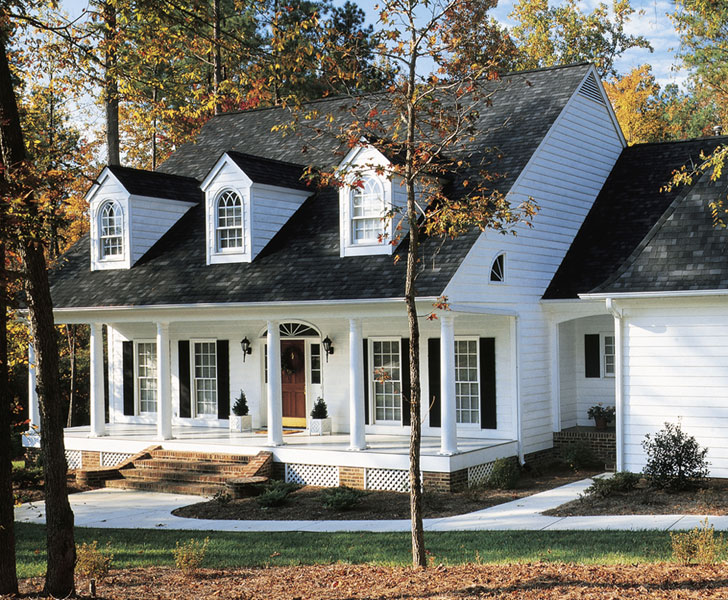 Using all white on the exterior can be bold but still appealing, just like this cottage home with a white on the white siding that actually creates a classic look.
Natural Look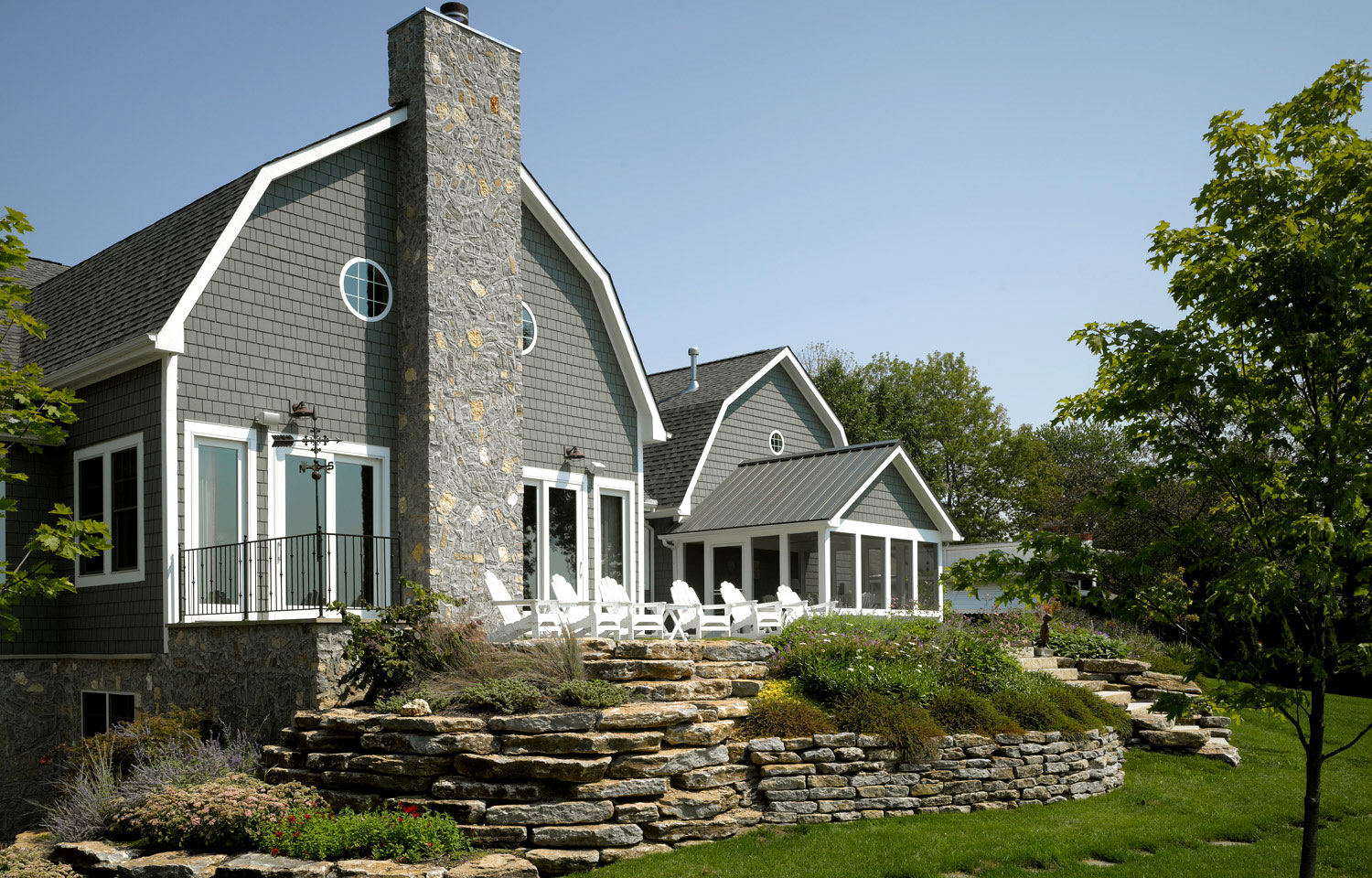 Sometimes, the natural look really makes the home more beautiful to look at. The irregular cedar-look shingles on this home create a continuity with the natural rock outcropping at the bottom.
Mixed Materials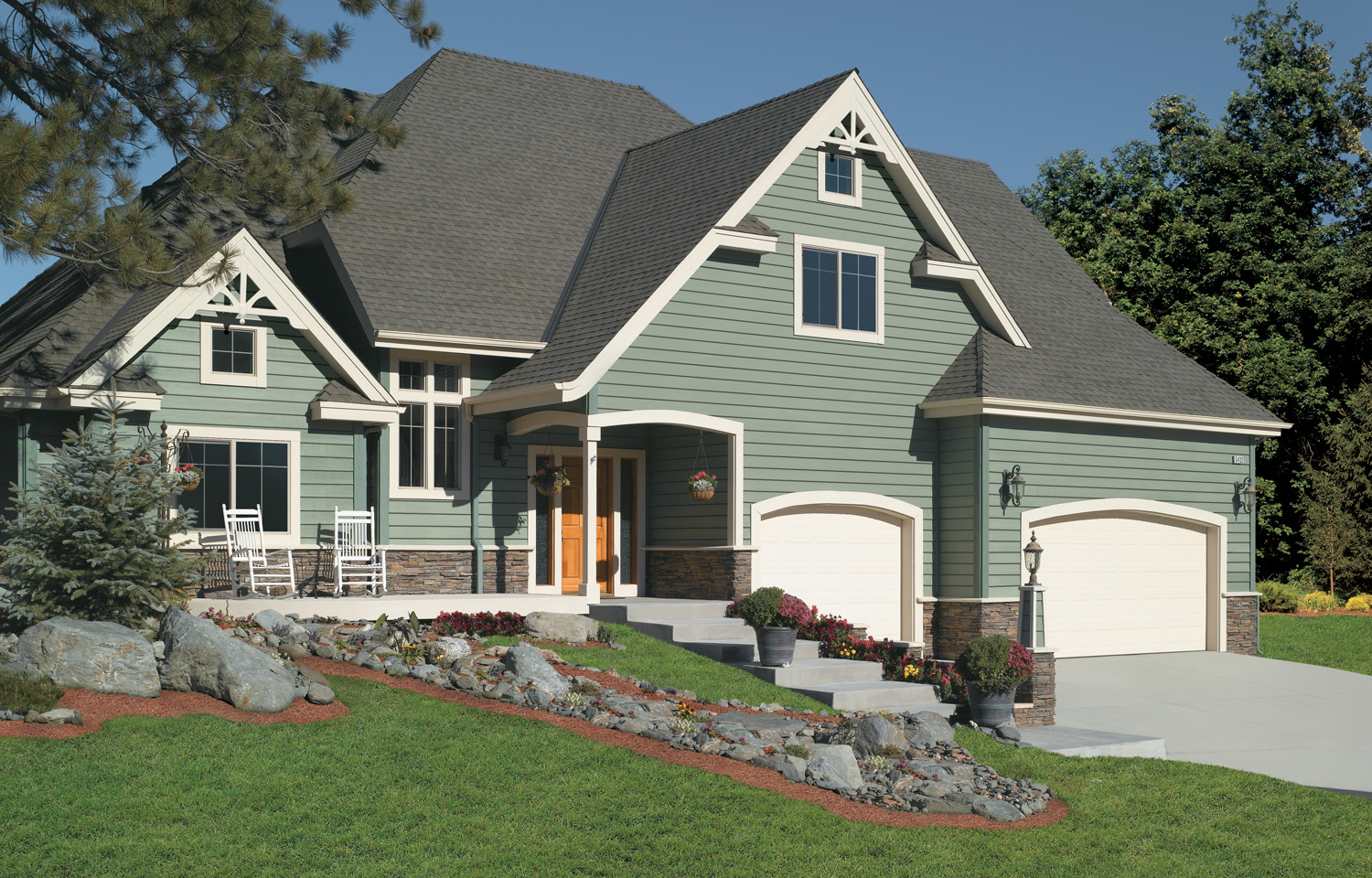 Fieldstone makes this home blend more with its surroundings, but wood lap sidings in soft color still complement the stone yet also gives the façade a charming appeal.
Elegance of a Victorian Home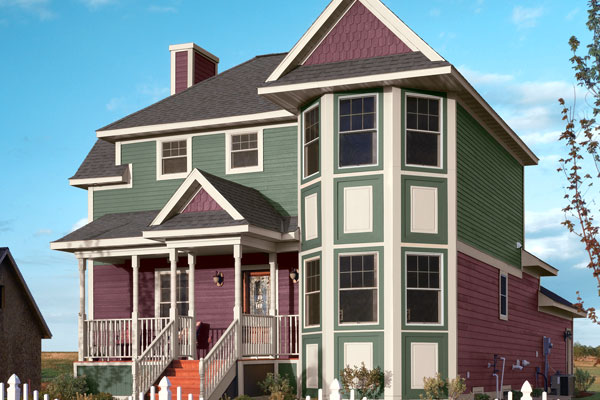 Wood siding in different colors creates different attributes to this home without needing to choose so many options. You could, of course, add texture by choosing decorative shingles and some architectural panels.
Side by Side Contrast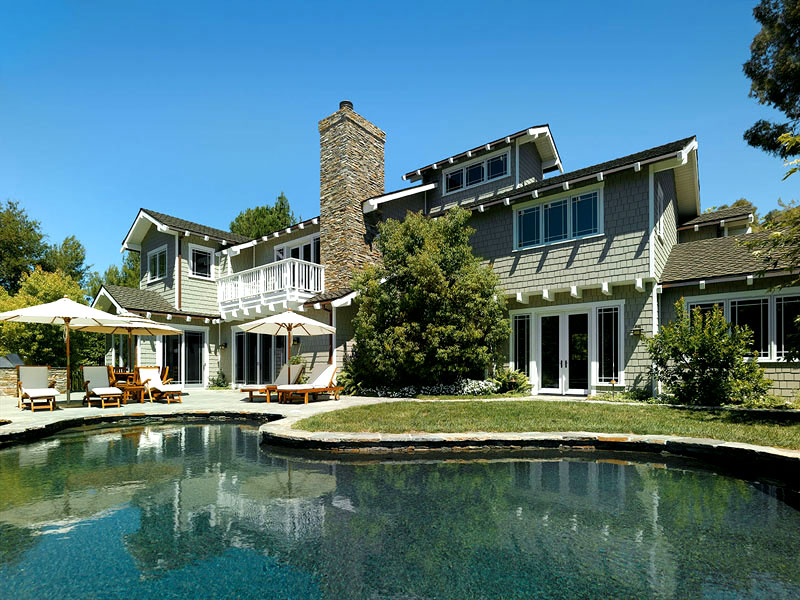 For long homes or duplex properties, you can create a stunning contrast yet cohesive effect with different types of siding. Lap siding on one side and shingles on the other side make this building look interesting, while the fieldstone chimney provides a natural break.
The Up Look Appeal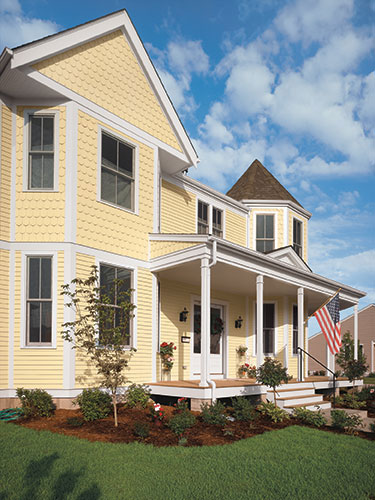 If you have a multi-story home, use the second-floor façade to your advantage. Put a contrasting siding, such as the half-round shingles on the second floor of this home.
Counterbalanced Textures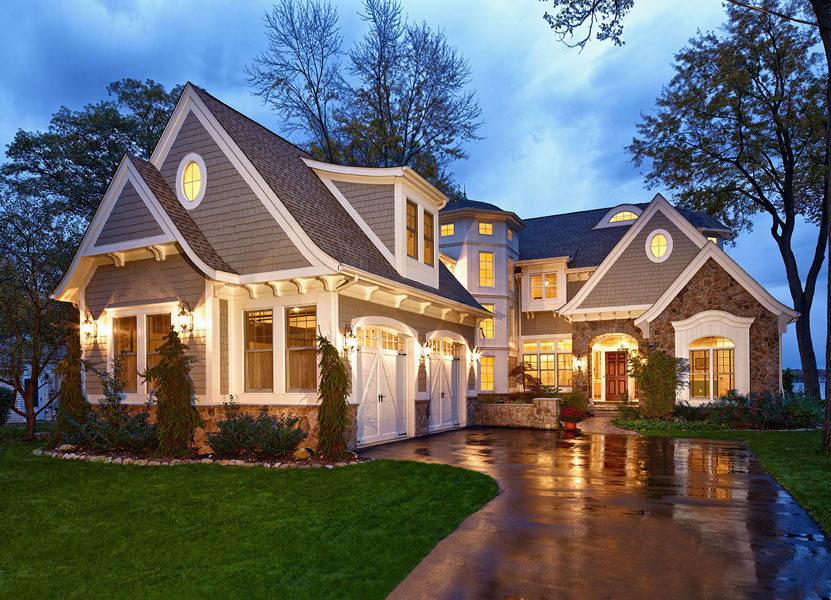 This home has a lot of great textures that complement the artistic design. Fieldstone and cedar-look shingles aim for a natural look while the architectural panels at the center section create an interesting modern contrast to a classic home look.
Size Matters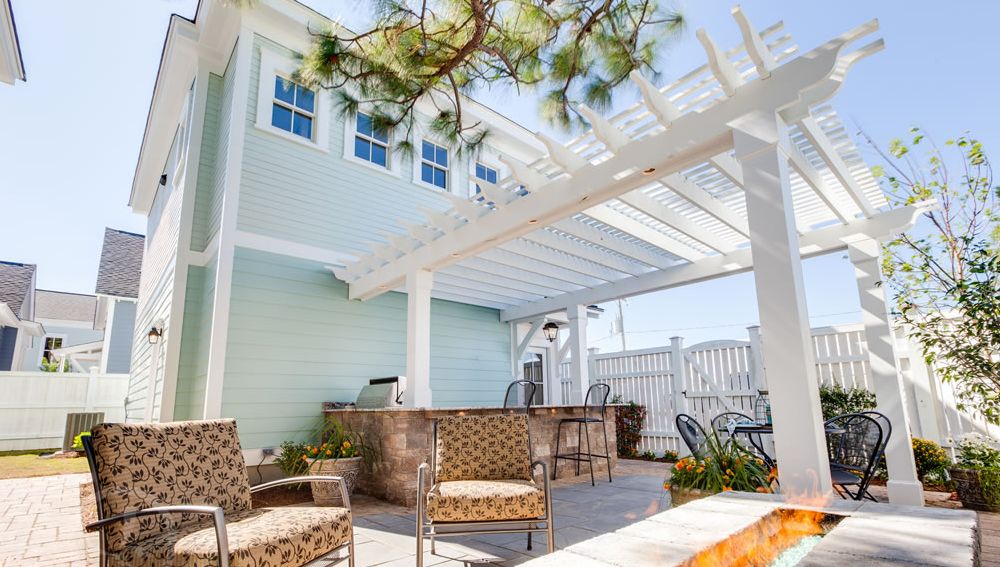 Sometimes just changing the size of your wood sidings make the house look more visually interesting even while using the same material and color.
Monochromatic Statement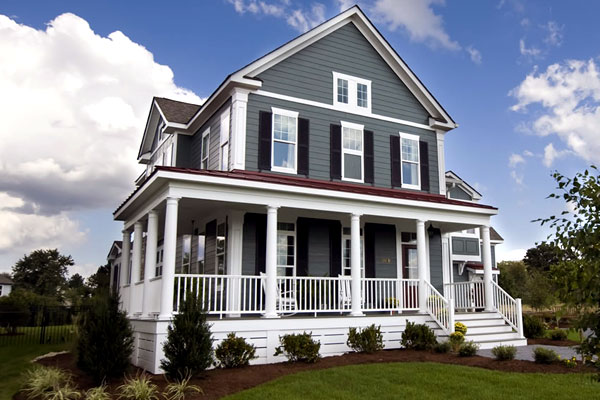 Some might think a monochromatic façade is boring, but this home proves that color isn't the only way to make a statement. Sometimes, keeping things simple and less colorful actually makes your home more beautiful.
Rustic Appeal
This façade works best in the countryside and in mountain homes where the peeled log columns easily match with the trees in the surroundings. But you can also pick this design to create a rustic look to your city home.
Contrasting Brick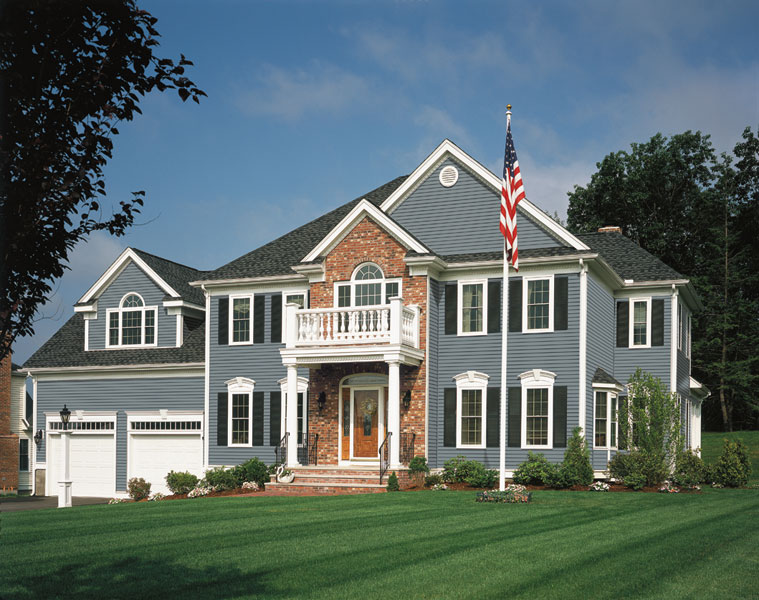 Break the monotony of the monochrome wood siding of your home with a perfectly contrasting siding at one part; such as this towering brick siding on one column of this building. The different texture, color, and material of this siding bring an interesting contrast to the grey wood lap siding.
(Source: allura usa | next luxury | hgtv | james hardie | kebony | diy network)
This work is licensed under a Creative Commons Attribution 4.0 International License.





Contact us or email us with your questions, comments or tips. Read more trending news here at HenSpark!