Fastest cars – Speed is power! This is true when we talk about braking records which all the super car manufacturers, developers, designers and even race car or test car drivers aim for. Man's insatiability in extending the capabilities of a machine's speed and performance is really unstoppable.
Of course, in order to beat the rival's speed record, a company invests on the development of their super car, and they spend not just thousands but millions of dollars! Every aspect should be taken seriously, from the machine's design and power up to the driver's safety.
Welcome to top 10 of speed world folks!
10 – Lotec C1000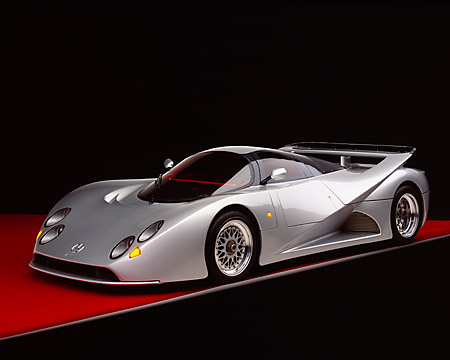 Lotec is a German sports car manufacturer founded by Kurt Lotterschmid in 1962. They were known because of the modifications they did for Porsches and creation aerodynamic and other parts for Mercedes-Benz cars. Lotec C1000 was born when an oil baron from the United Arab Emirates commissioned Lotec to make a vehicle for him. Lotec put a 5.6L Mercedes-Benz V8 engine equipped with twin turbocharges. The "C1000" model has a meaning, "C" stands for the carbon fiber and "1000" stands for the horse power it has.
9 – Bugatti Veyron EB 16.4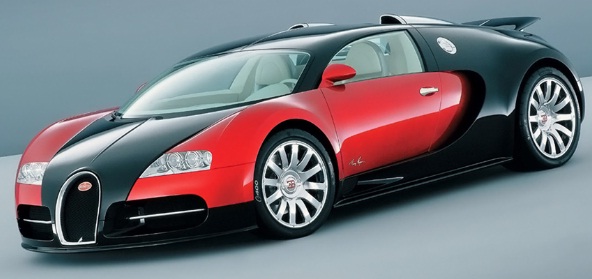 Base Price: $1,500,000
This version of Bugatti has a top speed of 253 miles per hour powered by an engine with 1001 horse power. Bugatti Veyron was named after Pierre Veyron, a Bugatti developer engineer, a French racing driver who won the 24 Hours of Le Mans in 1939.This mid-engined car was developed and designed by the Volkswagen Group. On the other hand the "EB" refers to Ettori Bugatti, the Bugatti Founder.
8 – Bugatti Veyron Grand Sport Vitesse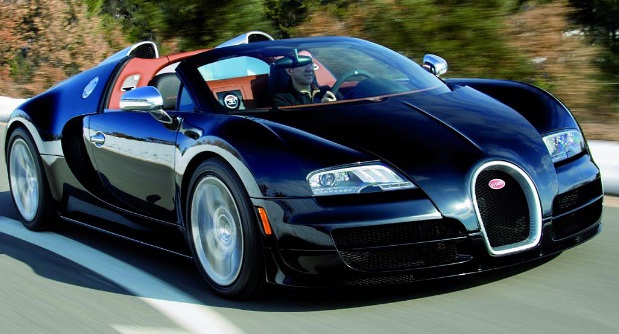 Base Price:€2 million.
This version of Bugatti Veyron was showcased at the 2012 Geneva Motor Show. With a top speed of 255 miles per hour, the Vitesse was the fastest production roadster ever. It can only reach its speed on closed tracks because it was electronically limited to 233 miles per hour when on normal roads. This supercar costs €2 million.
7 – 9ff Porsche GT9-R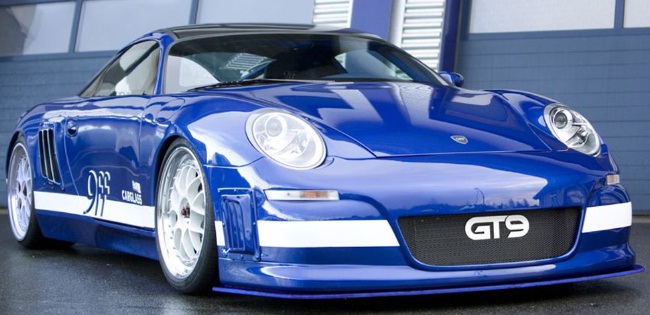 Base Price: $695,000
This Porsche supercar has 1,120 horse power created by its 4.0 Liter flat-6 Twin Turbo Engine making it reach the top speed of 257 miles per hour or 413 km/hr, 0 to 60 in 2.9 seconds. The 9ff GT9-R version's production was limited to twenty (20) units only. GT9-R is also a mid-engined super car which was designed that way for better weight distribution. Though it cannot match the speed of the SSC Ultimate Aero or the Bugatti Veyron Super Sport, it is faster than the original Bugatti Veyron.
6 – SSC Ultimate Aero

Base Price: $654,000
This is the car that beat the Bugatti Veyron. It was the world's fastest car from March 2007 up to July 2010 as tested by the Guinness World Records. SSC Ultimate Aero has 1,183 horse power produced by its Twin-Turbo V8 Engine. After it lost its title to the Bugatti Veyron Super Sport, its ranked went down to rank 3 after it was defeated by Koenigsegg Agera R on March 2011. Shelby wants to continue to conquer the supercars league so they created the SSC Tuatara.
5 – Hennessey Venom GT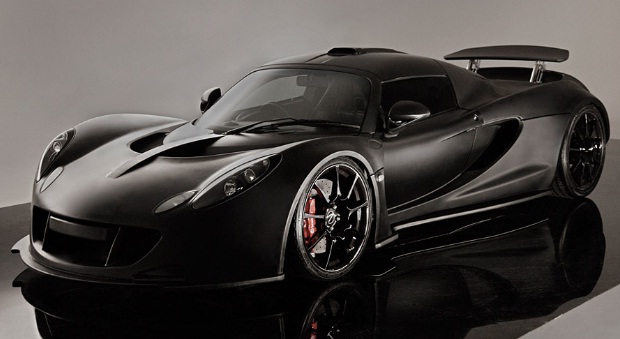 Base Price: $950,000.00
Powered by a 6.2-liter LS9 Turbocharged V8 Turbo V8 Engine, this monster has 1,200 horse power! It has a top speed of 260 moles per hour (418 km/hr), 0 to 60 mph in 2.5 seconds. This super car is manufactured by Hennessey Performance Engineering and it was unveiled on March 29,2010. The first time it set a new Guinness World Record was on January 21, 2013 for having an average speed of 0 to 300 km/h acceleration time of 13.63 seconds.
4 – Koenigsegg Agera R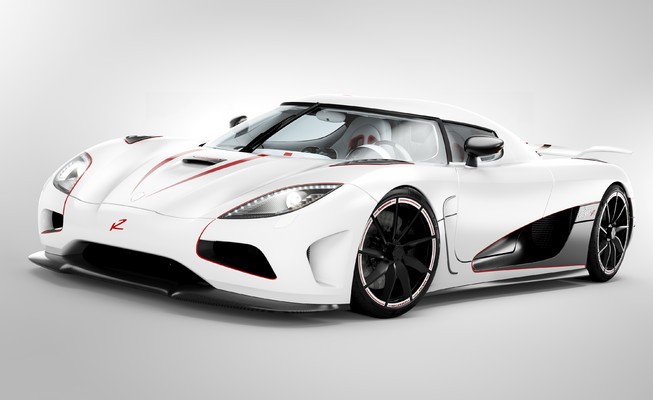 Base Price: $1,700,000.00
This super car made its debut at the March 2011 Geneva Motor Show Koenigsegg Agera R has a top speed of 260 miles per hour (418 km/hr), 0 to 62 mph in 2.9 secs. This supercar has 1099 horse power produced by its 5.0-liter V8 Engine with twin turbo. A unique car, why? It is because it is a mid-engined type of sports car. This version of Koenigsegg can run on flexfuel and even in petrol. It is record breaker! The Agera R broke six world land speed records on their test sessions in Angelholm and the Guinness Book of Records' representatives verified and accepted the results.
3 – SSC Tuatara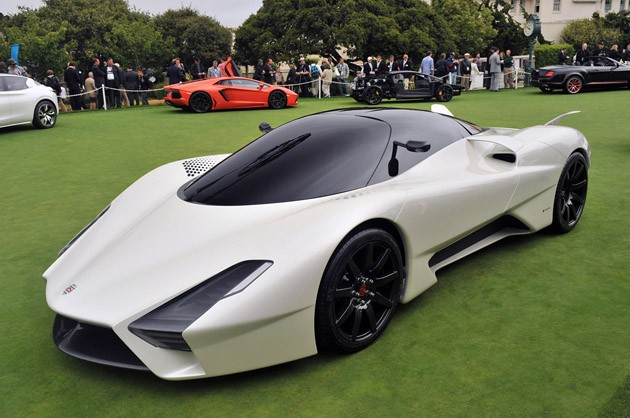 Base Price: $880,000
SSC Tuatara is a supercar made by SSC North America which was formerly known as Shelby Supercars Inc. It has a 7.0 twin-turbo V8 with 1,350 horse power. SSC Tuatara is available in two transmissions, 7-speed manual and 7-speed semi-automatic. The company hopes that SSC Tuatara will beat the speed record of Bugatti Veyron Super Sport, they have a theory that this supercar can have a top speed of 276 miles per hour.
2 – SSC Ultimate Aero TT
Base Price: $590,000
In 2007, a charged version of the SSC Ultimate Aero was unveiled. It has a Supercharged V8 Chevrolet engine with 1,183 horse power and a top speed of 256 miles per hour. In 2008, the engine was changed to Twin-Turbo V8 together with aluminum engine block and a computer system (Azentek Atlas). But they are not done yet, in 2009 they change its engine again to 6.3L Twin Turbocharged V8 increasing its horse power to 1,287.
1 – Bugatti Veyron Super Sport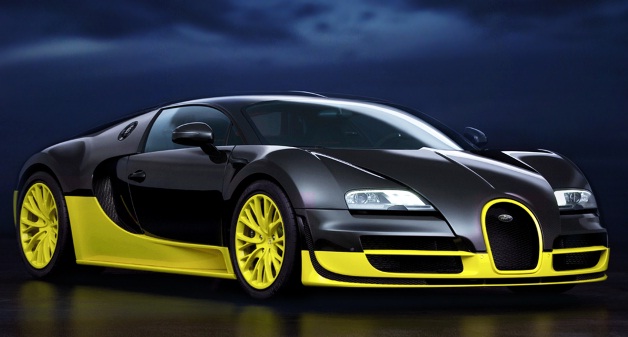 Base Price: $2,400,000
This car has a top speed of 267 miles per hour or 429 km/hr, 0 to 60 in 2.4 seconds and powered by Aluminum, Narrow Angle 8 Liter W16 with 1200 horse power. Before this car was made, its predecessor Bugatti Veyron (which was priced at $1,700,000.00 and has a top speed of 253 miles per hour) already hold the title of the world's fastest car but in March 2007 it lost to SSC Ultimate Aero. But Bugatti did not stop there and they created Bugatti Veyron Super Sport which made them regain the title in July 10, 2010.
This work is licensed under a Creative Commons Attribution 4.0 International License.





Contact us or email us with your questions, comments or tips. Read more trending news here at HenSpark!