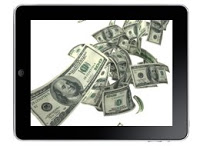 We have a lot of tablet computer available in the market. I would love to convince everyone to get one, I prefer Ipad, it's my personal choice. Tablet Computer or simply tablet is a complete mobile computer, operated by touching the screen.
If you don't have an Ipad yet and you're not sure that you really need one for yourself, here's top 10 lists of reasons why you should buy an Ipad.
1 – Mobility

You can take anywhere and work anywhere. Ipad is very light in weight and easy storage. You just need to load up all the necessary applications that you need and take everything with you. You can check your email and you can retrieve your files online using a wifi connectivity or if your ipad has 3G connectivity.
2 – Stay Connected

Stay connected 24/7 while on the road. Using Instant Messenger such as yahoo messenger, google talk, facebook, skype and others. Easy connections with your friends or at work when your out of your desktop. You can even do video or voice chat.
3 – Lot's of Games

Download all your favorite games through your Ipad device Apps store. Play games in your past time or in your boredom hours. With the multi touchscreen on ipad playing games is truly exciting.
4 – Movies

Loading my favorite Korean Dramas and Movies in my Ipad and watch it during my spare time or when I'm in bed lying.
5 – Music and Podcast

Listening to music or on my downloaded podcast using earphone or you can attached a mini speaker to boost the volume. You can also download music direct from your ipad using a specified apps.
6 – E-books and Magazines

Reading from your collection of ibooks and magazine straight from your ipad.
7 – Video Streaming

I can watch my favorite Korean Drama straight from the website in my ipad online anywhere I go and also videos from youtube, dailymotion, and other sites.
8 – Paper Less

I don't need some paper and pen if I need to jot down or write some important message or text. I also use this NOTES apps when writing my draft for my blog.
9 – Apps Galore

Apple offered a wide range of application at apps store. Apps ranges from free, free version, lite version to full version amounting to $.99 and above. You can download any kind of application that are useful for your needs.
10 – Long Battery Life

What's best about this Ipad, it has long battery life. I can use this Ipad for 8 straight hours before I need to recharge it.
This Ipad is a perfect gadget when I'm out of town or out of the country. All in one entertainment thing for me. Easy to carry and just fit right on my handbag. Useful on my daily basis and very entertaining. My secondary computer from my Macbook Pro especially when I need to search something in an instant.
Reference/Source: Karenjardeleza.com[a.k.a Simply Me] by Karen Jardeleza [09/08/2011]

About Simply Me Personal Journal being Simply Me. I write about my travel, my escapades, my adventure, food, churches, gadgets, lifestyle, drama and other stuff.

Karen is from the country that has 7,107 Islands, The Philippines.She is a BS Accountancy graduate, a businesswoman, an entrepreneur, a Korean and Japanese drama enthusiast, a traveller, a gadget enthusiast and a photography enthusiast.
This work is licensed under a Creative Commons Attribution 4.0 International License.





Contact us or email us with your questions, comments or tips. Read more trending news here at HenSpark!