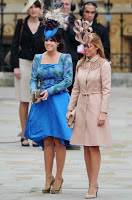 We're so not done swooning over Kate Middleton's wedding dress yet, but we're going to turn our attention to the fabulous royal guests for a few minutes! Want to see who wore what? Check out our picks for the top 10 best dressed…
Prince William's royal cousins–Beatrice and Eugenie–totally turned heads in their Phillip Treacy hats. Eugenie's electric blue number is by Vivienne Westwood, while Beatrice went with a detailed Valentino number.
The second most-watched couple of the day? Posh & Becks, but of course! Victoria Beckham wowed us with her version of maternity wear–a dress of her own design, paired with a Phillip Treacy topper and sky-high Christian Louboutin heels–while her hot husband showed his way with a Windsor knot.
You'd probably never see a maid of honor wearing white in the U.S., but Pippa Middleton pulled off this cowl-neck Alexander McQueen number with perfect grace. It shows off her gorgeous figure, but there's not a chance she could have upstaged her glowing sister on this day.
Queen Elizabeth II went with one of this season's hottest colors–bright, bold yellow!–in a perfectly tailored suit by Angela Kelly.
Who knew Joss Stone had such a sense of refinement? Her monochrome coral ensemble was perfectly chic–especially with that fabulous hat!
Speaking of fabulous hats…Princess Anne's daughter, Zara Phillips, gets our vote for the day's chicest! Hers is also by Phillip Treacy, and it gives the bride-to-be an air of total elegance.
Talk about royal blue! Tara Palmer Tomkinson, a British It-girl and TV personality, was no wallflower at this event. Her off-the-shoulder electric dress was even more wow-worthy thanks to a matching hat, gloves, clutch, and heels.
The prime minister's wife, Samantha Cameron, went traditionally British in a teal pleated sheath dress by Burberry. An Erdem statement necklace, orange scarf, and nude shoes completed the look.
Who do you gals think was the best dressed guest at the royal wedding? Don't you just love all of the hat-gazing? Discuss!
Reference/Source: glamour.com by Tracey Lomrantz [Friday, 04/29/2011 8:54 AM]
This work is licensed under a Creative Commons Attribution 4.0 International License.





Contact us or email us with your questions, comments or tips. Read more trending news here at HenSpark!