Going viral and spreading on the internet has never been so easy. Today we're listing down our picks for the top internet memes of the decade.
To start with, what is a Meme? Wikipedia says it's an idea behaviour or style that spreads from person to person within a culture. A meme can be anything from a symbol, a word, a phrase to a gesture or even a ritual.
The word meme was coined in 1976 by a british evolutionary biologist name Richard Dawkins in his book titled "the selfish gene" as a concept for discussion of evolutionary principles in explaining the spread of ideas and culture phenomena.
Today most of you know means as funny pictures or perhaps a silly internet video much like the one you're watching right now either on youtube or facebook shared videos. A meme can simply be a funny picture with words on it that you shared with your friends.
But since the word and concept of the meme was coined well before the internet existed that means memes existed in the real world before your precious porn robot came about.
So for this list we've chosen the most memorable and famous internet memes that helped created and has marked this interconnected sub-culture of fun, references, videos, and images.
Charlie Bit Me!

"Charlie bit my finger – again", more simply known as Charlie Bit My Finger or Charlie Bit Me, is a 2007 internet viral video famous for formerly being the most viewed YouTube video. Initial release: 22 May 2007
All your base belong to us

"All your base are belong to us" is a popular Internet meme based on a broken English ("Engrish") phrase found in the opening cutscene of the 1992 Mega Drive port of the 1989 arcade video game Zero Wing. The quote comes from the European release of the game, featuring poor English translations of the original Japanese version. The meme developed from this as the result of a GIF animation depicting the opening text which was initially popularized on the Something Awful message forums.
Rick roll

Rickrolling, alternatively rick-rolling, is a prank and an Internet meme involving an unexpected appearance of the music video for the 1987 Rick Astley song "Never Gonna Give You Up". The meme is a type of bait and switch using a disguised hyperlink. Those led to the music video believing that they were accessing some unrelated material are said to have been rickrolled.
Ermahgerd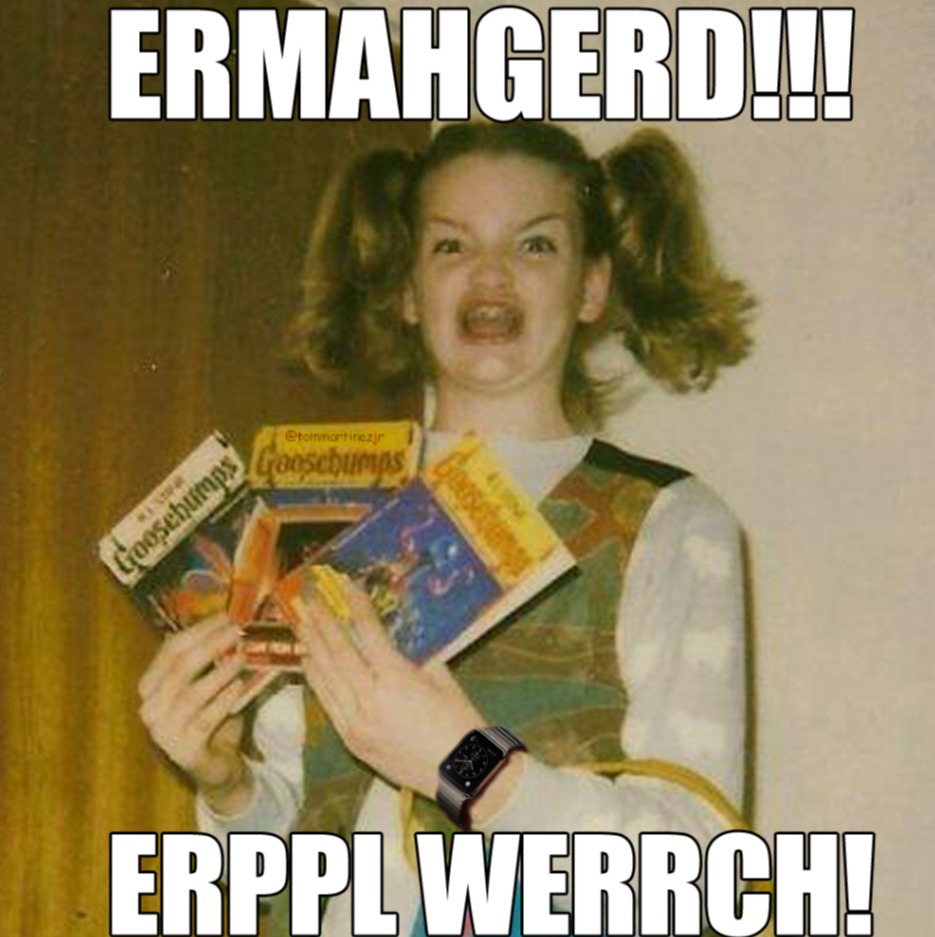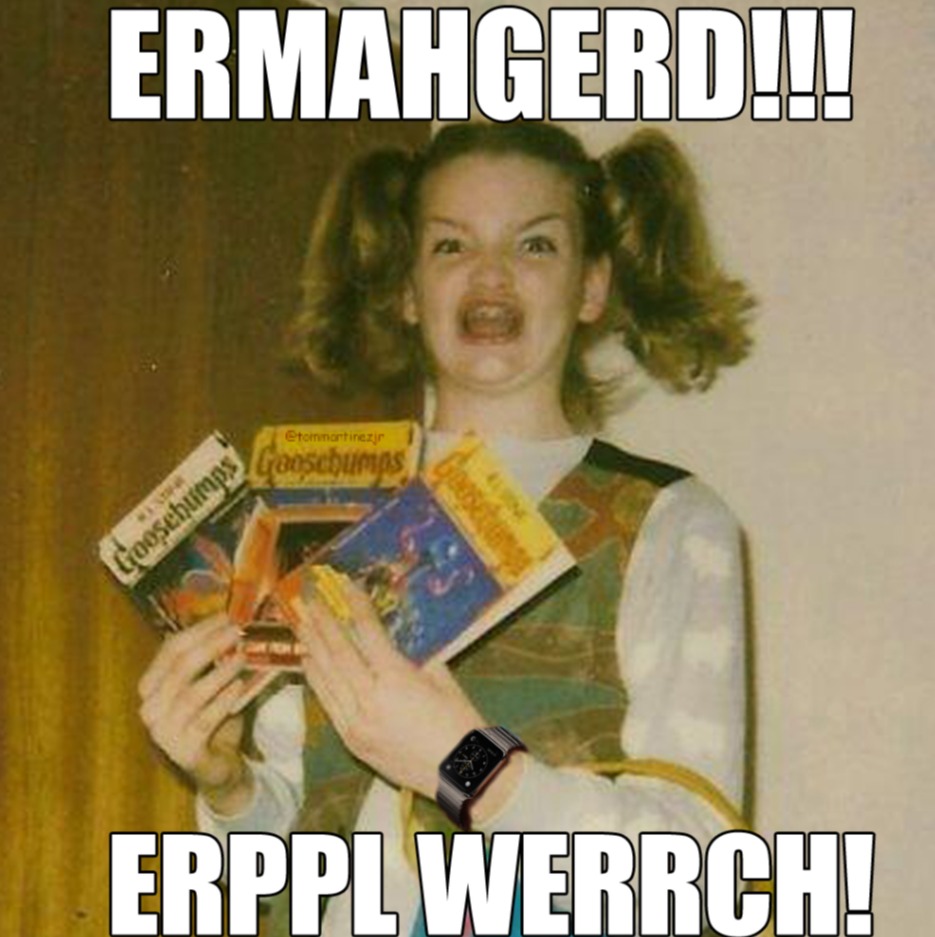 Ermahgerd (also known as "Gersberms" and "Berks"), a rhotacized pronunciation of "oh my god," is an image macro series featuring a photo of a young woman holding several books from the children's horror fiction series Goosebumps. The phonetically written captions are meant to sound like a speech impediment caused by the use of an orthodontic retainer, often using the snowclone template "Ermahgerd X."
LOLcats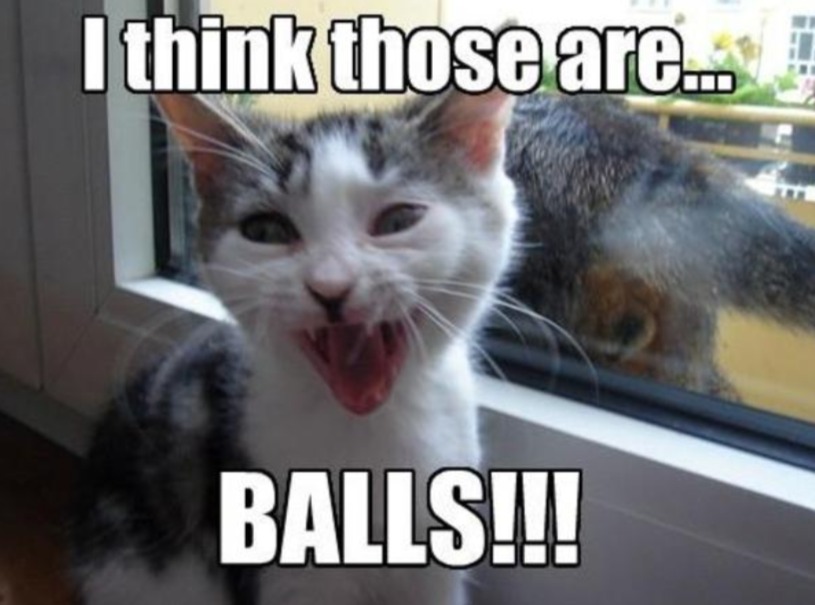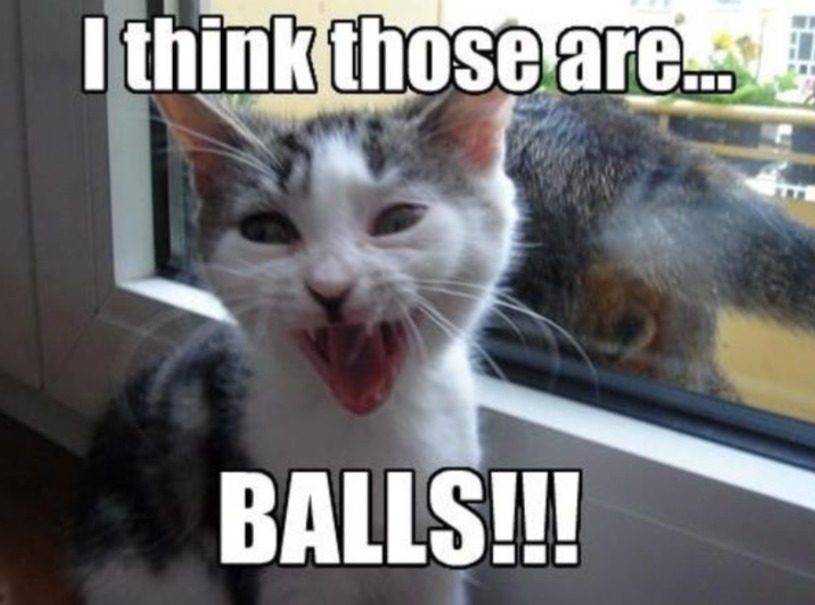 A lolcat is an image macro of one or more cats. The image's text is often idiosyncratic and grammatically incorrect, and is known as lolspeak. Lolcat is a compound word of the acronymic abbreviation for LOL (laugh out loud) and the word cat. A synonym for lolcat is cat macro, since the images are a type of image macro. Lolcats are commonly designed for photo sharing imageboards and other Internet forums.
Epic Fail!

FAIL is turn-the-century internet slang that came to popularity through image macros and short videos depicting situations with unfortunate outcomes. Traditionally, the verb "fail" has been a used to signify the opposite of "succeed," to fall short of achieving a goal. Today, the word is also commonly used as an interjection to point out a person's mistake or shortcoming, often regardless of its magnitude.
#TheDress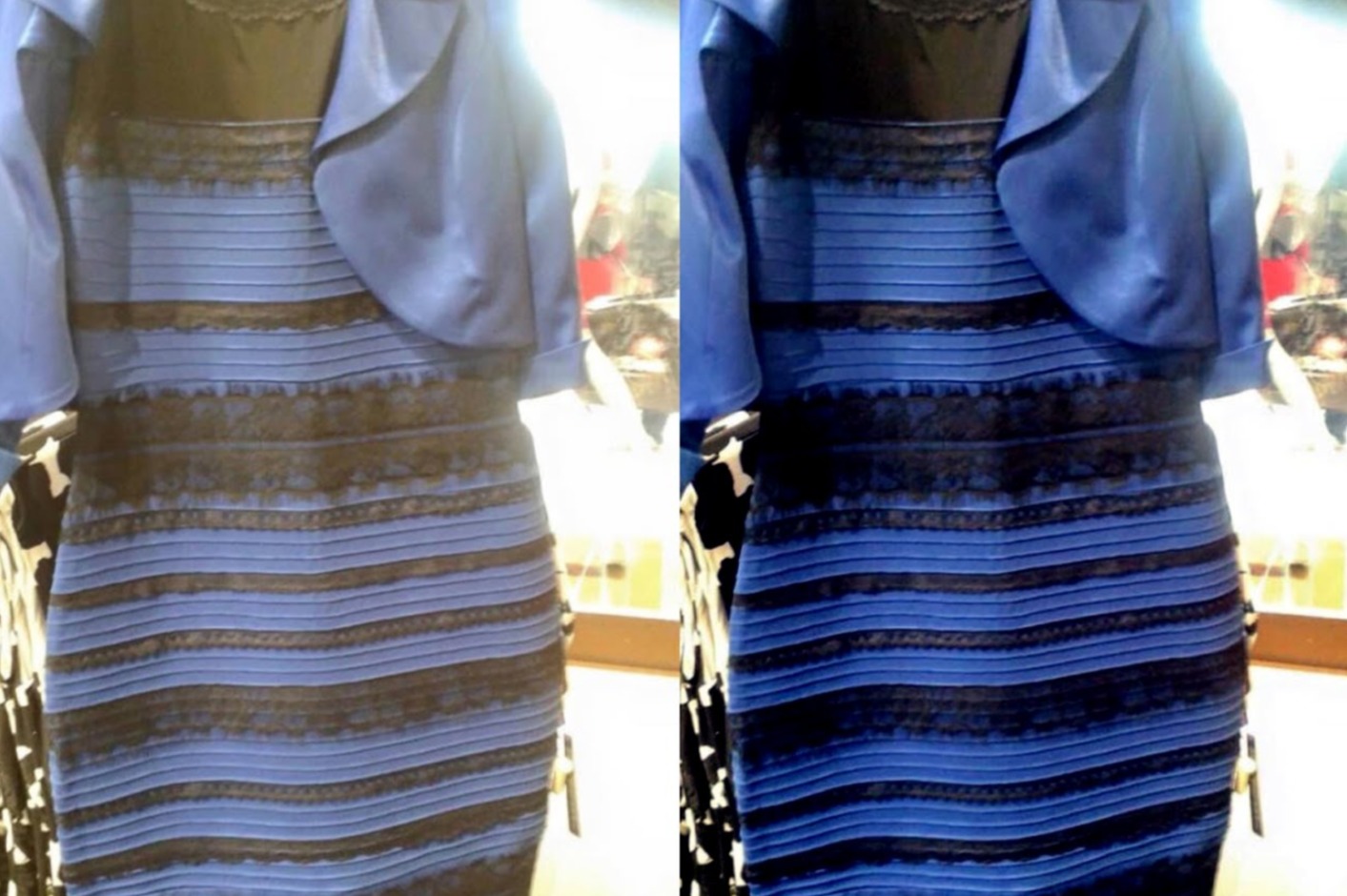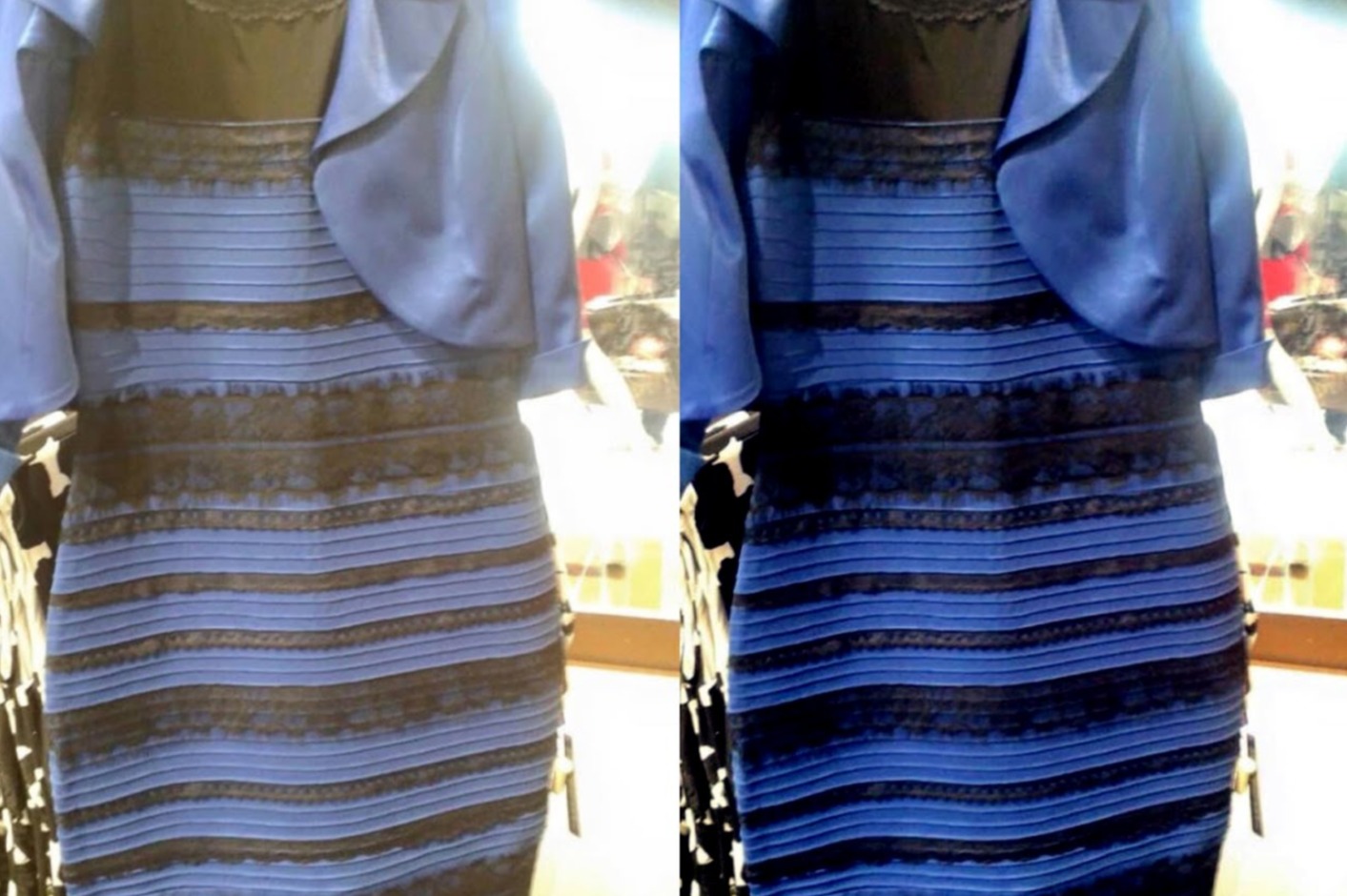 "The dress" is a photograph that became a viral Internet meme on 26 February 2015, when viewers disagreed over whether the colours of the item of clothing depicted were black and blue or white and gold.
Nyan Cat / Flying Cat / Pop Tart Cat

Nyan Cat, also known as Pop Tart Cat, is an 8-bit animation depicting a cat with the body of a cherry pop tart flying through outer space. While absurd themes like flying kittens and pastry cats have been around for some time, the surreal humor behind this particular combination has captivated YouTubers and online art communities, spawning fan illustrations as well as user-interface designs and homebrew games across multiple platforms.
Be Like Bill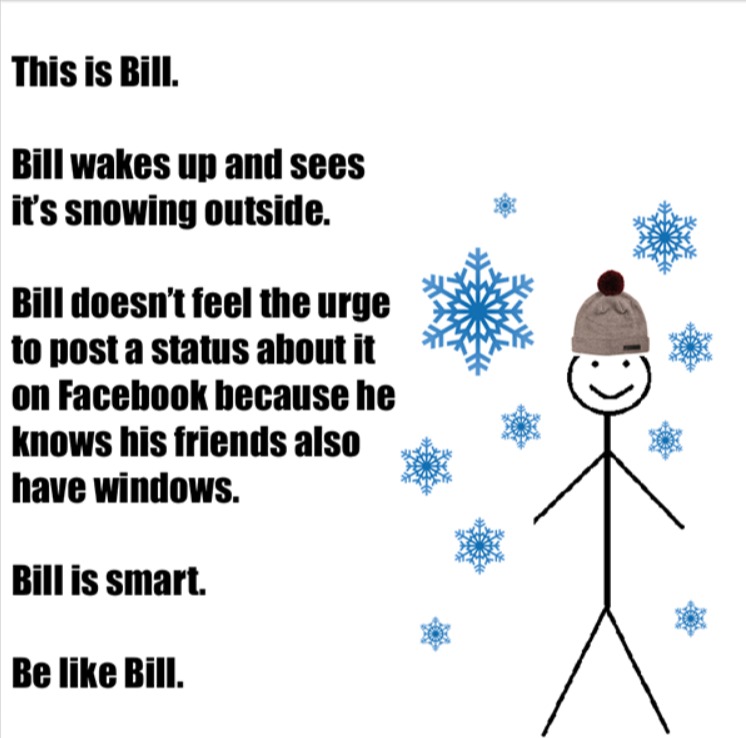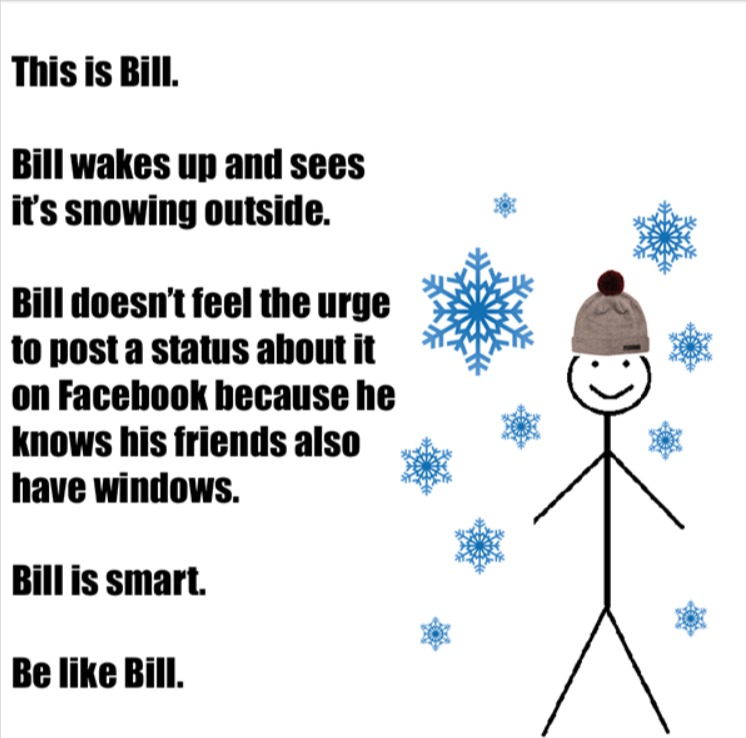 Be Like Bill is an exploitable stick figure illustration of a man named "Bill" using a desktop computer, accompanied by a parable praising Bill's choice to simply carry on after being provoked by a trigger while browsing the Internet. Since its emergence through English-language humor websites in late 2015, the single-pane comic has gone globally viral and spawned a large volume of derivative illustrations with similar messages highlighting other socially intelligent behaviors on the web and in real life.
Diet Coke and Mentos

A soda geyser (alternatively Diet Coke and Mentos geyser or Mentos eruption) is a reaction between the carbonated beverage Diet Coke and Mentos mints that causes the beverage to spray out of its container. The gas released by the candies creates an eruption that pushes most of the liquid up and out of the bottle. Lee Marek and "Marek's Kid Scientists" were the first to demonstrate the experiment on television in 1999. Steve Spangler's televised demonstration of the eruption in 2005 went viral on YouTube, launching a chain of several other Diet Coke and Mentos experiment viral videos.
Troll Face Meme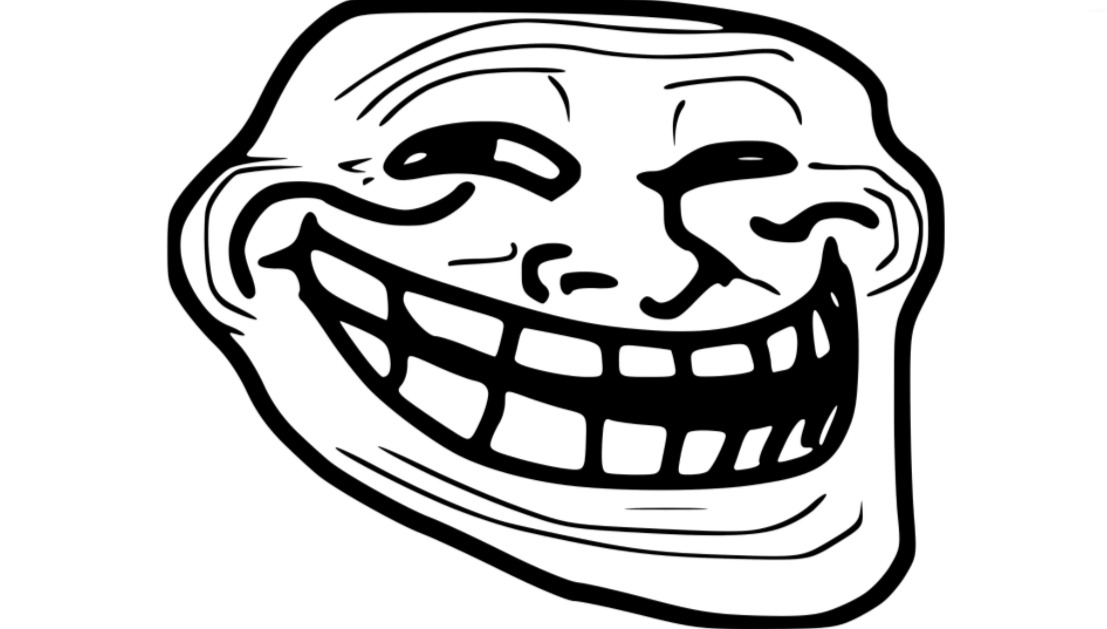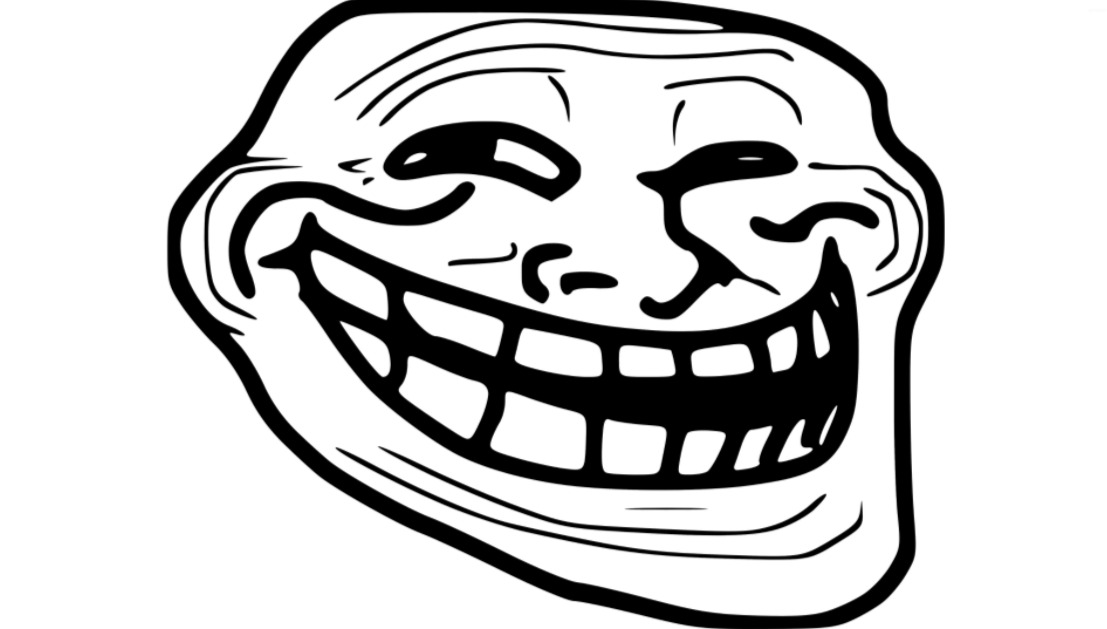 Trollface is a rage comic character wearing a mischievous smile that is meant to represent the facial expression of an Internet troll. The image is most commonly used to portray a character as a troll in rage comics, or alternatively, to identify oneself or another participant as such in online discussions.
Asian Troll Face / Yao Ming face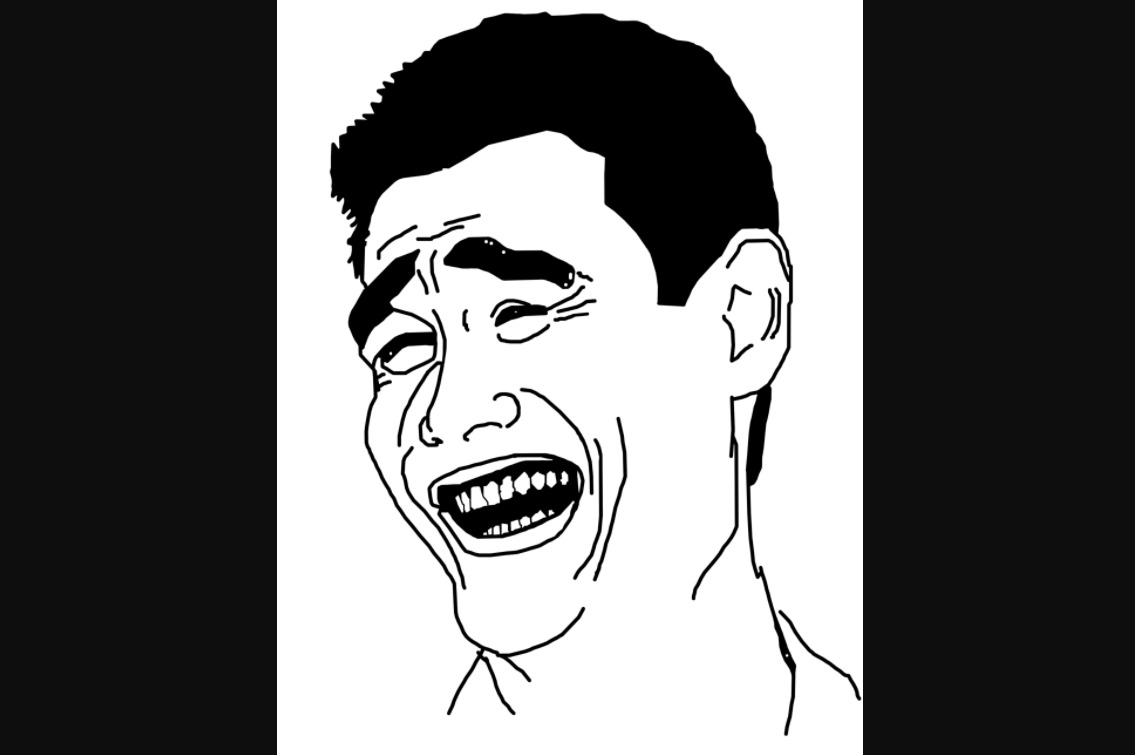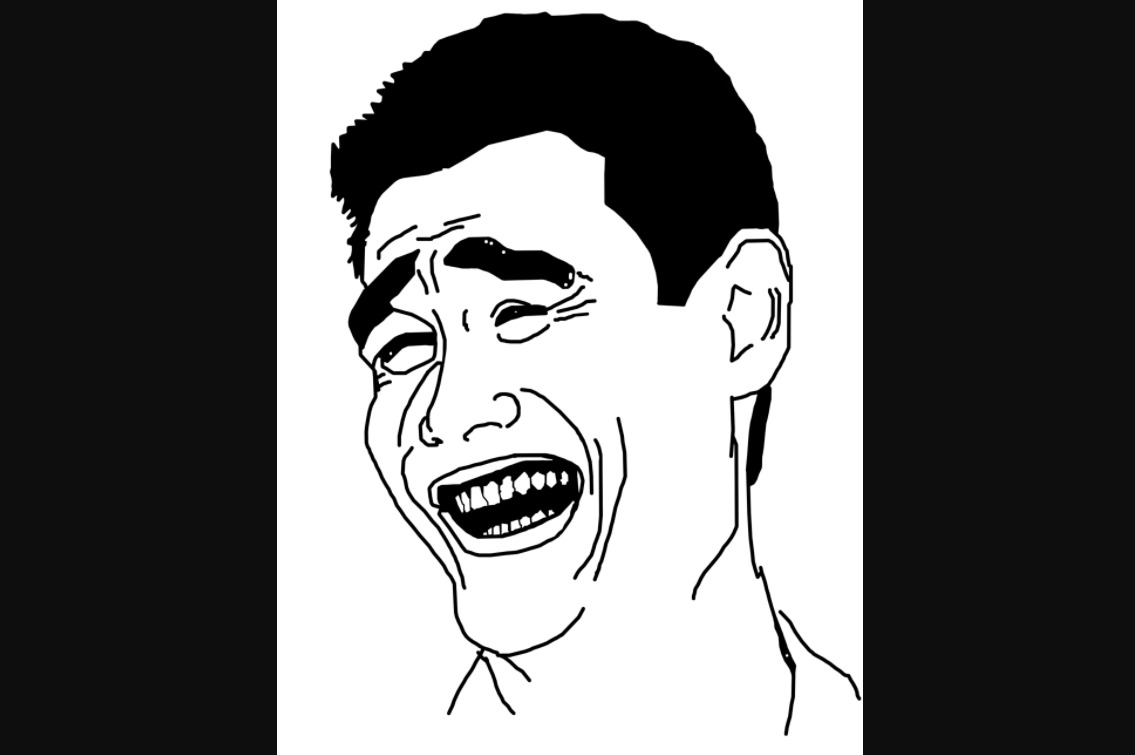 Yao Ming Face (sometimes referred to as "Fuck That Guy" or "Dumb Bitch") is a rage comic-style contour drawing of the professional basketball player Yao Ming wearing a hearty smile. The image is typically used as a reaction face to convey a dismissive attitude towards someone else's input in online discussions, then usually following something that one ups their input.
Rebecca Black's Friday

The original video was removed from YouTube on June 16, 2011, due to legal disputes between ARK Music and Black herself. By then, it had already amassed more than 166 million views. and 3.2 million "dislikes" (88% of total ratings) from YouTube users. The video was uploaded to YouTube again on September 16, 2011 and currently has more than 2.7 million "dislikes" as of July 2017 (79% of total ratings), making it the fifth most disliked video on YouTube. Since the growth in popularity of the song and video, there have been numerous parody videos and remixes. Forbes stated that the notoriety of the song is another sign of the power of social media—specifically Twitter, Facebook, and Tumblr, in this instance—in the ability to create "overnight sensations."
The ALS Ice Bucket Challenge

The Ice Bucket Challenge, sometimes called the ALS Ice Bucket Challenge, is an activity involving the dumping of a bucket of ice and water over a person's head, either by another person or self-administered, to promote awareness of the disease amyotrophic lateral sclerosis (ALS, also known as motor neurone disease and in the US as Lou Gehrig's disease) and encourage donations to research. It went viral on social media during July–August 2014. In the US, many people participated for the ALS Association, and in the UK, many people participated for the Motor Neurone Disease Association, although some individuals opted to donate their money from the Ice Bucket Challenge to other organizations.
Lady Gaga: Bad Romance

"Bad Romance" is a song by American singer Lady Gaga from her third extended play, The Fame Monster (2009). It was written and produced by Gaga and RedOne. Lyrically, "Bad Romance" explores Gaga's attraction to individuals with whom romance never works, her preference for lonely relationships and the paranoia she experienced while on tour. Following an illegal demo leak, Gaga showcased the final product at Alexander McQueen's show at the Paris Fashion Week in October 2009, followed by the release of the single's cover art. Musically, "Bad Romance" features a spoken bridge, a full-throated chorus and sung lyrics about being in love with one's best friend. The song, which is imbued with elements of Germanesque house and techno, as well as music from 1980s and the 1990s, was touted by Gaga as an experimental pop record.
Condescending Wonka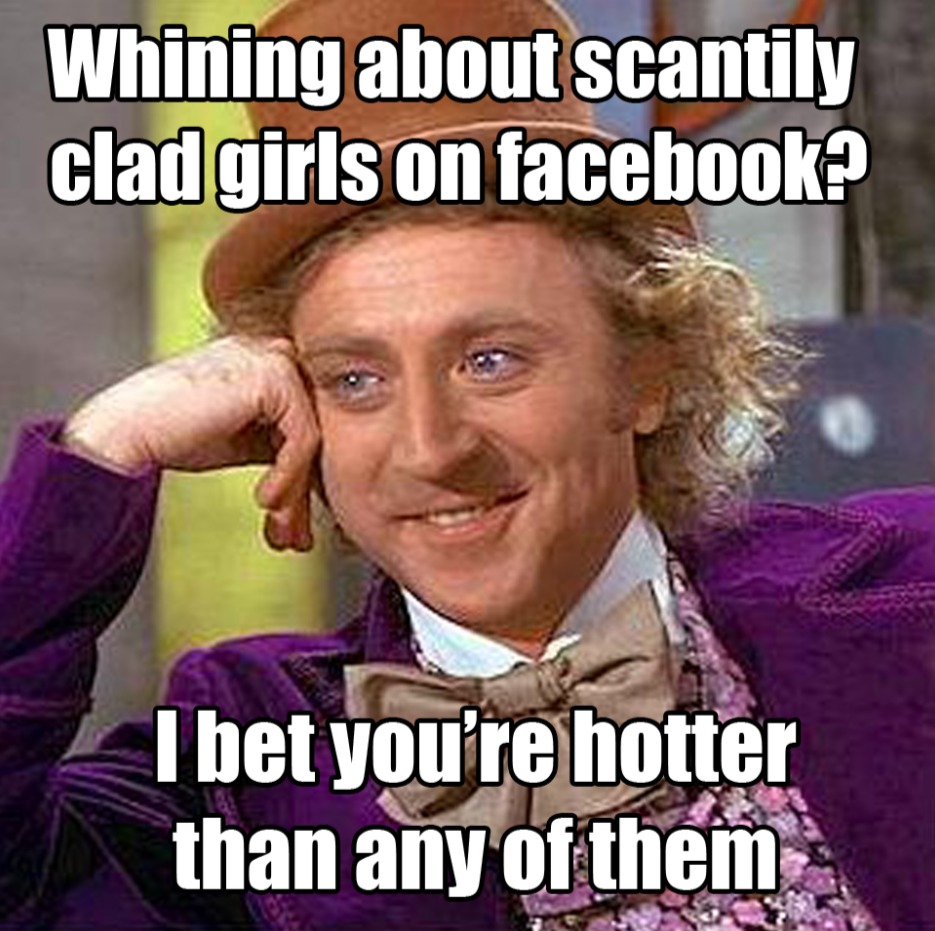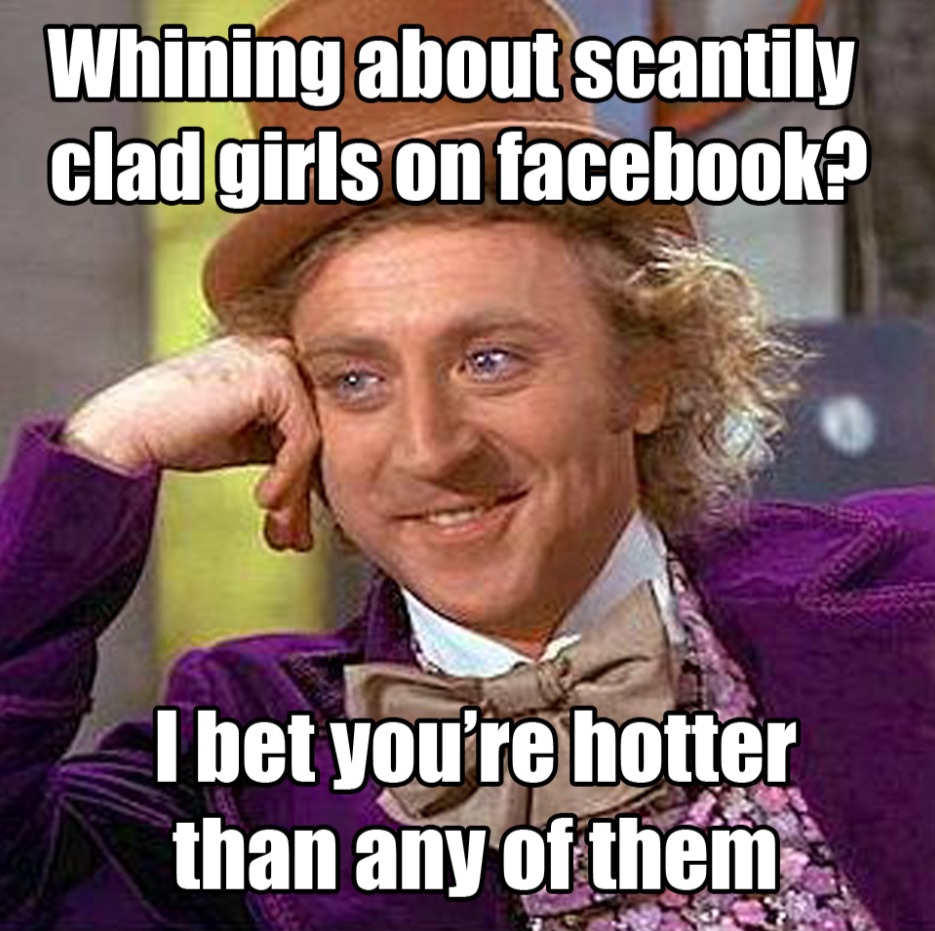 Condescending Wonka is an advice animals image macro series featuring a screen capture of actor Gene Wilder in the 1971 musical Willy Wonka and the Chocolate Factory. As its name suggests, the captions can be characterized as patronizing and sarcastic.
Crazy Frog

The Annoying Thing, mostly known as Crazy Frog, is a 3D animated character also known in a commercial for a ringtone of Jamba! In 1997, the swedish student "Daniel Malmedahl" tried to imitate some engine noises. After he posted this on an unknown website, it gave attention to a swedish television researcher and he invited him live on TV to re-perform the engine noises.
The Spinning Ballerina Illusion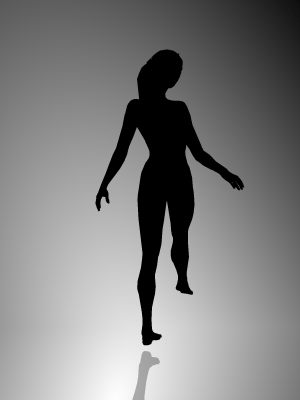 The Spinning Dancer, also known as the silhouette illusion, is a kinetic, bistable optical illusion resembling a pirouetting female dancer. The illusion, created in 2003 by web designer Nobuyuki Kayahara, involves the apparent direction of motion of the figure. Some observers initially see the figure as spinning clockwise (viewed from above) and some counterclockwise. Additionally, some may see the figure suddenly spin in the opposite direction.
Doge

Doge is a slang term for "dog" that is primarily associated with pictures of Shiba Inus (nicknamed "Shibe") and internal monologue captions on Tumblr. These photos may be photoshopped to change the dog's face or captioned with interior monologues in Comic Sans font.
Pepe the frog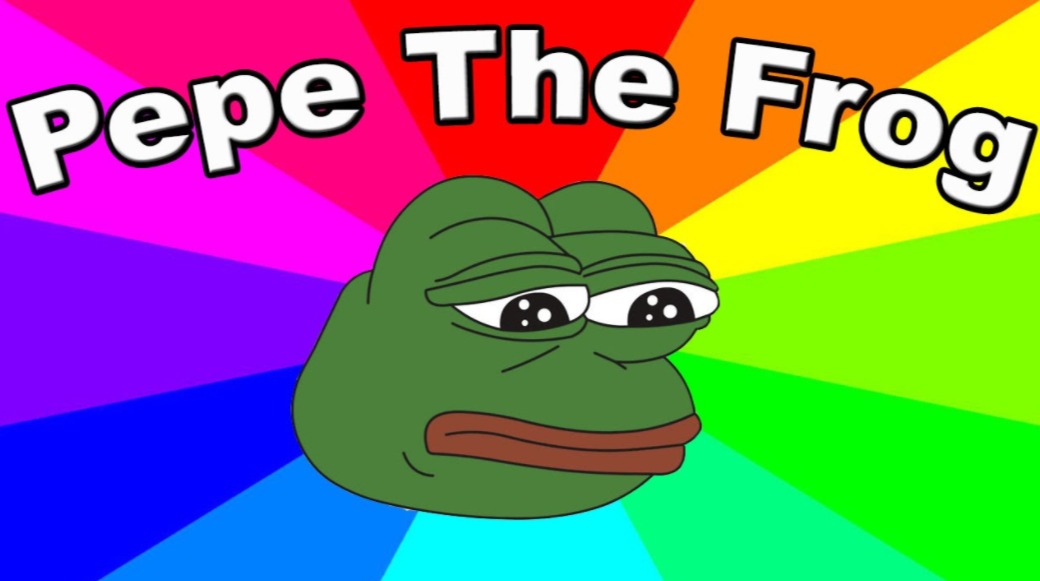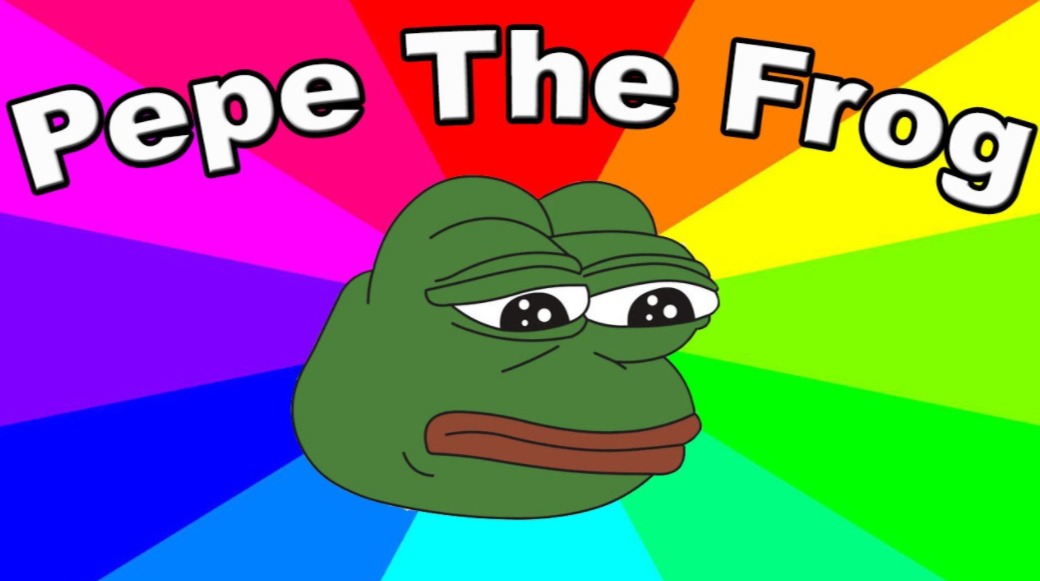 Pepe the Frog is an anthropomorphic frog character from the comic series Boy's Club by Matt Furie. On 4chan, various illustrations of the frog creature have been used as reaction faces, including Feels Good Man, Sad Frog, Angry Pepe, Smug Frog and Well Meme'd.
Chuck Norris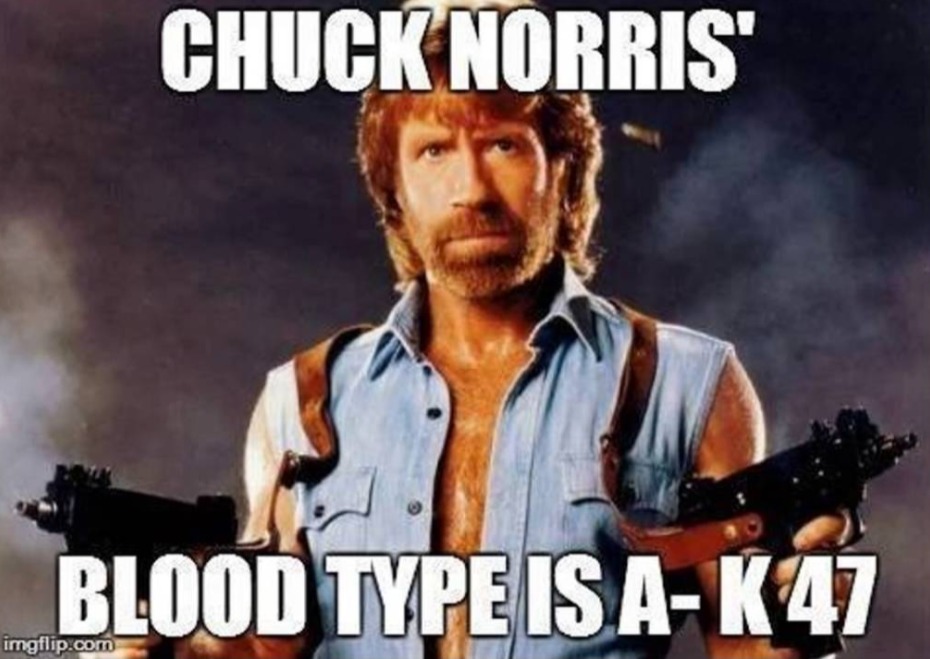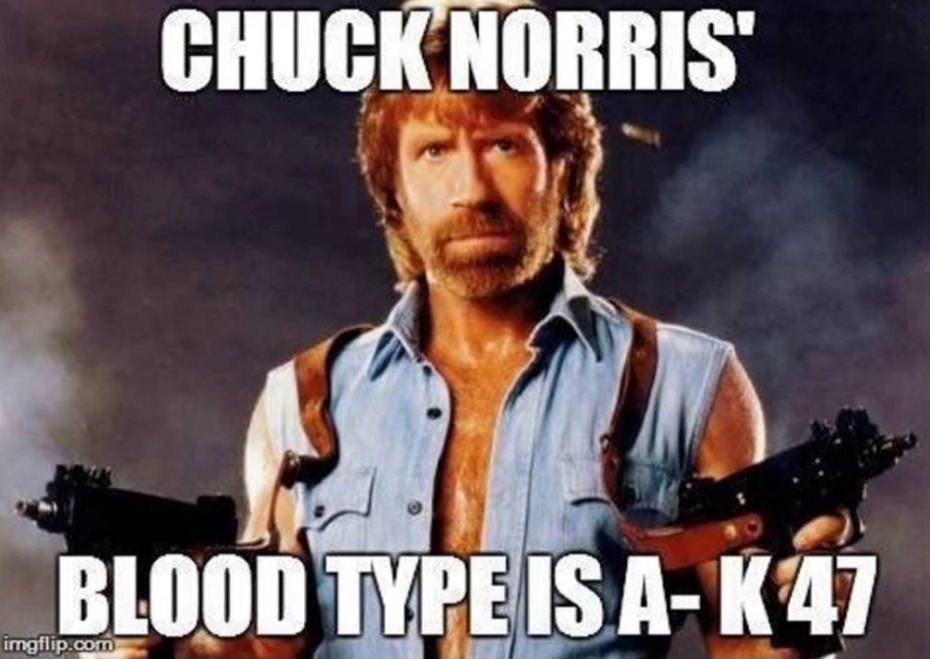 Chuck Norris Facts are a series of satirical factoids and hyperbolic claims that characterize the American celebrity martial artist and actor as an extremely tough, virile and alpha-male archetype. Since its initial appearance on Something Awful in 2005, the joke has gone viral worldwide and inspired numerous spin-off jokes centered around other celebrities.
Ylvis: What Does the Fox Say?

Originally an "anti-hit" produced as a part of the duo's new season of Norwegian television talk show I kveld med YLVIS (Tonight with Ylvis) and uploaded on YouTube as a teaser, "The Fox", "created to fail", has ironically and accidentally gone viral, becoming Ylvis' "breakout" song and drawing international attention to the group. In 2013, Ylvis stated there were no plans to release an album including the song or any sequel to it.
Success Kid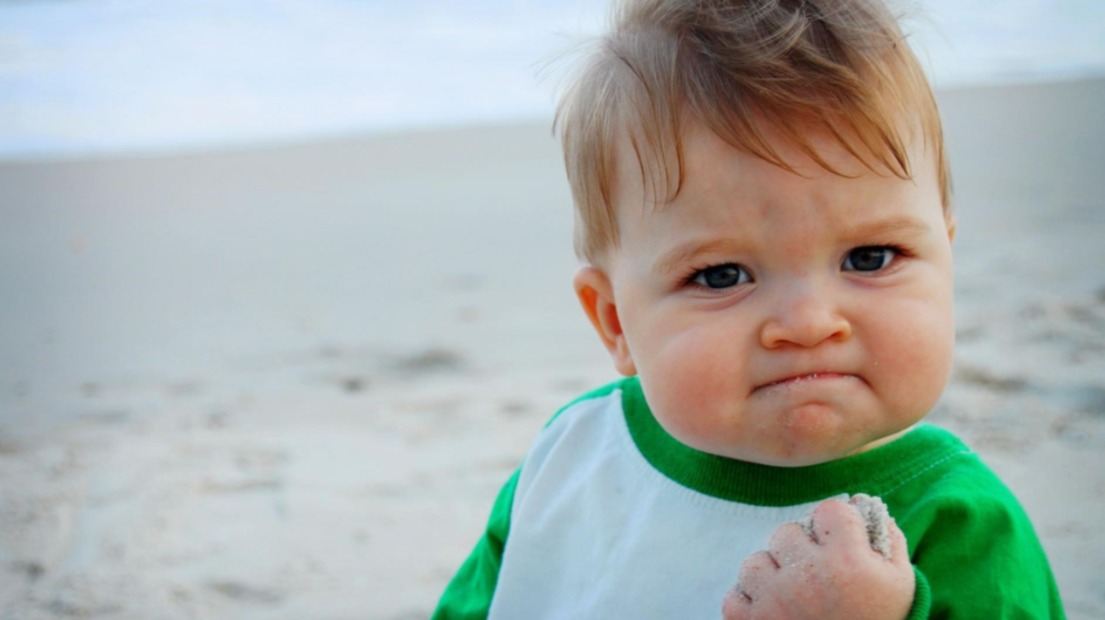 Success Kid, sometimes known as I Hate Sandcastles, is a reaction image of a baby at a beach with a smug facial expression. It has been used in image macros to designate either success or frustration. In early 2011, the original image was turned into an advice animal style image macro with captions describing a situation that goes better than expected.
Gangnam Style

"Gangnam Style" is the 18th K-pop single by the South Korean musician Psy. The song was released on July 15, 2012, as the lead single of his sixth studio album Psy 6 (Six Rules), Part 1, and debuted at number one on South Korea's Gaon Chart. On December 21, 2012, "Gangnam Style" became the first YouTube video to reach one billion and two billion views. The song's music video has been viewed over 3 billion times on YouTube,[8] and was the most viewed video on YouTube from November 24, 2012, when it surpassed the music video for "Baby" by Justin Bieber featuring Ludacris, to July 10, 2017, when it was surpassed by the music video for "See You Again" by Wiz Khalifa featuring Charlie Puth.
The New Old Spice Guy

Smell like a Man, Man is a television advertising campaign in the United States created by ad agency Wieden+Kennedy for Old Spice. The campaign is also commonly referred to as The Man Your Man Could Smell Like, being the title of the campaign's initial 30-second commercial. The campaign was initially launched to market Old Spice's Red Zone After Hours Body Wash, but has subsequently been expanded to include other products following the success of the initial advertisements. The campaign targets female viewers, despite the product's target market being male, as the company determined that women frequently make purchasing decisions in respect of hygiene products even for male household members.
Demotivational posters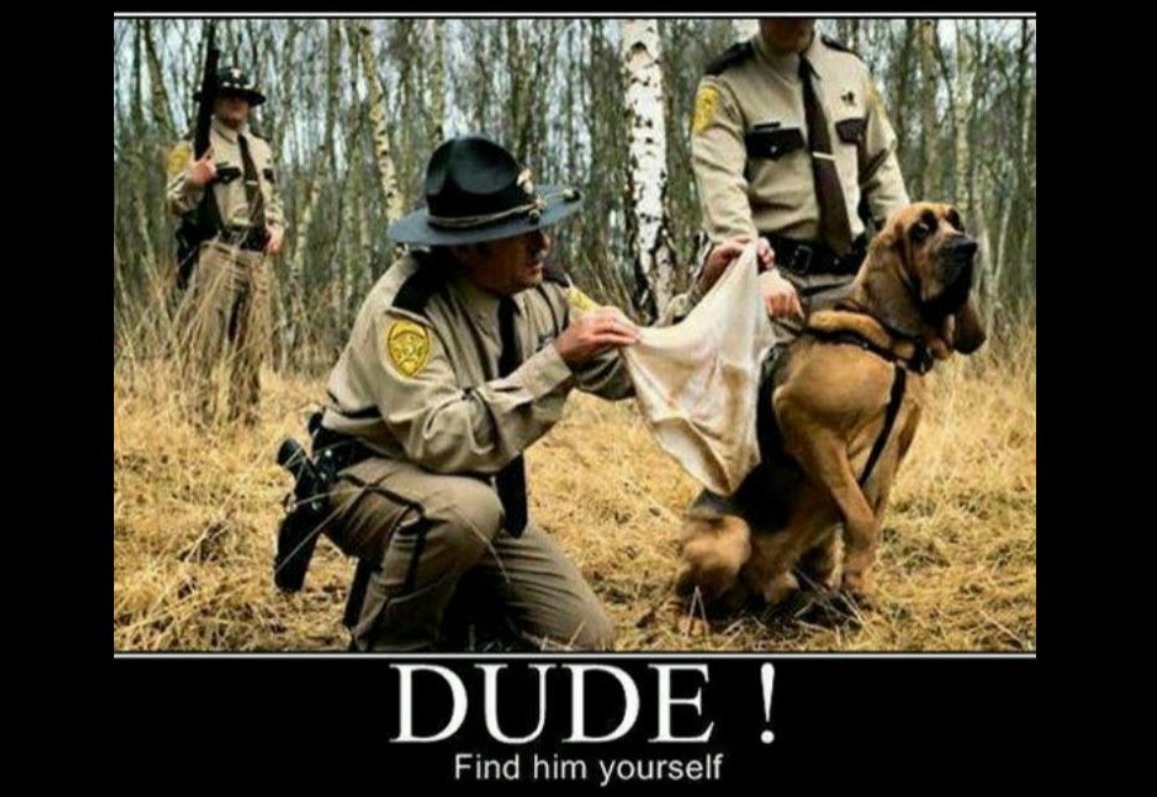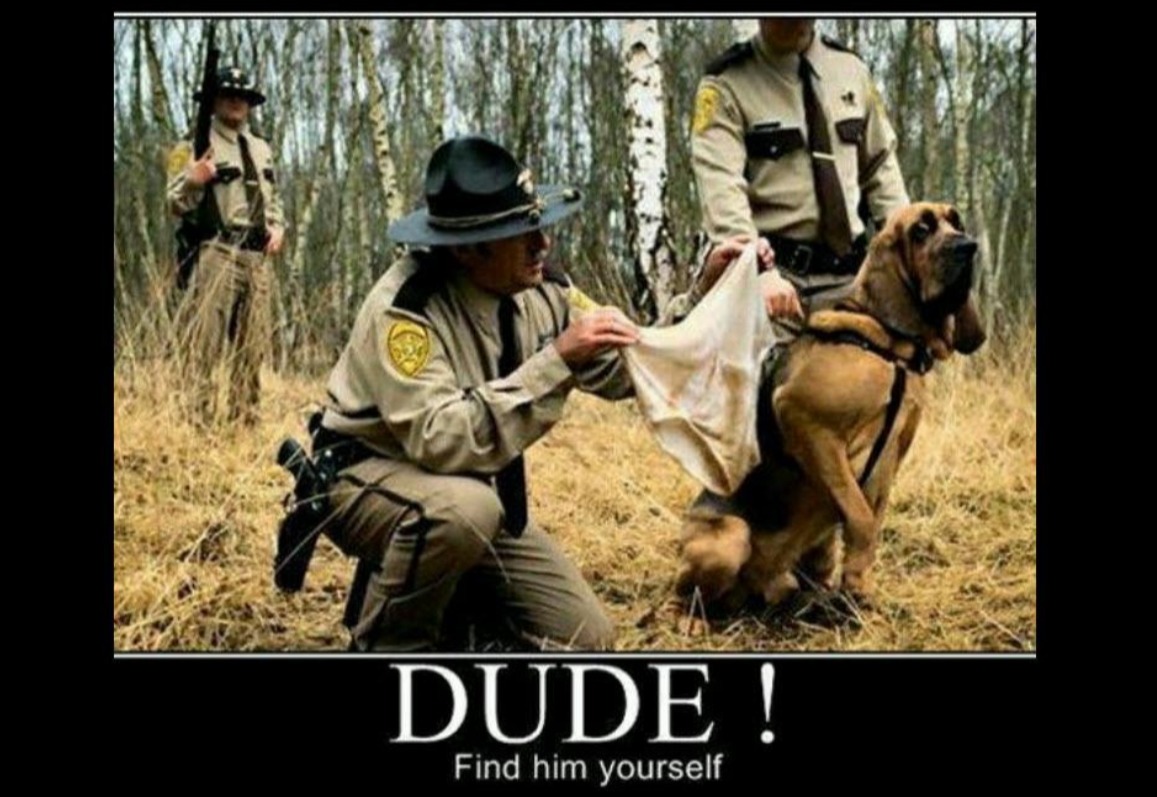 Demotivational Posters (a.k.a Demotivators) are typically designed to discourage one's moral strength and diminish one's self-esteem. It usually consists of a picture, centered and bordered in black, with an all-cap title written in white, and in some cases, a tagline written in smaller font.
Kylo Ren's Tri-Lightsaber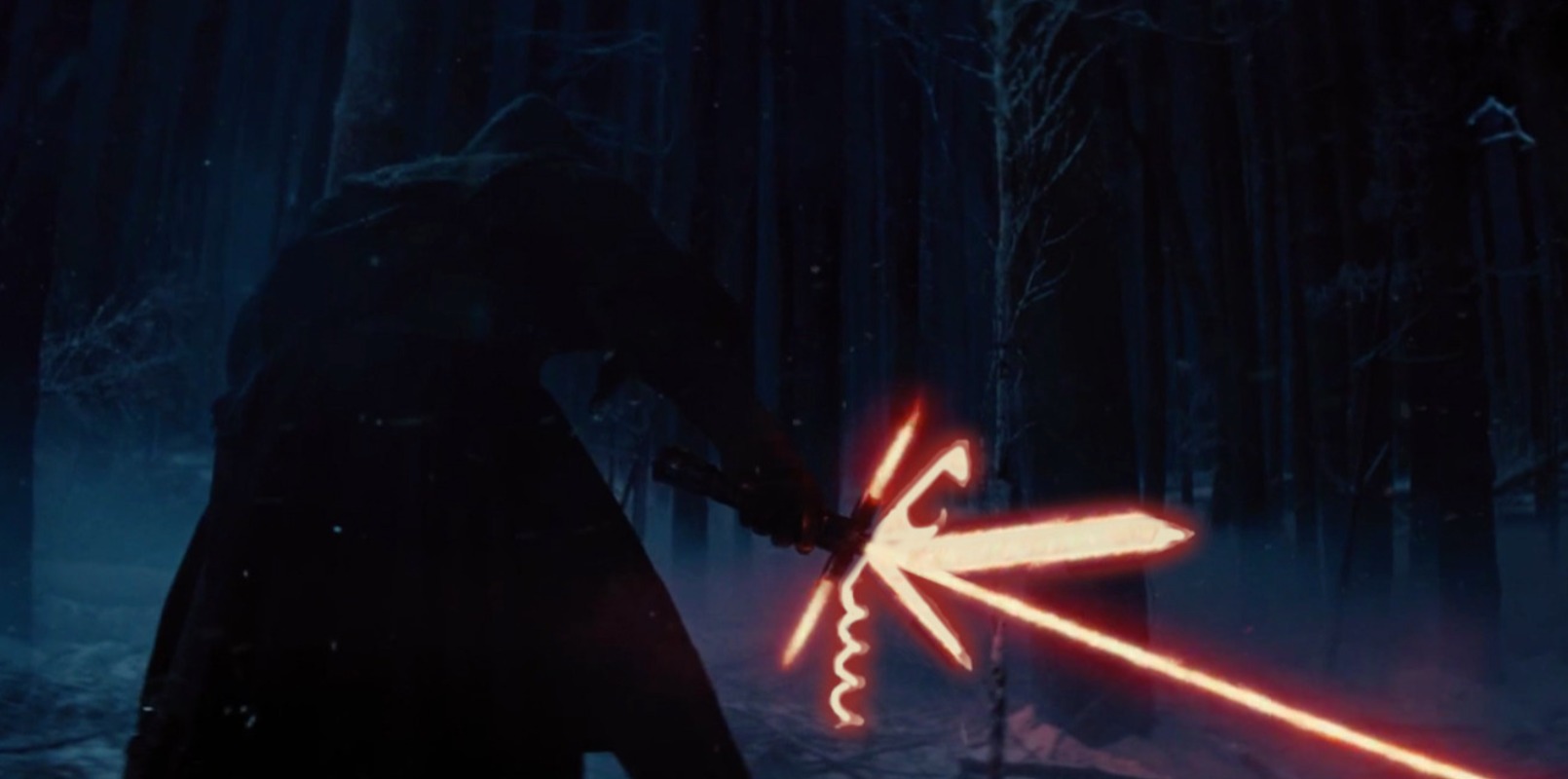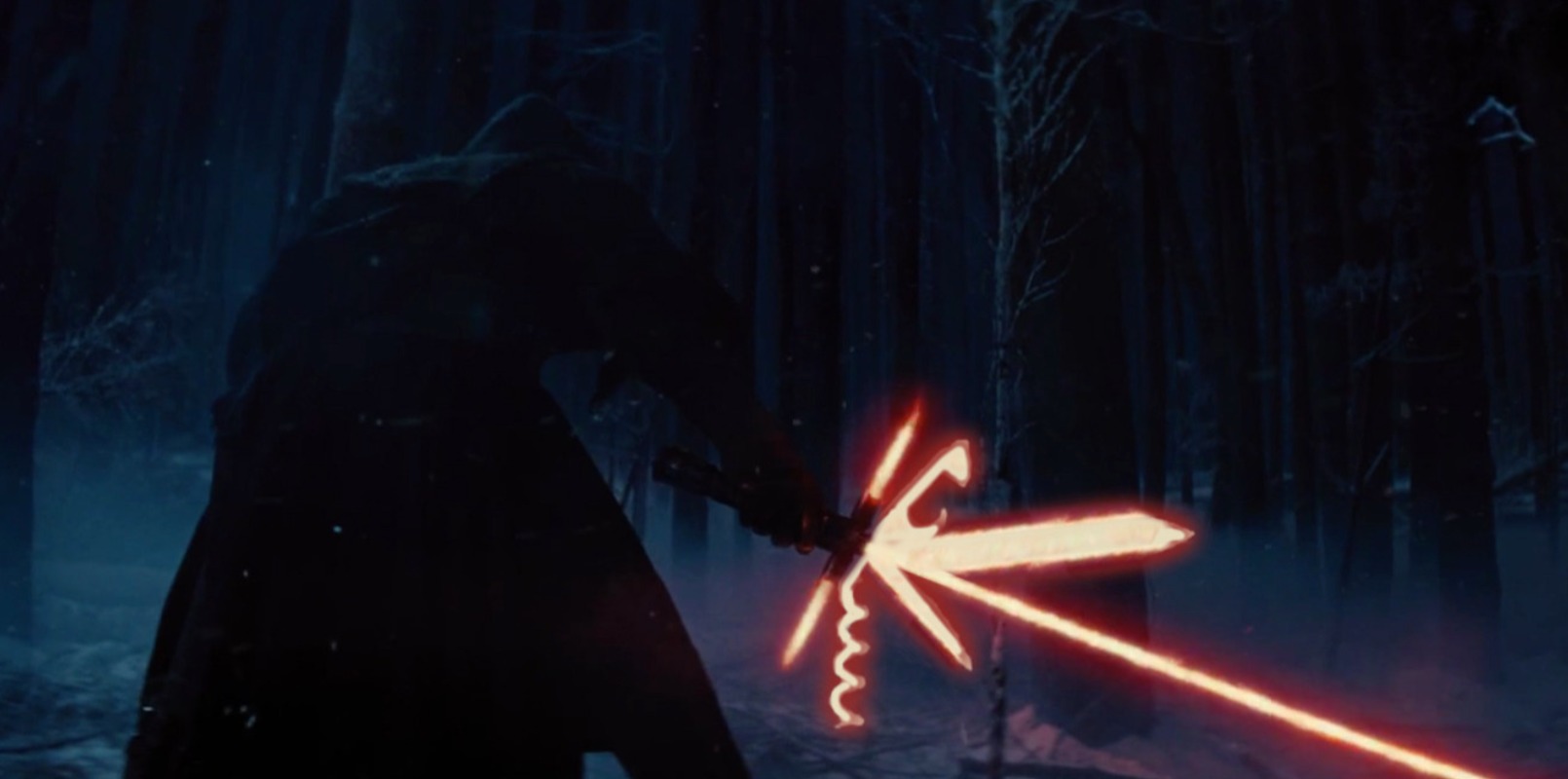 Crossguard Lightsaber is a fictional weapon which projects three beams of bright energy from a metal hilt, resembling a sword with a crossguard. After the lightsaber was revealed in a promotional trailer for the 2015 science fiction film Star Wars: The Force Awakens, the design became a subject of parody for its perceived impracticality.
Leeroy Jenkins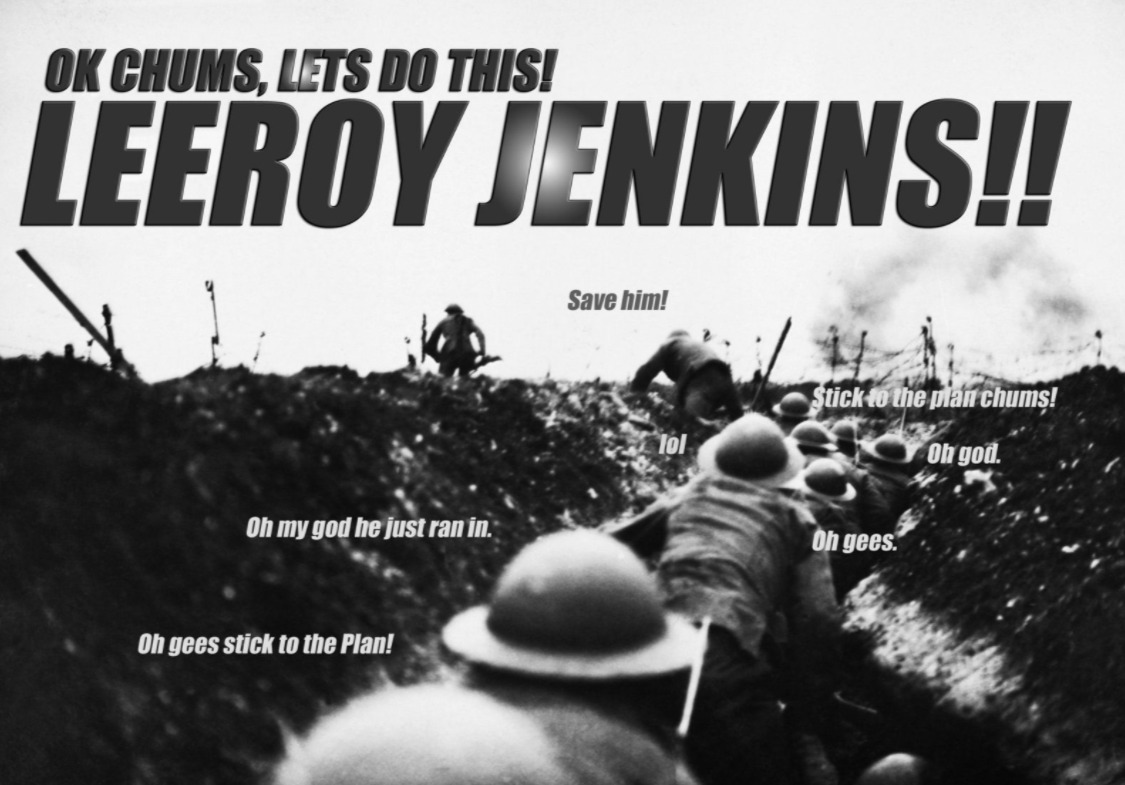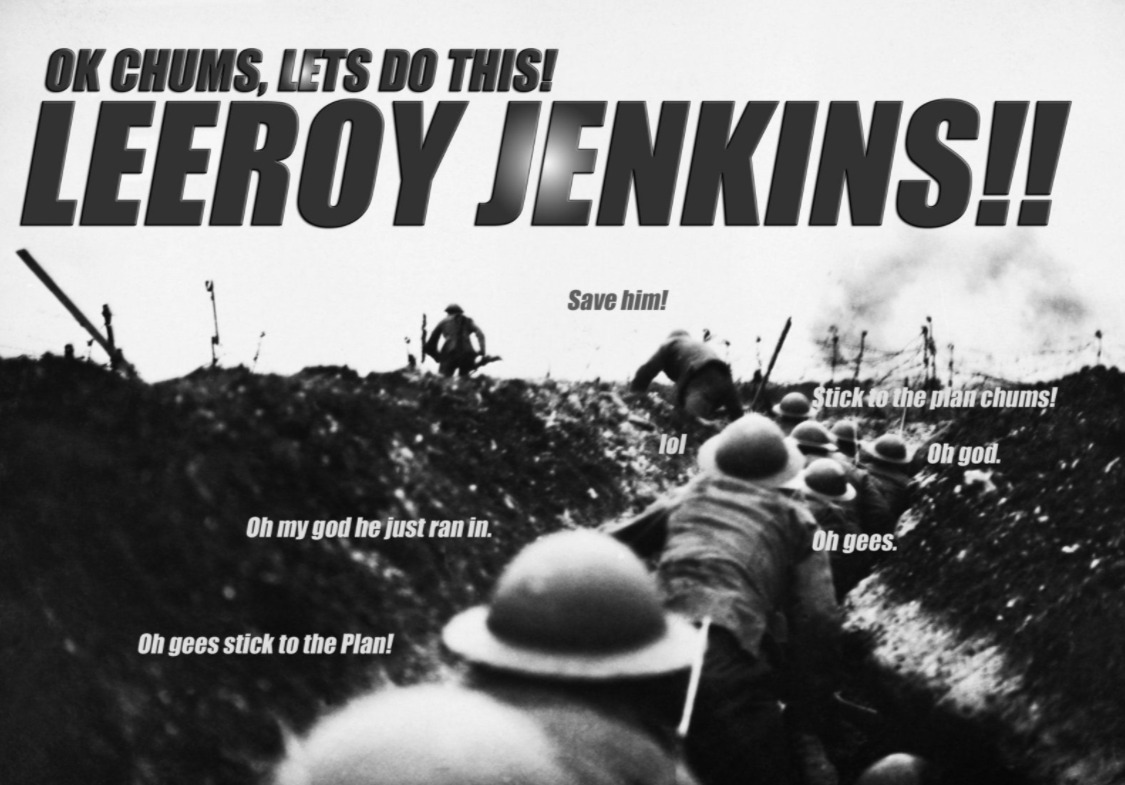 Leeroy Jenkins is the name of a World of Warcraft character that is known for screaming out his name before ignorantly charging headlong into battle, killing everyone in his party. Though the video may have been staged, Leeroy Jenkins was embraced by Blizzard, making several appearances in World of Warcraft products.
The Famous Dancing Baby

Dancing Baby, also known as "Baby Cha-Cha," is a viral video of a 3D-rendered baby dancing to the intro of "Hooked on a Feeling" by the Swedish rock band Blue Swede. Widely cited as one of the earliest examples of an Internet phenomenon, the Dancing Baby became globally popular via e-mail chains in 1996.
Evil Kermit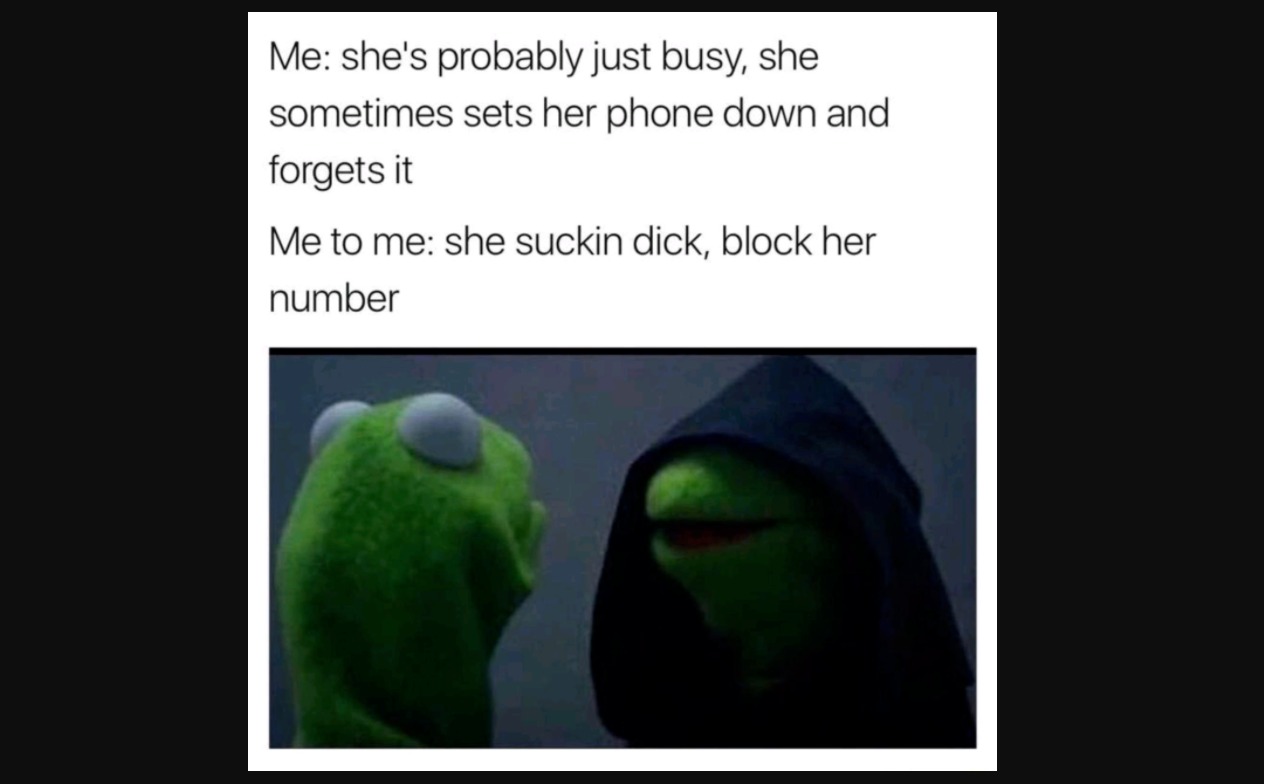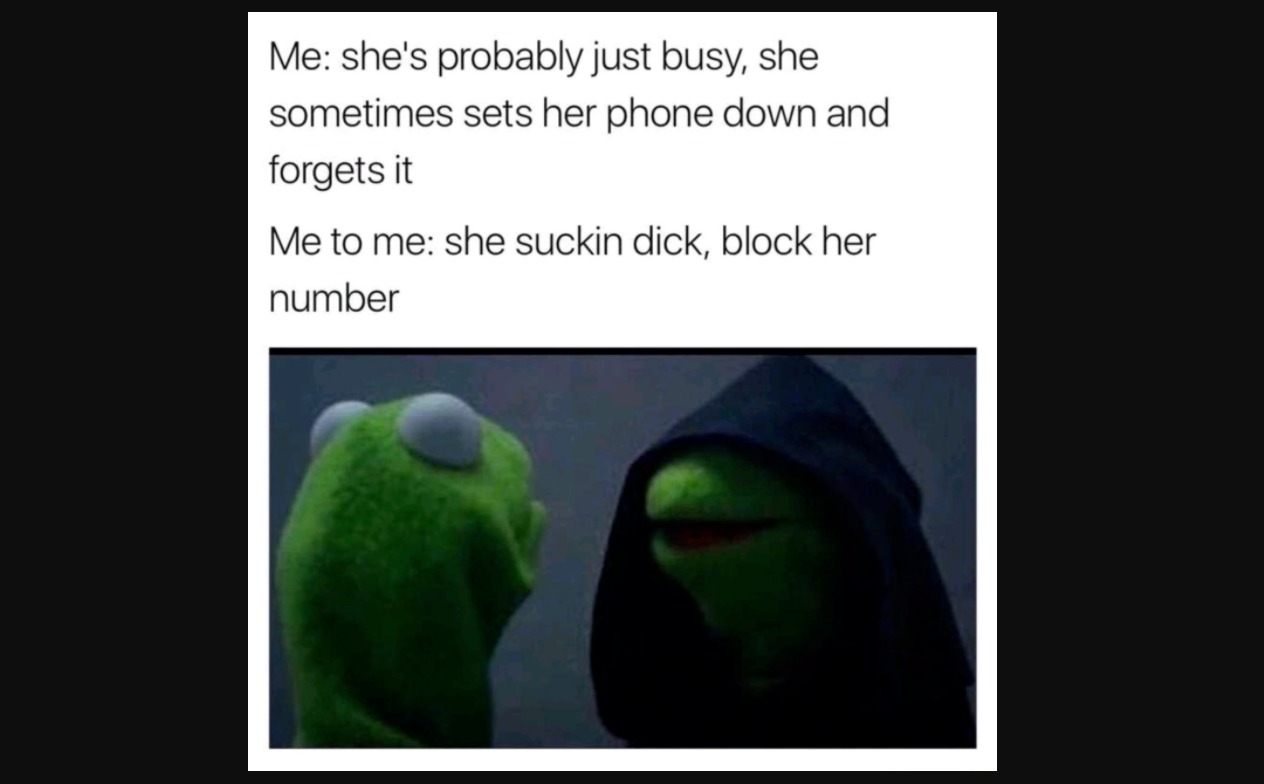 Evil Kermit is a captioned image series featuring a screenshot of the Muppet character Kermit the Frog talking with his nemesis Constantine dressed as a Sith Lord from Star Wars, who instructs him to perform various indulgent, lazy, selfish and unethical acts.
Darude – Sandstorm

"Sandstorm" is a 1999 trance techno song by the Finnish electronic music producer Darude. Upon its release, the song instantly gained mainstream recognition and continues to remain relevant as a pre-game "pump-up" track before sporting events and background music for a wide range of videos hosted online, most notably during live-streamed sessions of the multiplayer arena game League of Legends (LoL) on Twitch.
Grumpy Cat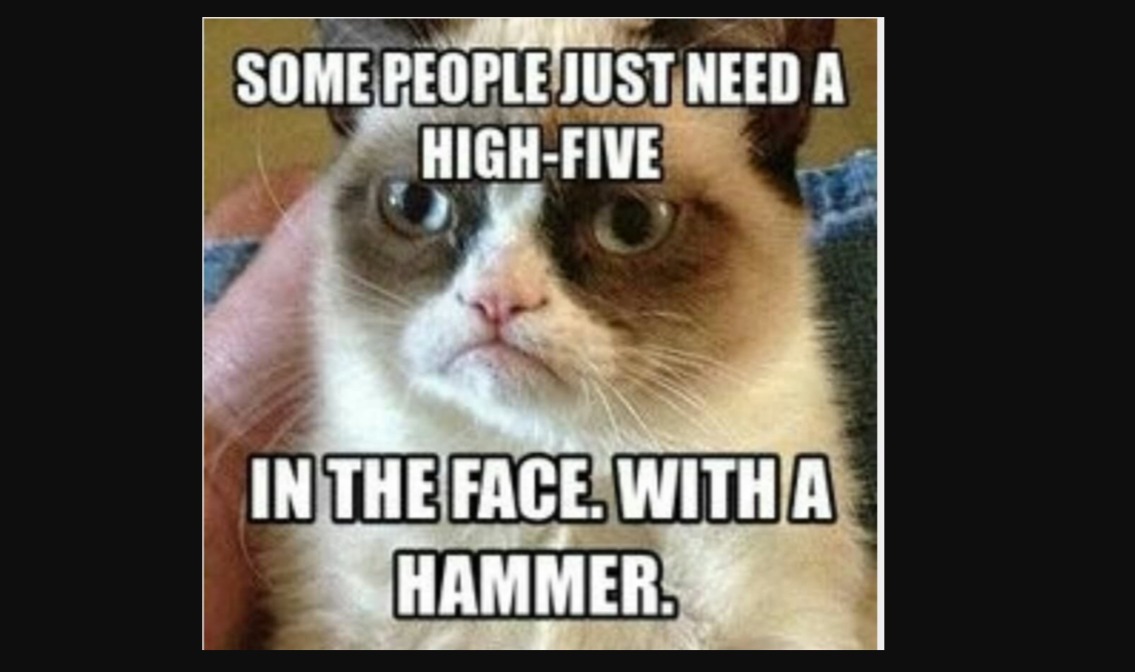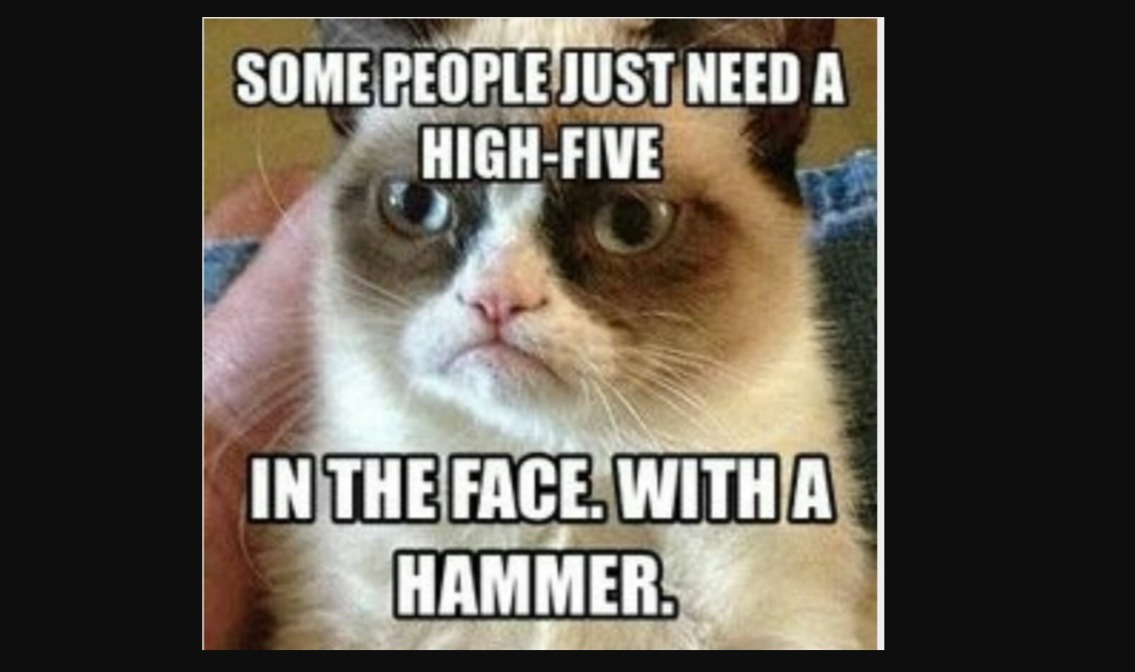 Grumpy Cat is the nickname given to Tardar Sauce, a snowshoe cat that rose to online fame after several pictures of her annoyed facial expressions were posted to Reddit in late September 2012.
Ridiculously Photogenic Guy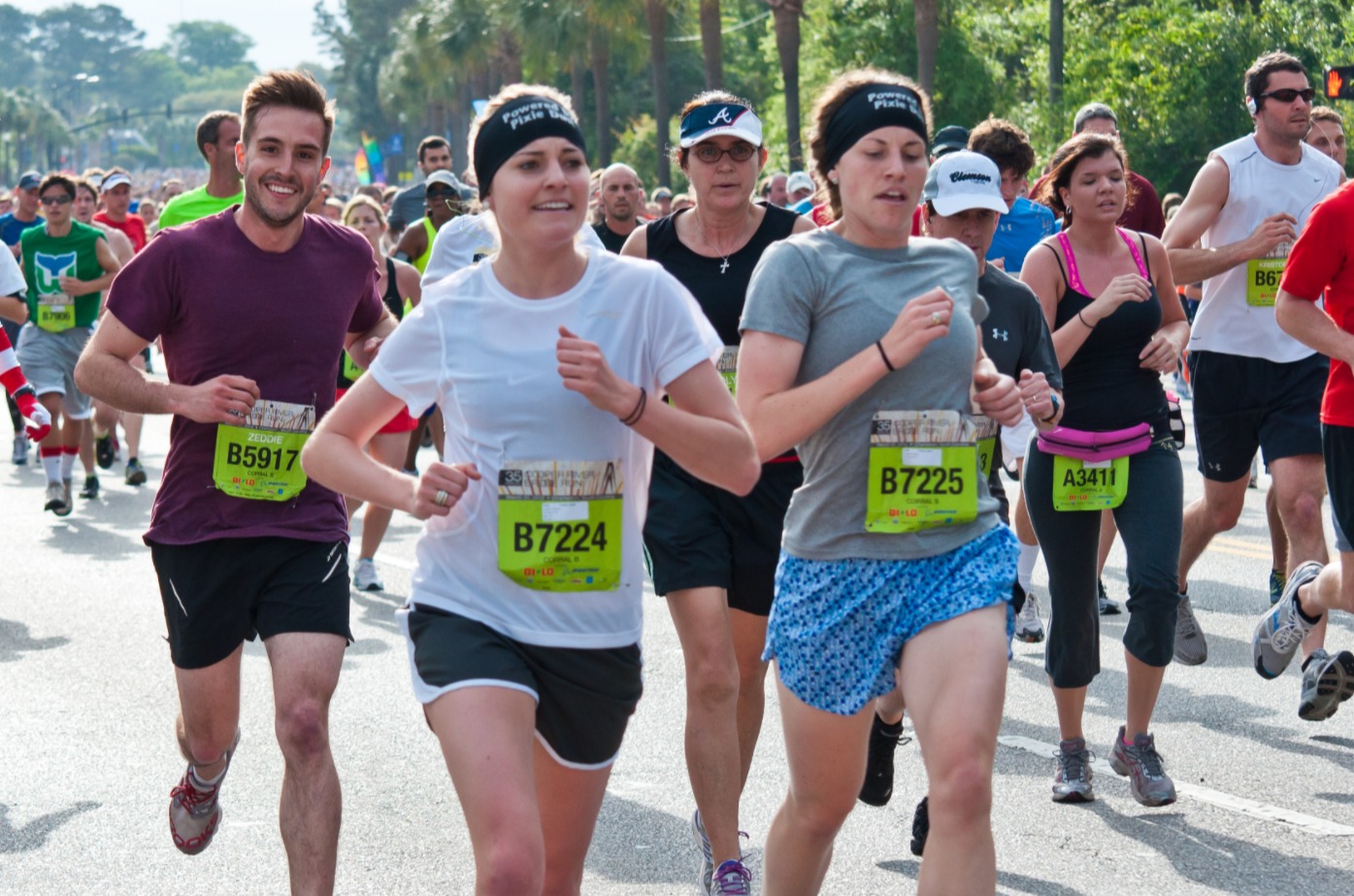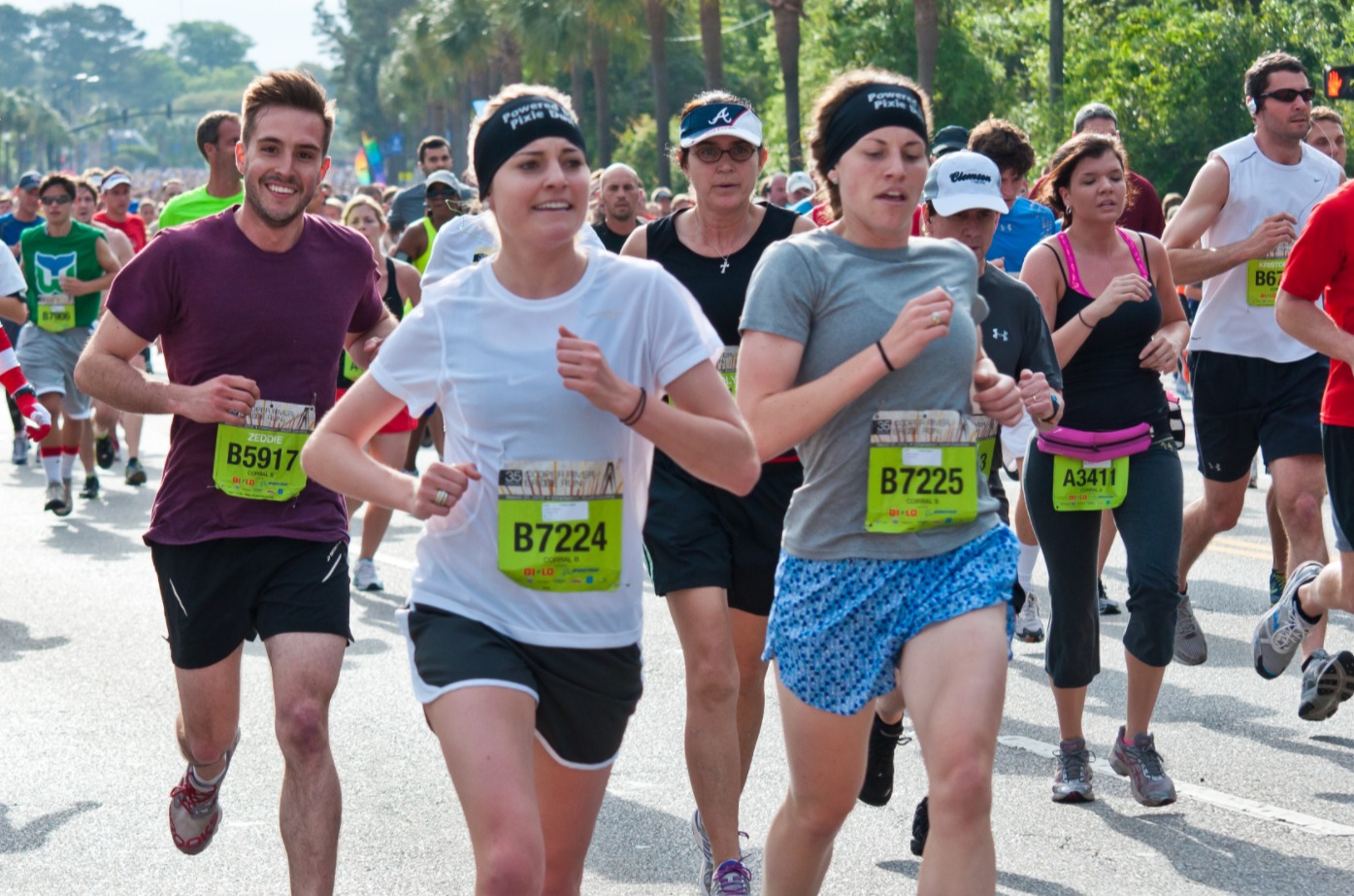 Ridiculously Photogenic Guy (RPG) is a photoshop meme and advice animal featuring a photo of a smiling man called Zeddie Little running in the 2012 Cooper River Bridge Run. The photo gained notoriety online after being posted to the social news website Reddit where users found the man to be exceptionally handsome.
Randall, the Honey Badger Animal Narrator

The Crazy Nastyass Honey Badger is a YouTube viral video and Internet meme that first appeared on the Internet in January 2011. The video features commentary by a flamboyant, New York-accented narrator who is identified only as "Randall" that is dubbed over pre-existing Nat Geo Wild footage of honey badgers. Accompanying the narration is the Prelude from J. S. Bach's Cello Suite No. 6 in D major, BWV 1012.
Me Gusta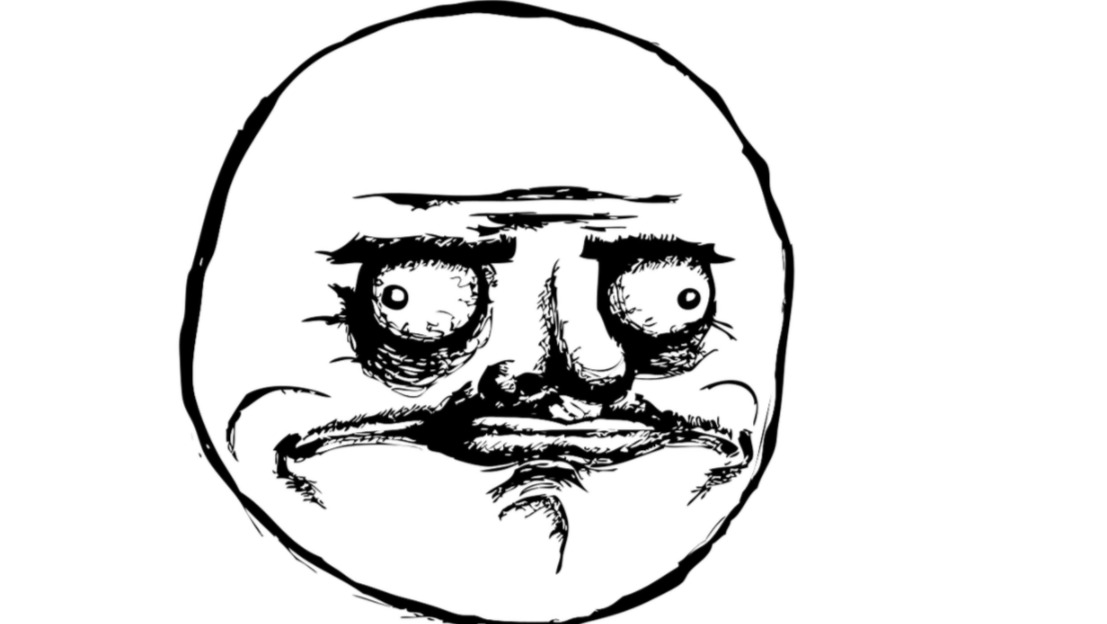 Me Gusta is a rage comic face that is typically used to express one's approval of an awkward or perverse situation. The caption "Me gusta" translates to "I like it" in Spanish. In its beginning, the phrase conveyed an odd sense of pleasure in sexually perverse contexts, but the meaning has since broadened to describe a more general state of being disturbed and pleased at the same time.
Overly Attached Girlfriend

Overly Attached Girlfriend is an advice animal image macro featuring webcam picture of vlogger Laina Morris and various captions portraying her in the stereotype of an overprotective and clingy girlfriend.
Scumbag Steve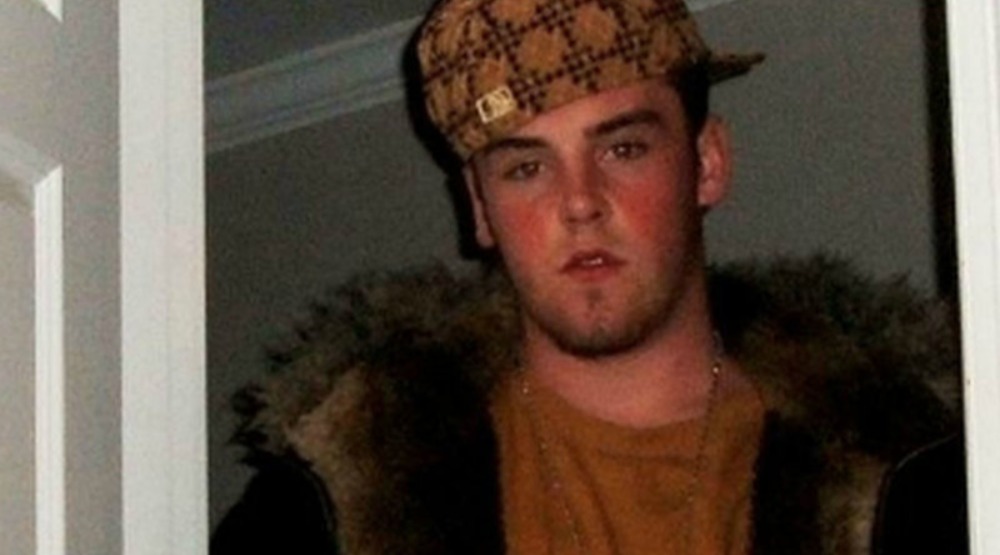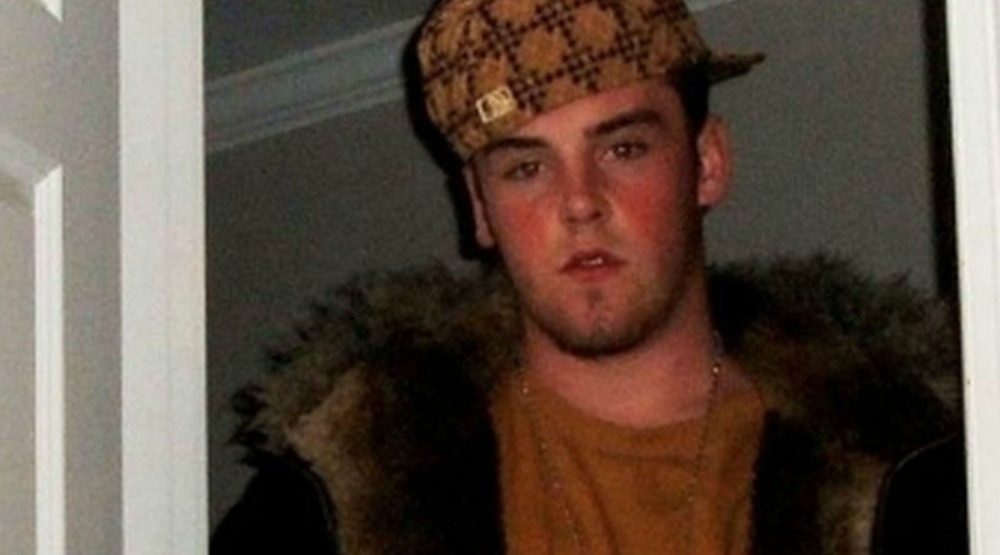 Scumbag Steve is an image macro series featuring a kid with a sideways fitted cap standing in a hallway. The overlaid text generally centers around unethical behavior regarding drugs, partying, and other hedonistic behaviors.
Cash Me Outside Meme

"Cash Me Ousside / How Bow Dah" is a memorable quote uttered by 13-year-old Danielle Bregoli on an episode of The Dr. Phil Show, during which she challenges the show's audience to a fight with the phrase "Catch me outside, how about that?" in a thick accent. Online, the clip has been widely mocked in a series of image macros captioned with various frustrating experiences.
Double Rainbow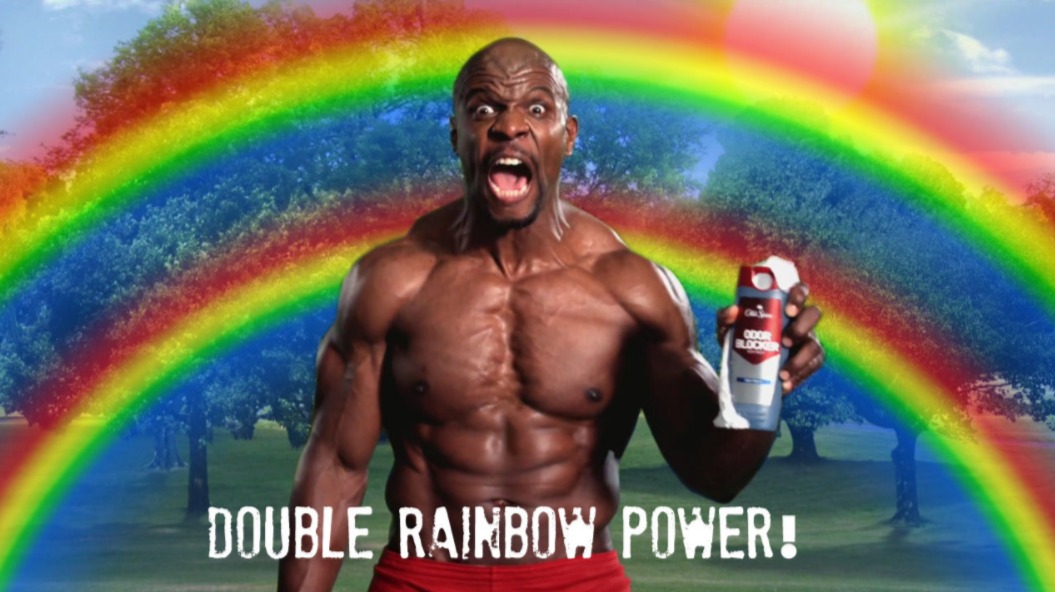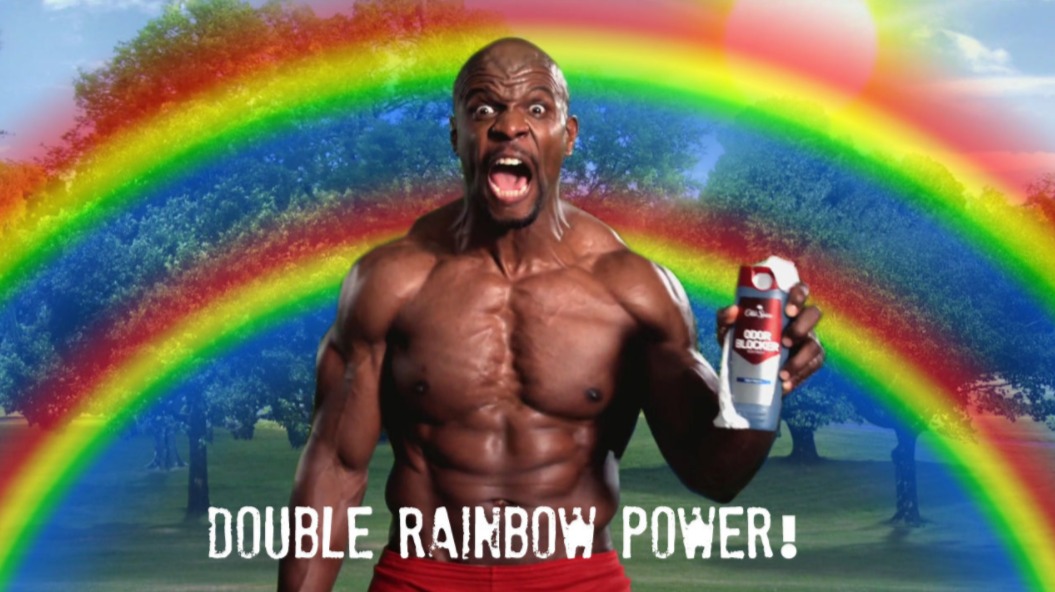 Double Rainbow is a homemade video uploaded by YouTube user Hungrybear9562 in which he declares feelings of awe and wonder after witnessing a rare "double rainbow" in Yosemite National Park. In the video, he can be heard crying in the background, which was apparently inspired by the radiance and vividness of the rainbow.
Do you agree with our picks? Tell us about it in our comment section.
Want more interesting articles? Try these selections below:
This work is licensed under a Creative Commons Attribution 4.0 International License.





Contact us or email us with your questions, comments or tips. Read more trending news here at HenSpark!