Everyone knew that it is not a good idea to upstage the bride and groom during their own wedding by making your own proposal to your girlfriend, no matter how in love you two might be but one man did not get the memo, apparently.
In what is now dubbed as the 'nightmare' proposal, this man went down on his knees to ask his girlfriend's hand in marriage – right in front of the bride and groom at a wedding!
What was this guy thinking???
Aside from the fact that he had just ruined a wedding, he also gave his girlfriend a not-so-personal proposal, not matter how unique it might have been.
Just watch the bride's reaction, people are saying her smile did not quite reach her eyes while her eyes spoke volumes of what she must be feeling against this girl who hogged the spotlight.
Netizens reacted with anger over this proposal as it quickly goes viral across social media after it was posted on Reddit and Imgur.
Most of those who commented on the photo expressed disbelief that this man had the nerve to pull off this 'tasteless' proposal.
There were many who gave the bride and groom tips on how to get back to this couple (as the girl actually said "yes!"), such as attending the upcoming wedding and announcing their pregnancy in front of the new couple the same way they upstaged the first wedding.
There were also those who said it was bad luck to propose at another couple's wedding while others made more colorful comments to bash the guy.
Proposal is Bride's Idea?
After the photo went viral, the bride-to-be spoke up. Identifying herself as Megan from Iowa, she revealed that the bride and groom actually approved the proposal.
According to Megan, the bride (who is actually her sister) insisted that her now-fiancé propose during the wedding.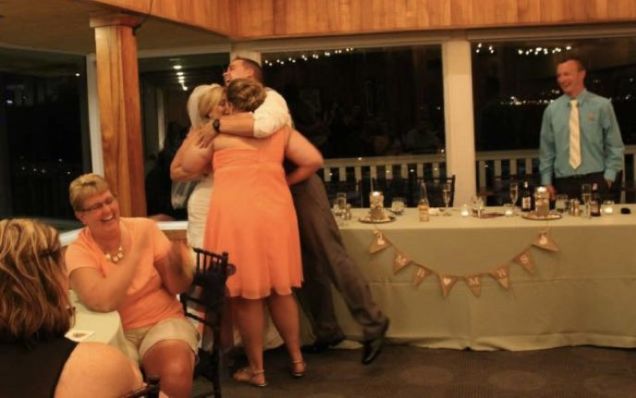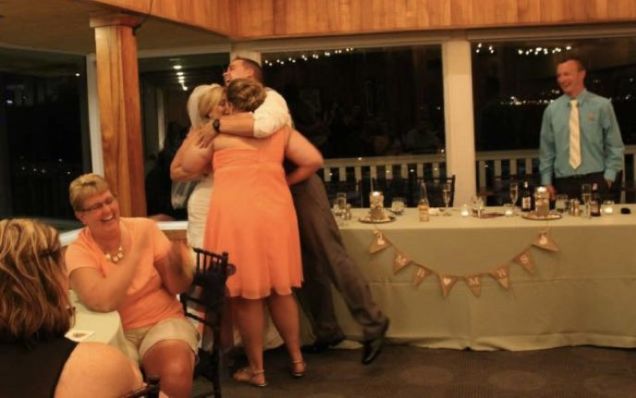 (Photo credits via Gawker.com)
The guy said he did not want to upstage the couple but the bride insisted, saying it would only make the event even better.
As for the bride's expression in the photo, Megan said her sister was not sending invisible daggers their way but was actually hold back tears – that's why her face looked funny!
It was also the groom who held the engagement ring throughout the wedding, she added.
To prove her statement, the newly engaged woman shared extra photos taken after the proposal, showing the couple happily hugging her and another of the four of them together.
(video source via nydailynews.com)
This work is licensed under a Creative Commons Attribution 4.0 International License.





Contact us or email us with your questions, comments or tips. Read more trending news here at HenSpark!