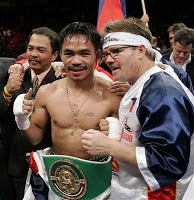 With the 52nd fight of his career coming up (against Shane Mosley), Pacquiao has chiseled his name alongside all-time pound-for-pound greats like Willie Pep, Henry Armstrong and Sugar Ray Robinson. There are have been many moments that have defined the career of arguably the world's current best pound-for-pound fighter.
Let's take a look at his top 10 lists of best moments in the ring.
10 – Manny Pacquiao Vs. Joshua Clottey

The fight turned out to be quite a letdown, but one of the highlights of the night was Manny's "Pompyang" punch. The Pompyang move is a double open-palm strike to the ears, resembling the clapping of cymbals. It's a trademark move popularized by the late Filipino actor, Fernando Poe, Jr., who used it in most of his action-movie fight scenes.

This illegal move may make Pacquiao seem arrogant by not taking his opponent seriously, but it demonstrates how easily the Filipino fighter can dominate in the ring.

Manny Pacquiao (145¾ lbs) beat Joshua Clottey (147 lbs) by unanimous decision in round 12 of 12.
9 – Manny Pacquiao Vs. Lehlohonolo Ledwaba

Pacquiao arrived in America in 2001 at 21 years old, weighing 112 pounds. On the second of three stops, he entered the gym of the trainer Freddie Roach. There, he formed an odd-yet-formidable combination with Roach, and one month later, Pacquiao entered the ring and defeated Lehlohonolo Ledwaba of South Africa.

The fight arguably put him on the radar, and from that moment, he went on to defend the title four times. He's lost only one match since his American debut.

Manny Pacquiao (121 lbs) beat Lehlohonolo Ledwaba (122 lbs) by TKO at 0:59 in round 6 of 12.
8 – Manny Pacquiao Vs. Antonio Margarito

His recent destruction of Margarito, a fighter 17 pounds heavier than him, was extraordinary in many ways. Anyone who needs convincing now that Pacquiao has solidified his place among boxing's all-time elite (including Floyd Mayweather Jr.) is as blind as Margarito was on the night he was destroyed by the Filipino fighter.

Not since Erik Morales beat the Filipino superstar in 2005 has a Mexican boxer solved the Pac-Man riddle. But is Pacquiao's nickname as the "Mexican Killer" justified? The answer seems to be a resounding yes.

Manny Pacquiao (144½ lbs) beat Antonio Margarito (150 lbs) by unanimous decision in round 12 of 12.
7 – Manny Pacquiao Vs. Erik Morales (3rd Meeting)

With the series split 1-1, Pacquiao and Morales locked fists for the third and last time.

It was this fight that marked a change in Pacquiao's fighting style. As if he wasn't already dangerous enough, Pacquiao began to use his right hand as a key element of his arsenal. Manny now applied tremendous power in both hands, helping to amplify an already stellar swarming style.

Manny Pacquiao (129 lbs) beat Erik Morales (129 lbs) by KO at 2:57 in round 3 of 12.
6 – Manny Pacquiao Vs. Marco Antonio Barrera (1st Meeting)

It was the first time Pacquiao went up to the Featherweight division. With this win, Pacquiao began to establish his legacy as the newest boxing superstar and the new "King of the Featherweight" division.

For Pacquiao to defeat Barrera was an achievement, but to demolish him in such conclusive fashion showed that he was to be taken seriously by his peers. As for Barrera, he managed to secure a rematch with Pacquiao (which he duly lost).

Manny Pacquiao (125 lbs) beat Marco Antonio Barrera (126 lbs) by TKO at 2:56 in round 11 of 12.
5 – Manny Pacquiao Vs. Erik Morales (2nd Meeting)

Pacquiao put his WBC International Super Featherweight title on the line in the rematch against Morales. Pacquiao had lost the first encounter with a 12th-round majority decision.

Morales escaped being knocked down twice early in the fight, once by holding on to the ropes and once by falling on the referee's body. But his resilience wasn't to last. It was the first time in his hall-fame career that Morales was knocked out.

Manny Pacquiao (128½ lbs) beat Erik Morales (130 lbs) by TKO at 2:33 in round 10 of 12.
4 – Manny Pacquiao Vs. Oscar De La Hoya

Can you imagine beating someone so conclusively that you actually cause them to retire? Well, that's exactly what Pacquiao did to Oscar de la Hoya. Pacquiao pummeled De la Hoya for eight rounds straight, and the fight had to be stopped because the Golden Boy was taking such a hard beating.

No title was exchanged when Pacquiao defeated de la Hoya via an 8th round technical knockout. But there was plenty of symbolism. Though very much in the twilight of his career, the much-decorated De La Hoya retired after the match and completed the passing of the torch to Pacquiao.

Manny Pacquiao (142 lbs) beat Oscar De La Hoya (145 lbs) by RTD at 3:00 in round 8 of 12.
3 – Manny Pacquiao Vs. Juan Manuel Marquez (2nd Meeting)

Four years in the making, this fight was dubbed "Unfinished Business" because of the controversial draw that ended their first encounter in 2004. This time, however, Pacquiao managed to edge out Marquez, but the result was not without controversy.

Their match was devastatingly hard-fought on both sides. Pacquiao escaped with a narrow split decision.

Manny Pacquiao (129 lbs) beat Juan Manuel Marquez (130 lbs) by split decision in round 12 of 12.
2 – Manny Pacquiao Vs. Ricky Hatton

The fighter from England went down to the canvas twice in the first round before he was knocked out for good in the second round. In the spirit of Muhammad Ali, Pacquiao looked like he was just biding his time. He then unleashed a left hook that sent Ricky Hatton to the canvas with less than 10 seconds left in the round.

I feel for Hatton, who will have to see this knockout time and again as it gets replayed on KO reels. It was one of those moments that takes your breath away.

Manny Pacquiao (138 lbs) beat Ricky Hatton (140 lbs) by KO at 2:59 in round 2 of 12.
1 – Manny Pacquiao Vs. Miguel Cotto

The most impressive Paquiao moment ever inside the ring has to be the night when he faced off against the lion-hearted Miguel Cotto.

In a legacy-cementing win, Pacquiao defeated Cotto to capture the WBO Welterweight title and WBC Diamond Belt. The win made him the first boxer ever to win seven different titles in seven different weight classes. His performance that night fixed the Filipino's reputation as one of the finest boxers of this — and possibly other — generations.

Pacquiao simply destroyed Cotto. Viewers could catch glimpses of Cotto's wife wincing has he took shot after destructive shot.

Manny Pacquiao (144 lbs) beat Miguel Angel Cotto (145 lbs) by TKO at 0:55 in round 12 of 12.
Humor me? LOL!
Will Mayweather Ever Fight Pacquiao? Probably not after reading this list. To be fair, though, it's possible neither of them could compete with these Top 10: Pound-For-Pound Fighters in their prime.
This work is licensed under a Creative Commons Attribution 4.0 International License.





Contact us or email us with your questions, comments or tips. Read more trending news here at HenSpark!