According to a conspiracy theory, Canadian singer-songwriter and actress Avril Lavigne is long gone and she has been replaced by a lookalike and close friend Melissa Vandella moving forward.
The conspiracy theory resurfaced on the 15th anniversary of the release of her hit single "Complicated".
A so called fan blasted out tweets claiming that singer is already dead 14 years ago.
According to the tweets, Avril took her own life in late 2003 after her grandfather's death. And since her untimely death occurred at the peak of her career, Avril's record company immediately hired someone to replace and impersonate her.
At the said tweets, the conspiracy theorist showed random evidences indicating that the person we are seeing right now as Avril is no other than her lookalike friend Melissa Vandella.
Vandella was reportedly recruited even before Avril Lavigne's "death" to pose as the singer to divert the attention of the paparazzi and rowdy fans.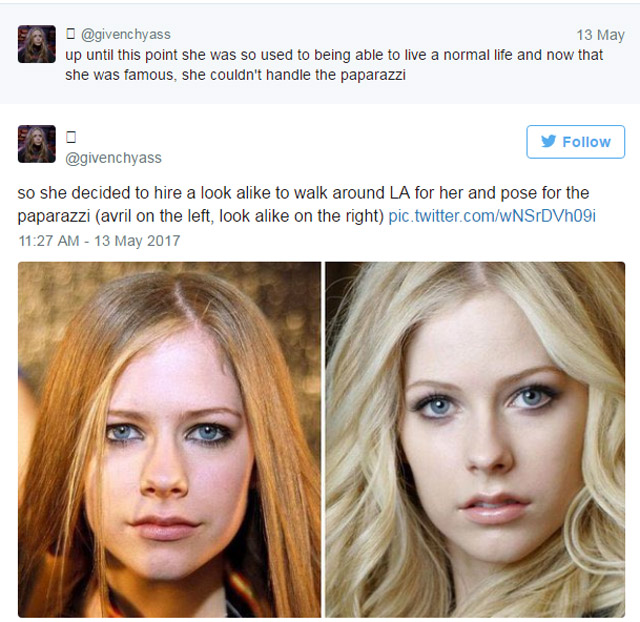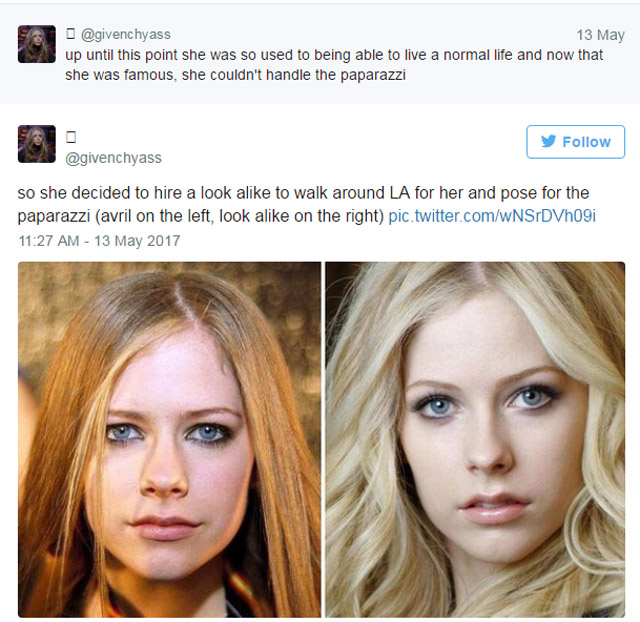 Those who support this theory also mentioned some inconsistencies over the years in the physical appearance of Avril Lavigne, especially on her jawline, eye corners and fashion style. 
There's also a tweet comparing Avril's handwriting then and now.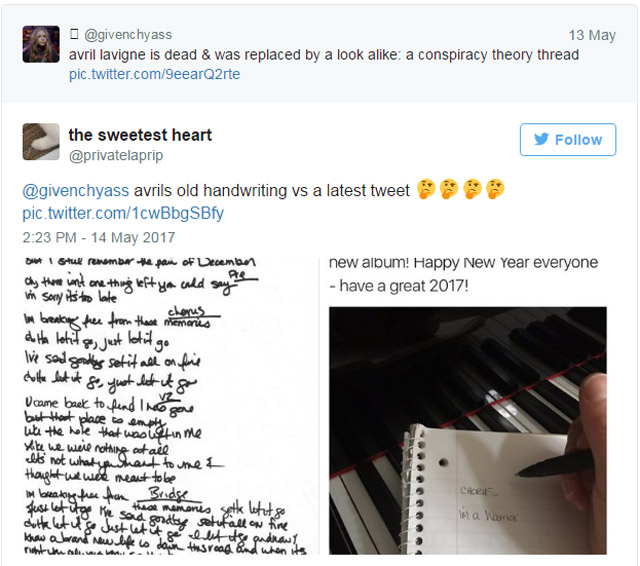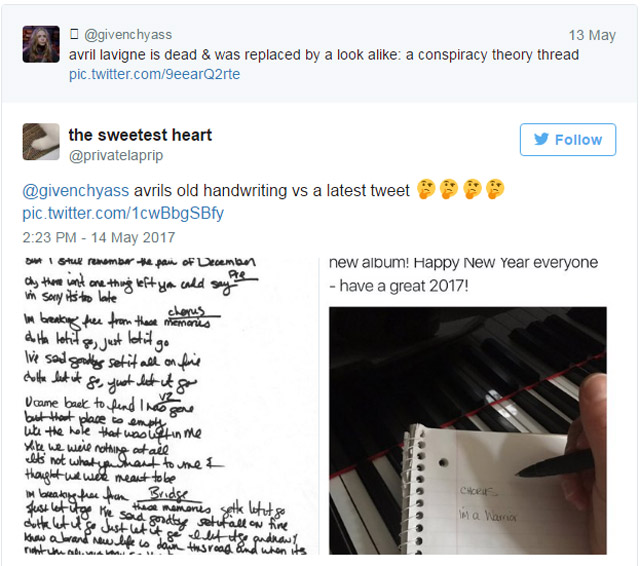 There are also who pointed out the change in the quality of her voice.
They claim she has had a different tone and been increasingly out of tune since 2003.
They also thought that her second album Under My Skin is some sort of a subliminal message from the poser or fake Avril.
One fan said: "Launched in 2004, it is completely different to the first CD! It's an album full of subliminal messages apparently left by the 'New Avril'. The CD is called 'Avril Under My Skin', this is very suggestive! From here it was no longer true Avril, but 'Avril Lavigne' under the skin of another singer! The 'New Avril' poses for photos always sad and morbid expression, sometimes dropped to the ground as if to say something."
What makes this theory stronger is the emergence of the promo picture of the singer with the word Melissa written on her hand.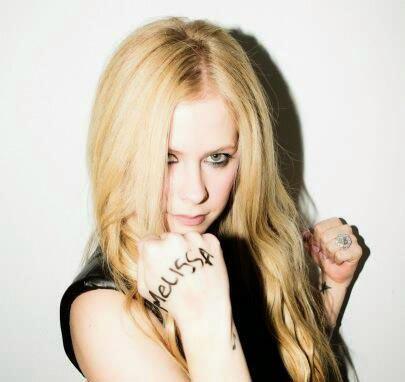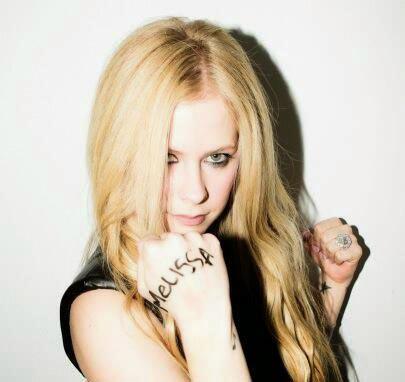 Avril Lavigne is still active on social media platforms especially on twitter where she posted a photo of her and her mother last May 14th (Mother's Day).
Weird enough, some of her followers replied to the tweet with the words: "Happy Mother's Day, Melissa" and "Melissa, it's OK. We're here for you."
One of her self-proclaimed biggest fan and follower also pointed out that "Avril Lavigne would never promote a Slim Secret bar. The jig is up Melissa."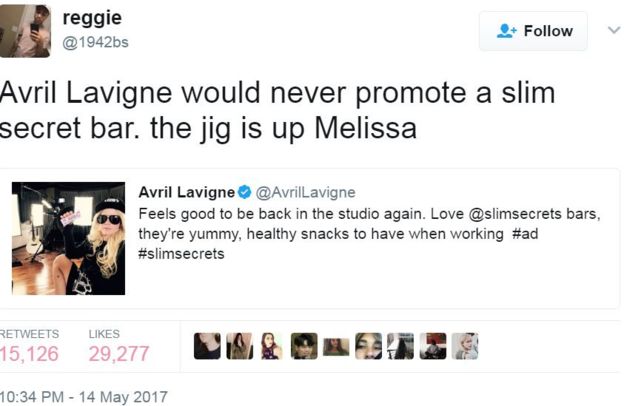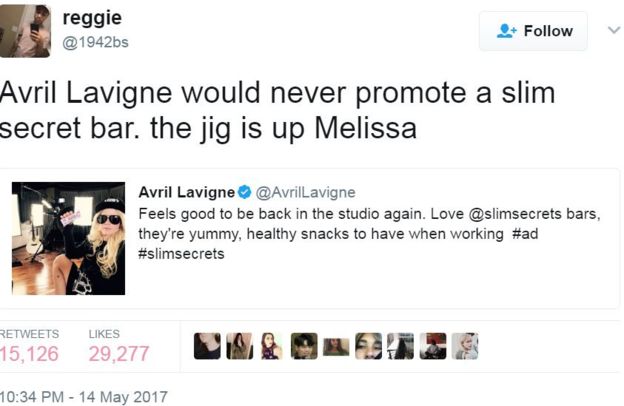 Although some fans don't believe that she is already dead, they already called out Avril and asked to post a photo of her and her lookalike, Melissa Vandela together to put an end to this rumor.
So, what do you think? Is Avril Lavigne really dead?
Via BBC.com, jezebel.com, thesun.co.uk
This work is licensed under a Creative Commons Attribution 4.0 International License.





Contact us or email us with your questions, comments or tips. Read more trending news here at HenSpark!