The long wait and drought is over! For the first time in 108 years, the Chicago Cubs are World Series Champions.  The Cubs beat the Cleveland Indians to claim their first World Series championship win since 1908.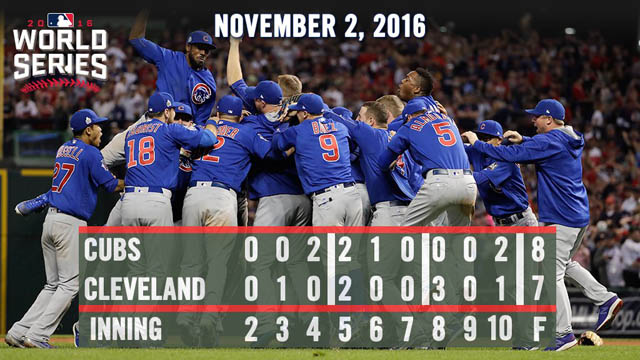 Getting the much needed inspiration and momentum behind historic home runs from Dexter Fowler and David Ross, the Cubs completed their miraculous World Series comeback Wednesday night.
The team rallied from down 3 to 1 in the best of seven series to defeat the Indians, 8 – 7 in 10 innings in Game 7.
Chicago Cubs got things started immediately with a leadoff home run by center fielder Dexter Fowler. And in the 5th inning, Cub's David Ross made a history by becoming the oldest player to homer in a World Series Game 7 at the age of 39.  
With a 6-3 lead going into the bottom of 8th inning, the Cubs looked good in getting their World Series championship. However, at the eight inning, Cubs star closer Aroldis Chapman blew the lead. The Indians tied the game at 6-6.
They scored a run on a two-out RBI double from Brandon Guyer. Rajai Davis followed it up by a two-run, game-tying home runs.
The game went extra innings (after 20-minute delay because of pouring rain) and in the top of 10th, the Cubs retake the lead at 8-6 with RBI hits from Ben Zobrist (named World Series MVP) and Miquel Montero.  
Facing their last out, Cleveland brought the game to within a run but fell short with their goal to tie things up costing them the World Series championship crown.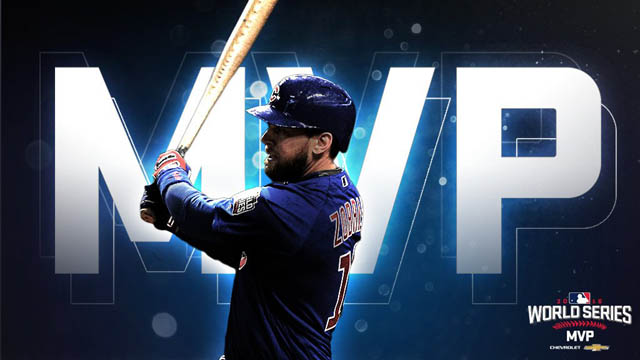 The Chicago Cubs are the first team to come back from a 3-to-1 deficit and win Games 6 and 7 on the road to win the World Series since the 1979 Pittsburgh Pirates.

They are the 3rd team in Wild Card era to have baseball's best outright regular season record and win the championship. They now join the ranks of 1998 and 2009 New York Yankees.

The last time the Cubs won the World Series was in 1908. They lost World Series matches in 1910, 1918, 1929, 1932, 1935, 1938 and 1945.  This is the reason why this World Championship is the sweetest for the team, their fans and followers as well. Cubs #FlyTheW !

via @MLBStatoftheDay, @Cubs

[Contact or email us with your questions, comments or tips.]

<!-comments-button-->