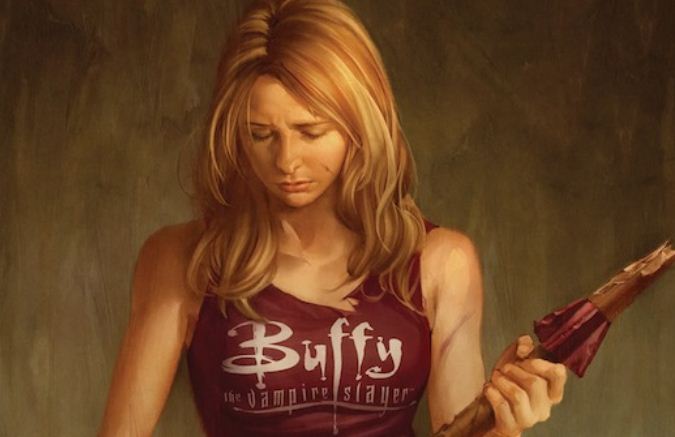 If you haven't been on a quest for a list and just happen to want to know a totally inconsequential thing like which female character is the most epic, well you're in luck. I just made my own.
Before I unveil it, let's make this clear, I did not want to make this list because A) List commentators truly scare me, and B) I am really really biased. Nevertheless, I have a stronger desire to have a list circulating so I'll keep it nice and clean in hopes it stays that way.
Here's top 10 lists of the Famous TV or Movie Female Heroes you might know.
10 – Sydney Bristow
Sydney Anne Bristow (born 17 April 1975), played by Jennifer Garner, is a fictional character and the protagonist of the television series Alias. She is an American woman with Russian-American family background who works as a spy for the CIA.
No mission too risky, no enemy too scary, no costume she can't fit into. Hmmm, maybe I should take back my Kickass Latex Huggers comment.
9 – Max Guevera
Max Guevara (X5-452) is a fictional character and the protagonist of the cyberpunk science fiction television program Dark Angel. She is portrayed by Jessica Alba as an adult and Geneva Locke as a child. Max Guevara is a genetically enhanced transgenic super-soldier, created in a secret government lab known as "Manticore", where she lived with other X-5 children until their escape in 2009. From that time, Max has lived in hiding, fearful of being recaptured by one of her guardians, Colonel Lydecker (John Savage). At the same time she is desperate to locate her "brothers and sisters" and attempts to do so with the help of Logan Cale (Michael Weatherly), a cyber-journalist also known as "Eyes Only". The character Max was ranked #17 in TV Guide's list of the "25 Greatest Sci-Fi Legends" (August 1, 2004 issue).
Genetically engineered super soldier that fits perfectly in the patriarchal community she was made for.
8 – Aeryn Sun
Aeryn Sun played by Claudia Black, is a former Peacekeeper pilot and officer. Although she appears to be human, she is in fact Sebacean, a species indistinguishable from humans in external appearance. At the time John Crichton appears through a wormhole in the beginning of the series, Officer Aeryn Sun is in her Prowler battling to retake the Leviathan Moya, which has been seized by escaping prisoners Ka D'Argo, Rygel, and Pa'u Zotoh Zhaan.
Now I really gotta remove Kickass Latex Huggers.
7 – Leeloominaï Lekatariba Lamina-Tchaï Ekbat De Sebat
In 2214, the Great Evil appears in the form of a giant ball of black fire and destroys an Earth battleship. President Lindberg (Tom Lister, Jr.) is then informed of the history of the Great Evil and the weapon that can stop it by the current priest of the Mondoshawan key, Vito Cornelius (Ian Holm). As the Mondoshawans return to Earth, they are ambushed by the shape-shifting Mangalores, hired by the industrialist Jean-Baptiste Emanuel Zorg (Gary Oldman) who was hired by the Great Evil itself to dispose of the element stones. The Mondoshawan's spacecraft is destroyed and the only thing Earth scientists could recover was the hand of the Fifth Element, which they use to create a humanoid woman, known as "Leeloo" (Milla Jovovich). Terrified of her unfamiliar surroundings, she escapes and jumps off a ledge to land in the flying taxicab of Korben Dallas (Bruce Willis), a former major in the Special Forces.
She is the 5th element, protector of life. A girl that was created to combine the power of 4 elements to stop the Great Evil has to be on the list.
6 – Nikita
Nikita is an American television drama that has aired on The CW Television Network since September 9, 2010 in the United States. Based on the French film Nikita (1990), the remake Point of No Return (1993), and a previous series La Femme Nikita (1997), the series focuses on Nikita (Maggie Q), a woman who escaped from a secret government-funded organization known as Division and, after three-year hiding period, is back with schemes to bring down the organization. The main cast also includes Lyndsy Fonseca, Shane West, Aaron Stanford, Melinda Clarke and Xander Berkeley.
The ultimate Femme Fatal.
5 – River Tam
River Tam, played by Summer Glau, first appears in Firefly and also appears in the R. Tam sessions, the comic Serenity: Those Left Behind, and the feature film Serenity. River is the teenage sister of Dr. Simon Tam, both of whom take refuge aboard Serenity. She was considered a child prodigy from a very young age, intelligent beyond her years and athletically gifted. Simon stated that compared to her, he is an "idiot child," despite having graduated highly in med school and finished his internship a full four months faster than normal.
Part savior, part psychic living weapon. One might even call her an anti-heroine.
4 – Sarah Conner
Sarah Jeanette Connor is a fictional character from the Terminator films and the television series Terminator: The Sarah Connor Chronicles. She was played by American actress Linda Hamilton in the films and by English actress Lena Headey in the TV series. The character develops greatly over the course of these productions, from a timid victim of the first film to a hardened warrior on the verge of losing touch with her own humanity.
She owned T2.
3 – Xena
Xena is a fictional character from Robert Tapert's Xena: Warrior Princess franchise. She first appeared in the 1995–1999 television series Hercules: The Legendary Journeys, before going on to appear in Xena: Warrior Princess TV show and subsequent comic book of the same name. The character has also appeared in the spin-off animated movie The Battle for Mount Olympus, as well as numerous non-canon expanded universe material, such as books and video games. Xena was played by New Zealand actress Lucy Lawless, although the original choice was the British actress Vanessa Angel. She commonly wore a tight leather skirted outfit.
Don't write Xena any differently that if she were a man.- Producer Liz Friedman. That you did Ms. Friedman.
2 – Ellen Ripley
Ellen Ripley is a fictional character and the main protagonist of the Alien film series played by American actress Sigourney Weaver, and the only character to appear in every film of the franchise (not including the two crossover prequels). The character is often considered as one of the bests of all time: it was heralded as a seminal role for challenging gender roles, particularly in the science fiction, action and horror genres, gave world recognition to Weaver and remains her most famous role to date.
She managed to take down some of the scariest badass aliens ever. Thank you for your service to humanity Ripley.
1 – Buffy Summers, Buffy The Vampire Slayer
Buffy Summers is a fictional character from Joss Whedon's Buffy the Vampire Slayer franchise. She first appeared in the 1992 film Buffy the Vampire Slayer before going on to appear in the television series and subsequent comic book of the same name. The character has also appeared in the spin-off series Angel, as well as numerous non-canon expanded universe material, such as novels, comics, and video games. Buffy was portrayed by Kristy Swanson in the film, and later by Sarah Michelle Gellar in the television series. Giselle Loren has lent her voice to the character in both the Buffy video games and an unproduced animated series.
OK, Buffy over Ripley huh? Well, let me remind you that Buffy has averted over 7 apocalypses. Point made.
This work is licensed under a Creative Commons Attribution 4.0 International License.





Contact us or email us with your questions, comments or tips. Read more trending news here at HenSpark!