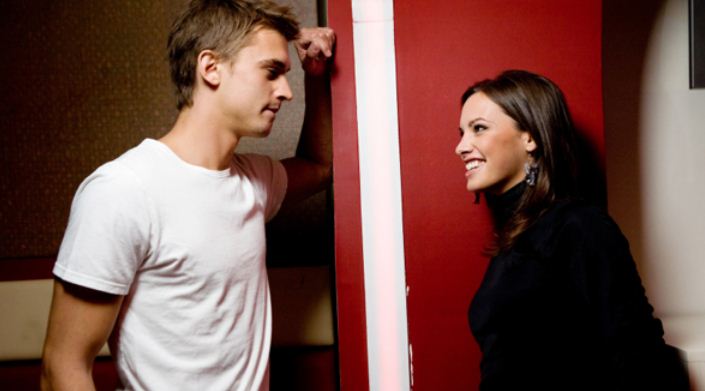 According to Wiki, flirting is a playful, romantic or sexual overture by one person to another subtly indicating an interest in a deeper relationship with the other person, and can involve verbal communication as well as body language. Body language can include flicking the hair, eye contact, brief touching, open stances, proximity etc. Verbal communication of interest can include the vocal tone, such as pace, volume, intonation. Challenges (teasing, questions, qualifying, feigned disinterest) serve to increase tension, test intention and congruity.
Flirting usually involves speaking and behaving in a way that suggests a mildly greater intimacy than the actual relationship between the parties would justify, though within the rules of social etiquette, which generally disapproves of a direct expression of sexual interest. This may be accomplished by communicating a sense of playfulness or irony. Double entendres, with one meaning more formally appropriate and another more suggestive, may be used.
Here's Top 10 lists of the Most Effective Flirting Tips. Give it a try!
10 – Flirting is an attitude
A good flirt is self-confident and not afraid to take risks. Be enthusiastic and positive, it works!
9 – Start a conversation
The best opening line is saying hello.
Talk about the surroundings, ask a question, ask for help, state an opinion.
8 – Have fun
Be playful, light-hearted and spontaneous.
Show your vulnerability.
7 – Use props
Never leave home without a prop.
Props are natural conversation starters. They encourage conversation and others will be compelled to start talking to you.
Great props include: dogs, kids, unusual jewelry, a irresistable scent, a sweatshirt with your favorite passion or personalized Hoodie with your Rhinestone Initial or T-Shirt with your Rhinestone Initial ties, Guy's Personalized Sweatshirt hats, or an interesting book or newspaper.
6 – Be the host
Change your behavior from the role of guest to host.
You are not the passive person in waiting, but rather the welcome committee.
5 – Make the first move
Move closer to the person you want to meet.
Say hello!
4 – Always Listen
You have two ears and one mouth because you should listen twice as much as you speak.
Listening is a true art. Your flirting partner will be drawn to you.
Everyone loves to be heard.
3 – Eye contact
Make eye contact, but please look your partner in the eye gently (no more than 2-4 seconds) and then glance away.
Don't stare – it's always a turn off.
2 – Make Compliment
Compliment your flirting partner. The best compliments have the element of surprise.
The "flirtee" will know that you really noticed them.
Remember, your compliments must be honest, sincere and genuine.
When you receive a compliment the best response is merely, Thank You!
1 – Don't forget to Smile
It is contagious.
It will make you so much more approachable.
A smile lights up your face and draws people to you. You will be a people magnet.
This work is licensed under a Creative Commons Attribution 4.0 International License.





Contact us or email us with your questions, comments or tips. Read more trending news here at HenSpark!



Recommended Stories